Fabulous Fun at the Lagoon BVI Escapade 2019
Annapolis Yacht Sales (AYS) hosted its first Lagoon Escapade in the BVI January 12 to 19, for Club Lagoon, which was organized by sailboat sales manager, Denise Hanna with six registered Lagoon catamarans. AYS has organized escapades in various locations of the Chesapeake Bay region previously, but the company wanted to come together with customers who spend time on their boats cruising in the BVI.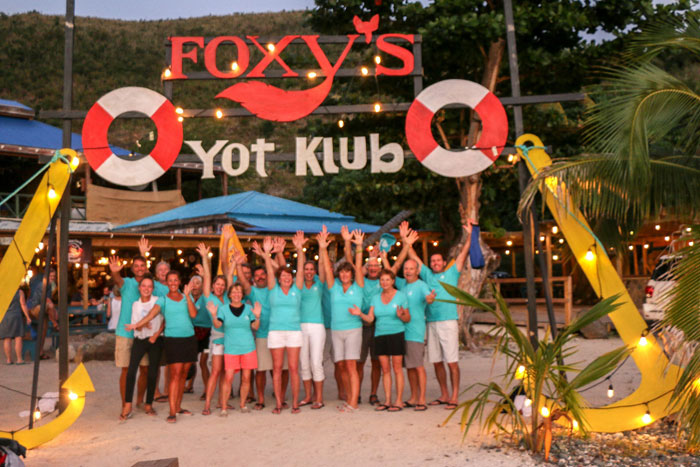 The comradery and excitement shared amongst Lagoon owners was amazing to see! Owners shared tips and ideas about how to maximize their boats for cruising and collaborated on how to navigate certain areas in the BVI, USVI, and locations beyond. Two owners sailed down with the Salty Dawg Fall Rally to the Caribbean 2018 on their Lagoon 450 and shared their experience with others.
A schedule of activities allowed for complete flexibility each day of the week. While the snow was beginning to fall in Annapolis, the weather in Tortola was 82 degrees and sunny with a steady breeze when we stepped on our Lagoon 42 at TMM Yacht Charters. A Meet and Greet kicked off the week at the Lagoon 42 Finish Line on Cooper Island. On Monday boats sailed to the Baths and continued on to Leverick Bay in the evening, while on Tuesday AYS hosted a Scavenger Hunt on Prickly Pear Cay across from Leverick Bay.
The proposed race on Wednesday to the Soggy Dollar from the North Sound turned into a cruise to Jost Van Dyke since the wind did not cooperate for an official race. The Lagoon catamarans joined AYS at the Soggy Dollar to enjoy an afternoon with other Lagoon owners, and they met for a Happy Hour at Foxy's which was sponsored by AYS. The week concluded with a snorkel at the Indians and Norman Island on Thursday, Deadman's Bay on Peter Island on Friday, and on Saturday we returned to TMM Yacht Charters and flew home.
AYS looks forward to bringing Lagoon owners together in the future. For information about upcoming Lagoon events, send an email or click here.