Black-Tie Evening Rings in Club's 75th Year
Members of The Sailing Club of the Chesapeake (SCC) celebrated a gala black-tie evening of awards and dancing as they gathered for the 59th annual Change of Watch Dinner Dance. More than 80 attendees helped ring in the Club's 75th year as the commodore's flag passed from Ed Paglee to John (Woody) Doxey.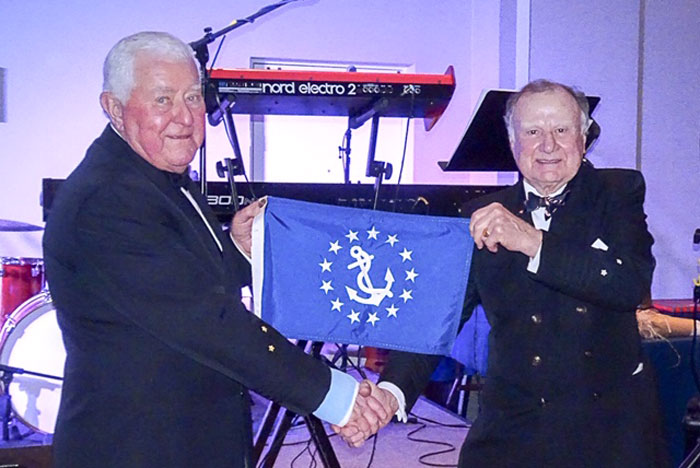 This year's event was held at the Hotel Annapolis on Saturday January 12. Members from throughout the Chesapeake Bay braved the weather to join in recognizing 2018 achievements in cruising, racing, and many volunteer contributions to the club. As is the club's long-standing tradition, officer flags were passed and new leaders rose, one rank to the next, to applause and broad smiles from all.
Commodore Doxey addressed the members, engendering smiles and appreciation. He noted that this is a time of transition as generations pass from one to another, and that he is one of the last guys to steer the ship before being overcome by youngsters. He also noted the depth of the club's culture, bound by friendship, camaraderie, and the love of sailing, all of which binds it into a tight-knit organization.
Dancing to the lively music of DC Transit followed well into the evening. As it did, hardly anyone noted that snow had begun. A grand time was enjoyed by all.
Since its founding in 1944, the SCC has promoted sailing, cruising, and yacht racing afloat and ashore for the purpose of furthering the sport of sailing. Nearly 200 members and mates sail, cruise, and race 140 vessels throughout the Bay, the Atlantic region, and on extended international voyages. We welcome sailors interested in learning more about the club.
by Lou Frank