Sailing club dinghy brings good humor
We are sometimes asked about membership in a sailing club. The benefits are many, not the least of which is fun. This photo, along with the following write-up by Sue Mikulski about the Sailing Club of the Chesapeake's Labor Day cruise, gives a glimpse into the camaraderie. Let the good times roll!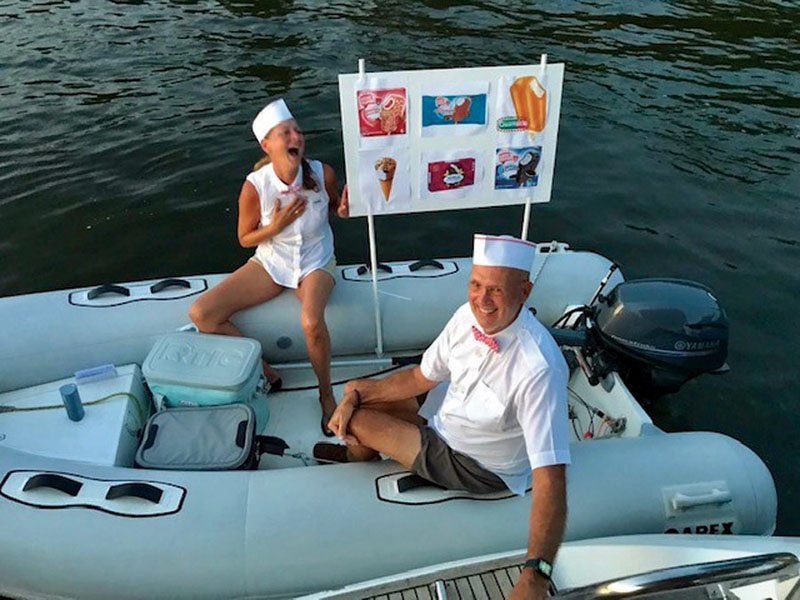 Sailing Club of the Chesapeake (SCC) boats cruised the Bay, Meredith Creek, Aberdeen Creek, and docked at Chesapeake Yacht Club over Labor Day weekend. Cruise leaders John Murray and Jill Hansen hit a home run with an incredibly well organized, very fun three-day cruise with more than 20 boats.
While the weather Gods were in our favor, a little more wind would have been nice as a few boats competed for the Medway Trophy. This perpetual SCC trophy was created in 1976, a gift from a British guest to mark the American bicentennial. It is kept at the Chesapeake Bay Maritime Museum.
Chesapeake Yacht Club was our final stop welcoming more than 85 SCC members. The general manager Drew Davison and his team were well organized providing the SCC sailors with advance notice of their slip assignments and providing docking assistance as we arrived on the beautiful new floating docks.
SCC enjoyed the outdoor bar and a refreshing pool, followed by a fabulous buffet dinner. The rocking chairs by the fireplace are always the best when ending the night under the stars after an awesome sunset.
A rum tasting, a spontaneous happy hour with 17 people aboard Gallivant, and a limerick contest were just part of the fun. The limerick contest was won by Graham and Linda Jones. Jane Amsbaugh and Monty Schumpert were also awarded prizes. Some limericks were bawdy, others about sailing on the Chesapeake, and some were just clean fun! A Jack 'n' Jill ice cream dinghy playing good humor music was the best! SCC members look forward to more fall cruising.
Since its founding in 1944, SCC has promoted sailing, cruising, and yacht racing afloat and ashore for the purpose of furthering the sport of sailing. Nearly 200 members and mates sail, cruise, and race 140 vessels throughout the Bay. The club welcomes sailors interested in learning more about the club. Find SCC information here.