Catboat Sailors Share Their Shallow-Draft Anchorage Secrets (If You Can Find Them)
Ask any Chesapeake Bay sailor about their favorite cruising anchorages, and you're likely to be met with a blank stare and the unspoken question, "What are you, crazy?"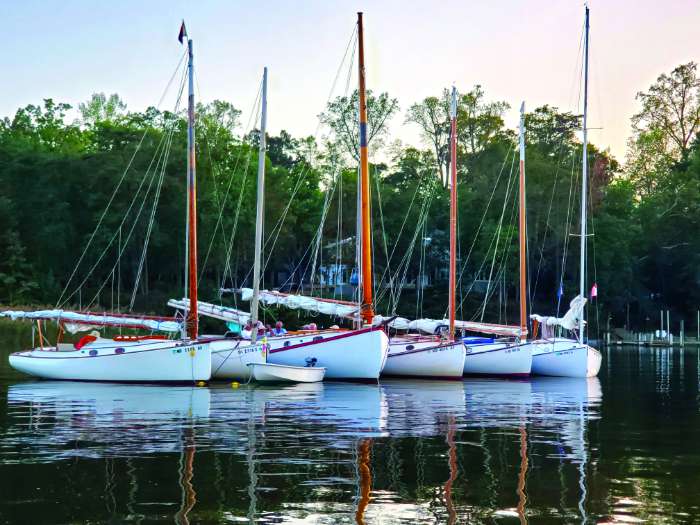 I was in search of some out-of-the ordinary places with jaw-dropping beauty and just the right amount of solitude. Irrespective of a great deal of pushback from boaters I contacted I pressed ahead and managed to cajole several of my Chesapeake Bay Catboat Association (CBCA) members into spilling the beans.
First of all, you need to understand the mindset of a Chesapeake Bay catboater. Our boats are generally less than 25 feet in length, carry between 175-250 square feet of gaff-rigged sail, have a boom that overhangs the transom by a foot or two, boast a commodious cockpit, and most importantly for this story, generally draw from between 18 and 36 inches with centerboards retracted.
No fair, ye sail boaters with deeper drafts, cry. Foul! How can we enjoy these spots where we can't even get into them? Sometimes, armchair anchorages are better enjoyed from the pages of a magazine than in the reality of a hot summer's night tucked into an airless cove with mosquitoes buzzing and light rain falling. Besides, some of these spots appear intimidating on a chart but can be managed if you watch your tide charts and poke your way into and out of their narrow openings. (Here are some reasons why multihull sailors love the Chesapeake's shallow spots.)
As the proud owner of Mystic Wind, a 20-foot Mystic 20 catboat with a 36-inch draft, I'll start off with two of my favorite anchorages not far from my Aberdeen Creek home.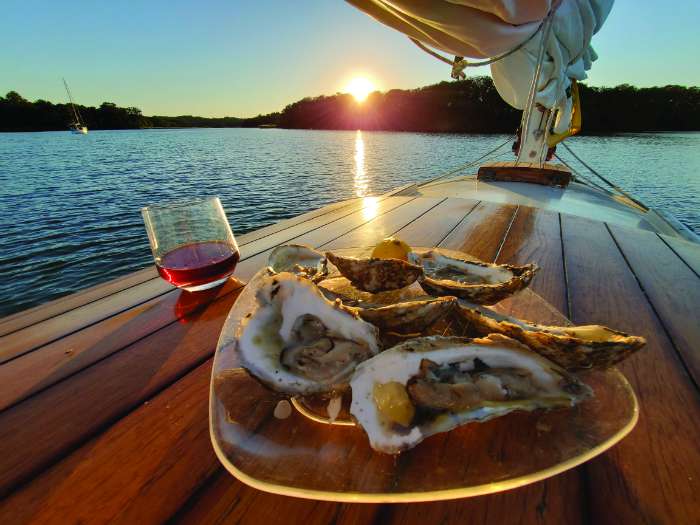 The Rhode River—38° 52' 33" N, 76° 31' 14" W
The shoreline of the Rhode River just south of High Island has provided your intrepid reporter with many a peaceful night swinging gently on the hook listening to the sounds of nature and the occasional slop-slip of a kayaker making his/her way past me around the point of Big Island and into an even more secluded spot not far from the Smithsonian docks. I generally approach the shoreline at a 90-degree angle after navigating the marked sandbar area stretching south of Green #7, drop the hook in eight to 10 feet of water about 100 yards from shore, and jump in for a refreshing after-sail dip, nettles notwithstanding.
After my customary dinner of Bay oysters and fried crab cakes, I settle down in the cockpit for an evening of stargazing devoid of those pesky mosquitoes. Morning comes all too fast as a couple of watermen make their way out into the main channel.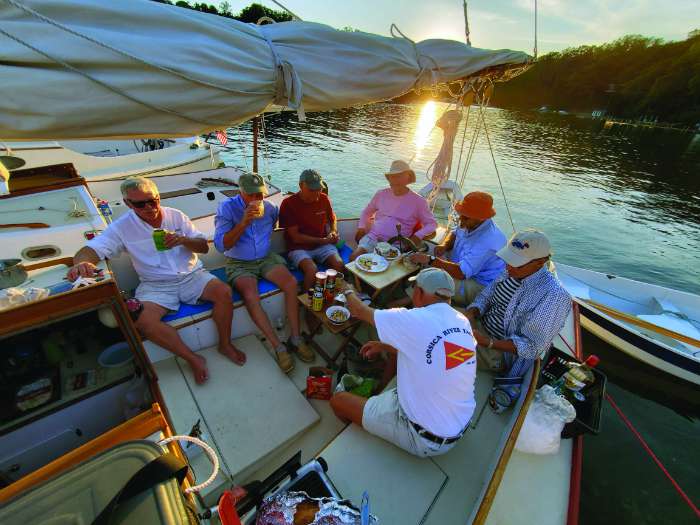 Crab Creek—38.9568° N, 76.5294° W
Another favorite anchorage, for boats drawing five to six feet, is Crab Creek just off the South River at seven and a half miles upriver from the Bay. You approach the anchorage by navigating a set of red and green day markers that offer a well-defined entrance between a rocky shoreline to the west and a stand of marsh grasses to the east. Just slip into the quiet creek, pick a spot for solitude, and relax. The creek runs about two miles around a bend.
The depth is pretty good here, but I have always anchored in the larger body of the creek even though there are some houses nearby. There is a little silt on the bottom that you have to work through to get your anchor to bite. Hardly anybody ever anchors here; most people opting for the more popular Harness Creek which adjoins Quiet Waters Park and offers a dock with kayak and small boat rentals.
Just as you enter Harness Creek, you can take an immediate right and find yourself in probably the most protected spot on the river. The little bay shows five to six feet of water; it's a great spot if you can stand the mosquitoes in such a still environment. There's room in this storm hole for one boat to anchor or two or three to raft up. Just to make sure of your situation, I recommend scouting by dink or kayak before you commit your larger craft to a small space without much turning radius.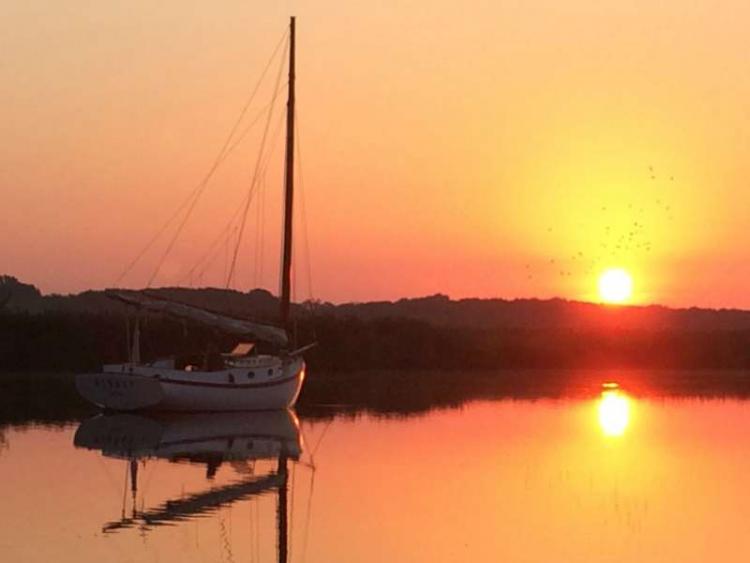 Grapevine Cove, the Wye less traveled—38.3942° N, 76.4827° W
Octogenarian Pete McCrary of Manassas, VA, has seen his share of secluded Bay anchorages. He is an inveterate small boat builder (last count 10 wooden vessels have been turned out of his woodshop.) He takes great pride in sailing one of his eye-catching home-mades into remote locales and fielding questions from passersby about the origin of his craft.
"My favorite spot," McCrary tells me, "is Grapevine Cove on the less traveled Wye River. Easy to get into. Seven-eight feet depth. Great protection. And it's bordered by Wye Island Natural Resources Management Area, which includes 2450 acres of wilderness and managed trails under the protection of the Maryland Park Service for resource management, recreation, and agriculture." The wildlife area provides a multitude of biking, hunting, fishing, kayaking, and hiking opportunities.
Lakes Cove off the Honga—38° 18.150' N, W 076° 08.800'
CBCA former commodore and long cruise coordinator Marc Cruder has dropped his hook in hundreds of spots up and down the tributaries of the Chesapeake Bay. One of his all-time favorites is "Lakes Cove on the Honga. (It's) three to five feet deep; you have to figure out how to get there; sandy bottom and the most untouched place on the Bay, unprotected if the wind is from the wrong direction, but if everything is right, beautiful."
Cruder cautions that the approach can be tricky. "Anyone can go down around the bottom of Hooper's Island and go back up the Honga River to find Lakes Cove, but as a catboater, the challenge is to enter from the Bay and go directly east and seek out the channel that leads to the 35-foot fixed bridge between upper and middle Hooper's Island. (That means you need to have a boat with a mast measuring less than 35 feet). If you look at any chart, it looks like you can't get there because there is no water and a line of reported shoaling... but there are workboats going in and out of the Honga daily. We took a chance one year, first time in 1998. We disregarded the chart depths recorded and made for the flashing green #1 daymark, while tending our centerboards. Once you are tucked into the anchorage, you are rewarded with solitude not found in many others."
Due east from Solomons Island, the Honga River is an estuary on the eastern side of the Chesapeake Bay. It is bounded on the west by Hooper's Island and on the east by the mainland. It runs 14 miles. Cruder says the area is worth exploring, if only to visit the town of Crapo whose name belies its picturesque nature. The town's name is derived from the French word for toad, crapaud.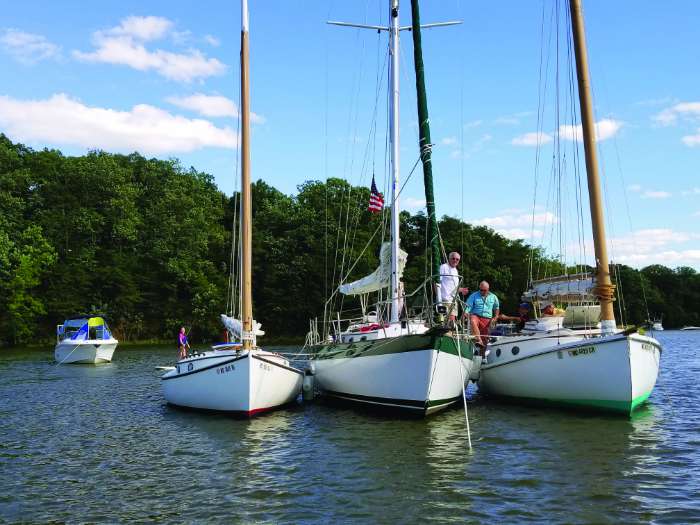 Goldsborough Creek—38.6984511°, -76.1449434
Eastern shore sailor Phil Livingston is a fun-loving kind of guy. But he likes his solitude. One of his favorite spots to spend the night is Goldsborough Creek, only about a mile east of his home in Oxford, MD. Here's how he tells it:
"The approach isn't obvious. You're not going to find any marks or even any private marks. Just sail by Oxford to "red 6," turn south, approximately 180 degrees. Stay equal distance from each shore, and you should be fine. There are two lovely homes on that heading to aim for. Once you are abeam of a dock on your starboard side, turn east. The water depth is six to seven feet. The farther up the creek the shallower it gets.
"Because of the unmarked and not obvious entrance, nobody goes into this creek, except for locals. Even they don't venture in here, because of the skinny water. The locals say, 'if you capsize, just walk home.' This makes it perfect for catboat sailing. Drawing only 19 inches, I usually go and anchor where the water is three feet or even two feet deep. If you don't mind an occasional cow mooing at 2 a.m., it's a great spot. No houses, cars, trucks, or other boats. It's so quiet you can hear the wind going over the ducks' wings as they fly by.
"Whenever I go cruising around the Bay, I usually find the shallows to go gunkholing. I like spending the nights in less than six feet of water. A crowded anchorage has never been a problem for me because nobody else can anchor in two feet of water. The catboat is perfect for doing this. If I go aground, the fix is simple: I raise my centerboard and go another direction. Since this creek is all mud as is most of the Bay, going aground is a non-event. No tow-boat required.
Livingston waxes mystical when he talks about his catboat, Patriot. "My Marshall 18 does everything I could ever ask of a boat. She takes me everywhere, to all kinds of quiet remote places, which I love doing. If it is a single digit depth on the chart, I'll head that way. I don't need a cast of thousands as crew to go out for an afternoon sail. Docking is simple; I don't need help. One sail, one sheet, everything is in reach."
My catboating pals have spent over a decade sailing up and down the far reaches of the Chesapeake Bay. Many of their anchorages can be accessed by boats drawing four to six feet. If you are interested in learning about some of the long cruise destinations the catboaters have gone on, go to chesapeakecatboats.org/long-cruises. Here you will find recaps of the most recent cruises and a good idea of a variety of five- to six-day cruising itineraries.
If you find an anchorage you like, let me know. I'll be sure to keep it a secret!
~by Craig Ligibel
Find more cruising destination articles here.