Posted September 28, 2017
Tiny House vs. Sailboat: 9 Similarities : Sailboats have different meanings for different people: perhaps a chance to relax, perhaps an effort to briefly tame the winds while cruising, perhaps a shot at Friday night glory by beating your beer can racing buddy. Having a sailboat has meant each of those to us. It's also made a terrific tiny home.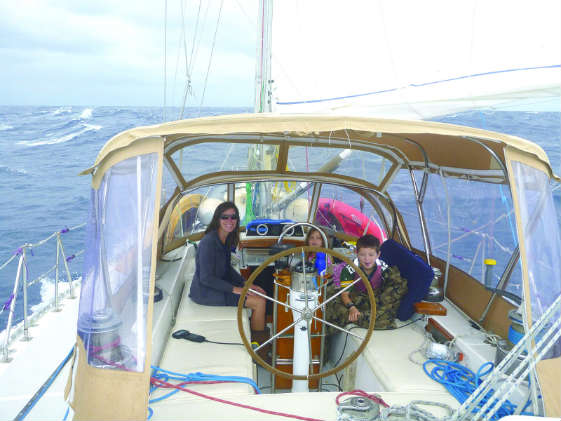 My family of four has lived aboard a sailboat for four and a half years. We figure our 47-foot Stevens 47 Hurrah has afforded us about 450 square feet of living space. Divided among three staterooms, a common living and dining area, a galley, and a head, that's a cozy snuggle for two adults, a teenager, and a near tween… And we love it! "Why?" you might ask.
1. We stay connected to the natural world around us. Most mornings bring coffee in the cockpit. We're tuned into the weather whether we're contemplating a blue water passage or a walk down the dock. The gentle tug of wakes or waves often rocks us to sleep and occasionally causes food or glasses to teeter. Sometimes even the pit-pat crunching of fish munching on bottom goo trickles through the floorboards.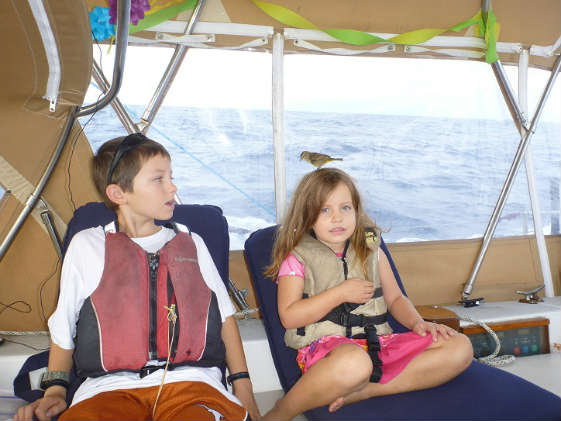 2. With water-top property, our front and back yard change at will. We've had the good fortune to travel on our tiny home as far north as Maine and as far south as Dominica. From our cozy cockpit, we see scenes of breathtaking beauty from foggy pine-lined coves to rainbows and green flashes at sunset. And we never have to mow the yard.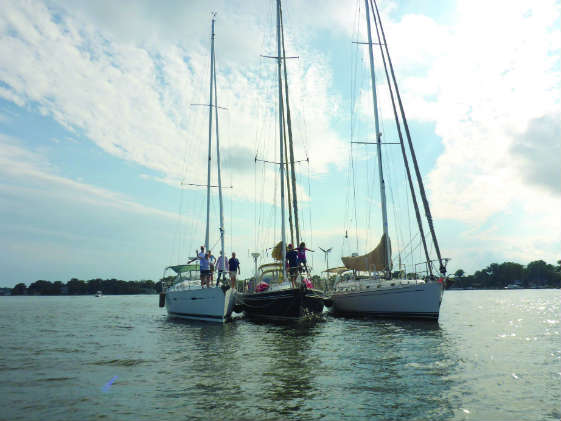 3. While it may be a tiny home, it has an enormous swimming pool! And we like to jump right off the side to cool off and play. Our garage also doubles as a dive platform. With extra strong davits, we can lock our dinghy in rock-solid for passages on the Chesapeake Bay and in settled weather. Once we're at anchor, we launch the dinghy. The flat, strong arms of the davits make for great jumping and diving. In rough weather, we park our dinghy on our foredeck. How many other tiny home owners can park their cars on their roof?
4. Every space has multiple uses. Name a cabin, and it has at least three functions. The dining table doubles as school room, work bench, and even the occasional museum. The cockpit—the most lived-in space on the boat—hosts the helm, a charging station, happy hour central, al fresco dining, nap breaks, a makeshift garden, and occasionally, a bird residence.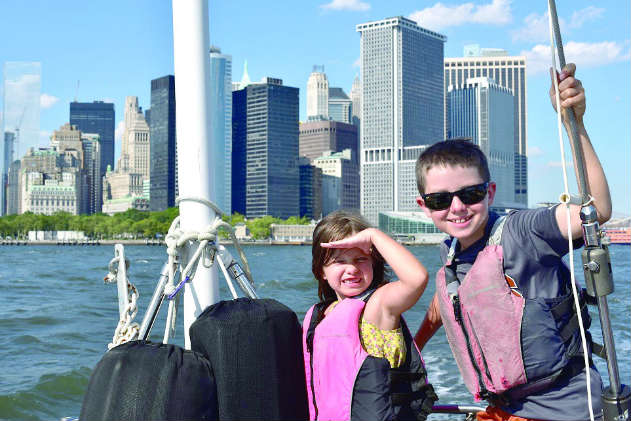 5. We spend less time cleaning. A thorough dusting and sweeping down below takes about 30 minutes. That leaves more time for playing board games, practicing music, telling stories, sipping cocktails, or paddling on water toys. But sometimes that means . .
6. We spend more time playing twister in awkward spaces. For example, our double berth lies against the hull, and to fit a sheet tight, I wriggle under the mattress and pull. Our engine is under our galley sink. Our fuel gauge is under the companionway stairs; our laundry bag is next to the fuel filter; our… You get the idea.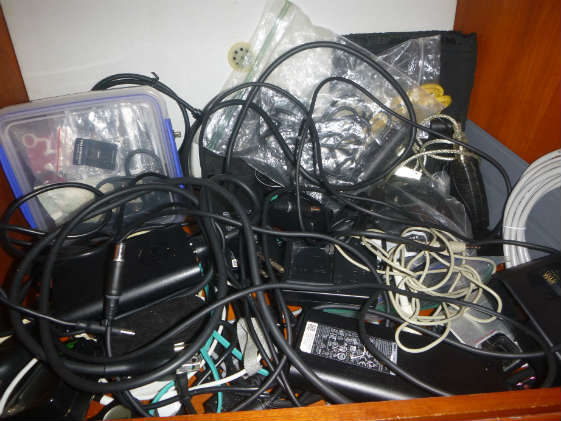 7. Multi-layered storage leads to lots of scavenger hunts. With deep storage lockers under berths, behind settees, and under floorboards, items get stored based on size and usefulness. For oft-used items such as pots, retrieval is as simple as opening the storage locker. But for items you'd really rather ignore—such as spare pumps and winter coats—diving to the bottom of a packed locker usually results in a tornado ripping through the cabin. With our top-loading fridge, we sometimes feel as though we are a grab hook in an arcade game. What will we find when we reach inside the fridge and pull mystery parcel "A" out? Hopefully not last week's forgotten lunch leftovers…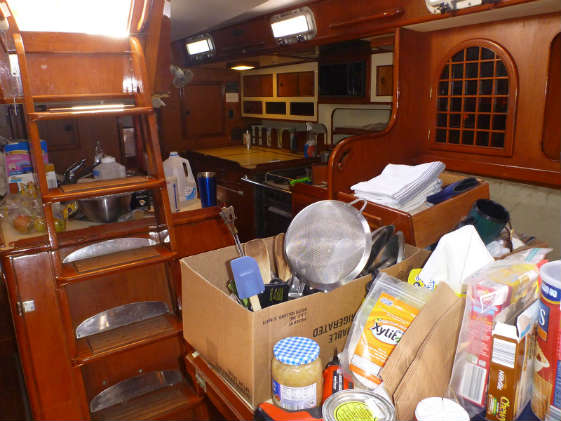 8. We play witness to crazy-knot theory. We have some gadgets onboard and an inordinate amount of cords to go with them, and these critters find amazing ways to snake around and tangle themselves up right when you need them.
9. There are distinct differences between our tiny house and the land-lubber sort. After all, it's still a boat. We pay close attention to our tanks. We have no desire to be Cousin Eddie, so we pump out early and often. We keep our fresh-water tanks in good supply, especially in the winter, when running out of water after dark on a freezing night becomes inconvenient. And boat projects are still boat projects, often consuming more time and resources than originally envisioned.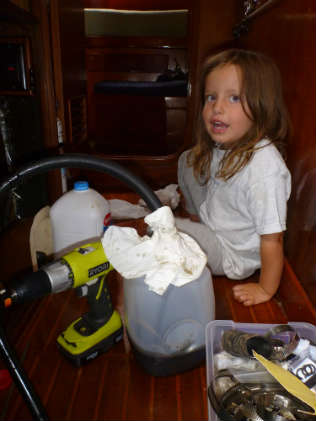 Still, we find the tradeoffs worthwhile: for us, life in a spacious house with a constant supply of running water, a dishwasher, and toilets that rarely clog, while the stuff of dreams, does not achieve the same family closeness, proximity to the outdoors, and simplicity we experience on a daily basis on our little house on the water.
~by Tracy Leonard