Gunkholes and Scenery Spots for the Upper Bay Cruising Sailor
Venturing north of the Bay Bridge brings a different kind of fun and challenge for the Bay cruiser. Shallow water, brown water, but also fresher water, and fewer jellyfish are among the obvious. The bridge itself is something of a gateway, or barrier, depending upon how you look at it. This is home water for me, and perhaps I'd grown a little tired of the sameness of scenery that a slow sailboat can get to year after year. But hearing a Southern Bay sailor's dismissive complaints about the Upper Bay (he had a six-foot draft) made me think harder about what I find good about it.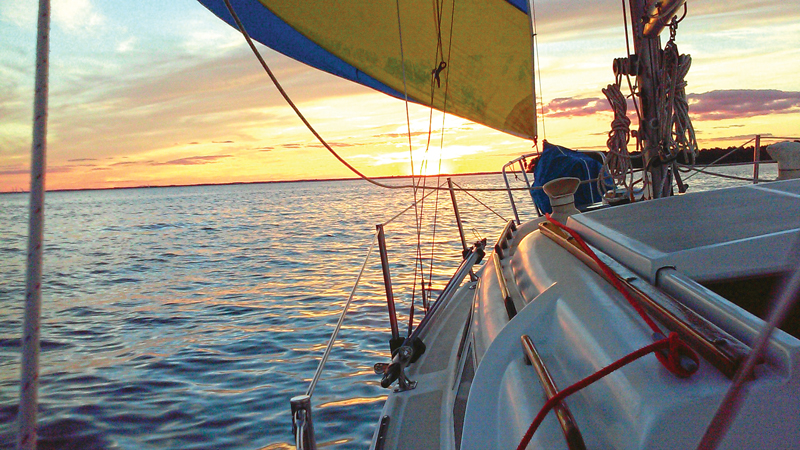 Assuming you don't have a six-foot draft, there's plenty to explore in the Upper Bay. Perhaps our southern friend was put off by the big ship traffic in and out of Baltimore's maw of industry and the ever-present and dangerous tug-barge combinations that seem to sneak up on a sailboat. Maybe it's the incessant powerboat traffic on hot summer weekends that swarm like bees on Middle, Bush, Magothy, North East, and Sassafras Rivers, and congregate in great hives at Dobbin and Hart Miller Island and Fairlee Creek.
The western shore of the Upper Bay is home to Baltimore and 2.7 million people, which explains only part of the concentration of boat traffic. Philadelphia and her suburbs are much larger at six million, and the Upper Chesapeake Bay is the closest good water for them to gravitate toward. Anyone who has spent any time on that inhospitable body of water known as the Delaware Bay will know what this means. Smaller places such as Harrisburg, Allentown, Lancaster, and York are within a couple of hours drive to the nearest marinas, and it's not uncommon for an equal number of Pennsylvania tags in the parking lot on any given weekend.
Call me a party pooper, but I'm not terribly keen on dock bars as a destination. I guess they're fine for some folks, but I reckon if the boat has a galley and some form of refrigeration, I want to hear nothing when I go sailing except the gurgle of the water in my wake.
Despite such a proliferation of boats buzzing about, there are places to find solitude, even on a weekend. The Gunpowder River is a lovely place to cruise, as well as the stretch between Seneca Creek and Havre de Grace, keeping Aberdeen Proving Ground to port. Lacking marinas or dock bars, the shore is populated only by eagles and other wildlife while the Army goes about its business landward. The base, by the way, celebrates its centennial this year, as its reason for being was the onset of World War I.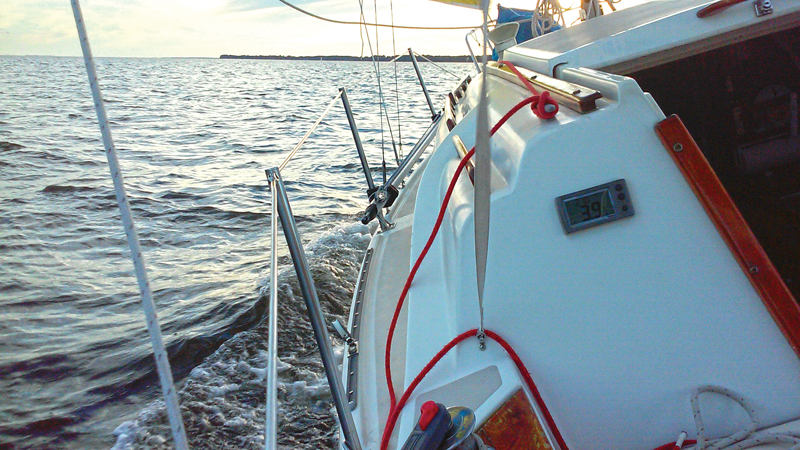 On the Eastern Shore, Worton Creek is a favorite for sailors. It can get crowded but is usually quiet, and past the mooring field on the inside is a good place to hole up for a night. The outside is expansive and provides good swimming within an easy sail from points north of Baltimore. Just to the south, Fairlee is always busy near the mouth, but a couple of miles upriver finds quiet and often deserted anchorages as the banks narrow. (The Southern Bay guy might have mentioned Fairlee. Its entrance is twisty and notoriously narrow, and probably grounded him drawing six feet. It's also a fun pastime to watch boats spin out in the current off the sandbar).
Still Pond is another good (and popular) spot. Still Pond inlet is a good gunkhole as long as it's not too buggy, and the trip up from Worton is unmarred by development to starboard. Andelot Farm is 2890 acres on nine miles of waterfront, the largest conservation easement ever deeded to the State of Maryland. Rock Hall is always busy, drawing both from Baltimore and Annapolis, but Swan Creek above the town is yet another fine anchorage off the beaten path. Of course the Chester River, mainly due to the dearth of fuel availability and dock bars, is a fine and scenic cruising ground.
One particularly great thing to do is a moonlight cruise to Tolchester. Time your arrival just after five o'clock when the fuel dock closes, and have dinner in the restaurant or the beach bar. After sunset, start back across the Bay, guided by the lights on the C.P. Crane coal-fired power station on Seneca Creek that can be seen all the way from Rock Hall. Crab pots, the bane of night sailors, are everywhere off Hart Miller Island on the Bay side, but completely absent in Hawk Cove.
One Sunday night last September, I was ghosting along in the middle of the Upper Bay on a warm afternoon with no place in particular to go. I had just come from Worton, but I didn't want to go home. The sun was setting low on the horizon with the Bay Bridge somewhere ahead. I watched as a big cruise liner exited the Patapsco bound for the Caribbean. With less than 10 feet of water under the keel, I was glad not to have a six-foot draft. The Upper Bay, this place, was exactly where I needed to be.
By Steve Allen