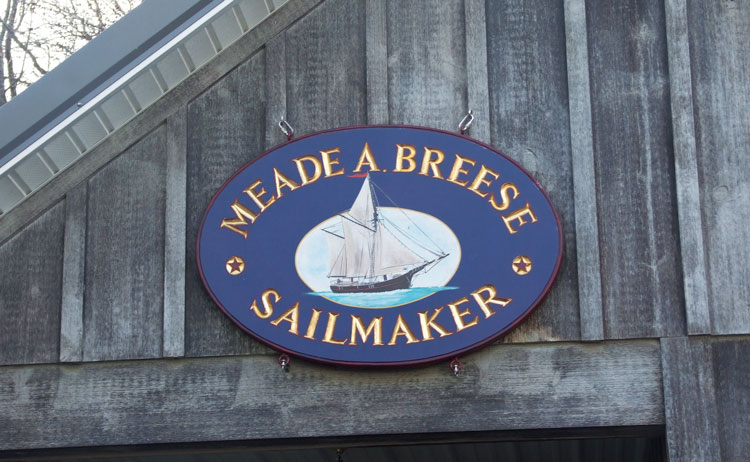 While some can spend a lifetime establishing a recognizable name in their trade, others may be born with a nominative destiny to fulfill. Meade A. Breese and his wife, Cheryl, have distinguished themselves as one of the Chesapeake Bay area's foremost sailmaking duos. The couple currently owns and operates the award-winning Breese Sail Loft in Rock Hall, MD, where for the past 21 years their partnership has remained focused on building high-quality, custom cruising sails and providing expert repairs with a uniquely personalized, small town flair.
I recently sat down for a conversation with Meade and Cheryl beside a crackling miniature woodstove in their self-built, Bay-side home. Gazing out upon the Breese Sail Loft situated just outside of the house, I settled into the cozy, nautically inspired settee where the conversation would take place. Getting underway, Meade was quick to point out that above all else, he and Cheryl are builders. While a lifetime of building boats, businesses, eco-houses, hot air balloons and quality cruising sails certainly adds up to a wealth of skill, it is, perhaps, the building of their enduring relationship that has meant the most to their sailmaking success.
Reflecting back to their earliest acquaintance as co-workers in social services, Cheryl adds, "It is the foundation of friendship that makes the rest of the partnership work." Meade agrees but insists that when it comes to running the business, Cheryl is the captain. This best-friendship has been the building block of a most adventurous and rewarding life together.
The Breeses are renowned for their craftsmanship, customer satisfaction, and personalized service. Their work has been an important influence making Rock Hall a first class sailing community. Now operating from a quiet, secluded location just outside of town, it is evident as soon as you enter their driveway that the Breeses not only love their business, but they live it.
Like most sailors, some of the Breese's expertise comes from the ever edifying School of Hard Knocks. Meade fondly remembers the first sail he ever made. At 19 years old, already proficient in sewing fabrics together, he constructed a sail out of parachute material to fit his home-built wooden Sailfish. When he raised the sail at the dock on New York's Oneida Lake, he was pleased to see the sail filled well and with great ease. "So I cast off and went sailing," he recalls. Then, he chuckles, "and nine hours later, I was still sailing downwind!" He couldn't sail the boat back upwind no matter how hard he tried. After a long tow back to the dock and plenty of time to think it over, his first lesson in sailmaking was well understood.
In 1984, Meade and Cheryl, finished and fitted out a 31-foot, gaff-rigged ketch on which they cruised the Chesapeake and lived aboard for a time. Unlike most modern sailboats, this custom finished Southern Cross had no motor. And, while the simplicity of engineless sailing may conjure romantic dreams and images of skill and determination, Meade confesses, "There were times when we really wished we had an engine."
"Like the time it took us four days to sail up the Chester River," comments Cheryl.
This recollection took Meade back to a dark, harrowing night, when at anchor, a sudden gale came up out of the west and had them pinned perilously close to a rocky lee shore. With Meade perched on the bow, he could do nothing but watch as the pulpit plunged beneath each wave, tugging and chafing the anchor rode, one strand at a time, until daybreak when they could safely sail away. In these kinds of situations, understanding how to use your sails may be as important as knowing how to make them. Although experience is often one's best teacher, Meade credits and highly recommends Emiliano Marino's 1994 publication, "The Sailmaker's Apprentice: A Guide for the Self Reliant Sailor" to anyone who hopes to build his or her own sails.
Meade says his apprenticeship was like learning from all the master sailmakers at once. Stemming from his background in hot air balloon construction and teaching himself, he began a long process of deconstructing, studying, and reconstructing preowned sails made by renowned sailmakers like Morehouse, Doyle, North, and others. He learned how to understand and employ the most effective techniques in creating and repairing his own sails.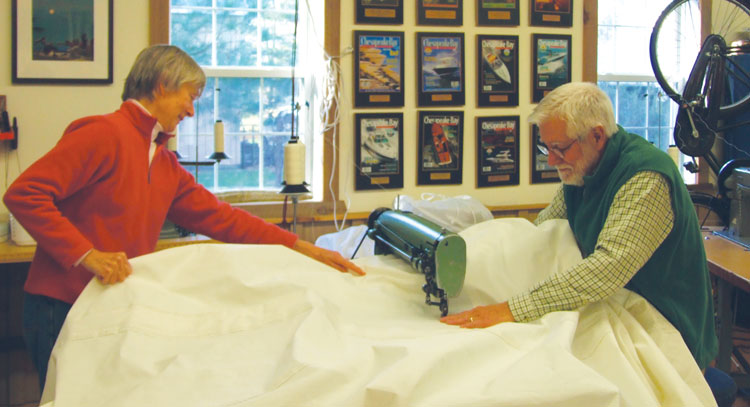 In 1995, Meade and Cheryl decided to settle in Rock Hall, opening their first loft on the corner of Main Street and Chesapeake Avenue. Since then, the Breeses have only gotten better and more deeply involved in the community that they love. As active members of the Greater Rock Hall Business Association and the Kent County Chamber of Commerce, Meade and Cheryl have become vital assets to the Chesapeake Bay area.
Not contented to rest on their laurels, the couple does not hesitate to concede that, with international competition, furiously paced technological advancements, and a declining number of entry-level sailors, they must remain true to their greatest strength in order to stay on top of their game: their relationships. The bond that begins with the husband and wife is skillfully transmitted from the business to the customer and from the customer to the sailing community. Among their many skills, the Breeses have honed the art of turning strangers into customers and customers into friends. This is their formula for success.
I have to admit, the first time I drove past the Breese sail loft, adorned with Cheryl's exquisite flower garden, and topped by the handmade sign reading, "Meade A. Breese Sailmaker," I could only think, "what a great name for a sailmaker!"
by Capt. Mark Einstein