On July 6, I was invited by Helly Hansen to meet French rock star sailor, Thomas Coville, who in December 2016 captured the around the world single-handed sailing record on the 110-foot trimaran Sodebo Ultim: 49 days, 3 hours, 7 minutes, and 38 seconds. He was in NYC following his eight-day transatlantic Bridge 2017 race (with six total crew) and was about to turn around and attempt to break the solo transatlantic record from NYC to Lizard Point in Cornwall, UK (which he did!).
Some other media professionals and I asked the sailor questions about his adventures and Helly Hansen gear and checked out the boat.
Here's what I learned:
1. I'm a wimp. I find the sleep deprivation of overnight racing so tough that I now go to sleep early at home (for 8 hours) on land, while others sail down the Chesapeake Bay at night. When solo sailing, Coville sleeps for 25 minutes at a time for months on end. He sets an alarm that sounds much like a fire alarm. He's often so tired he does not even hear it. Following his 49-day around-the-world trip, it took him four months to recover his sleep patterns.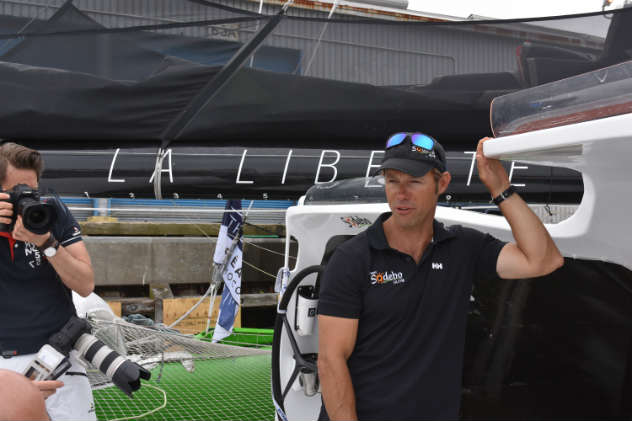 Such sleep deprivation is hard on even the fittest body, as the yachtsman was quick to point out. These long trips mess with his thyroid function and blood sugar levels. He trains hard physically and mentally so that when lacking sleep, he can still make split-second decisions that may save his life.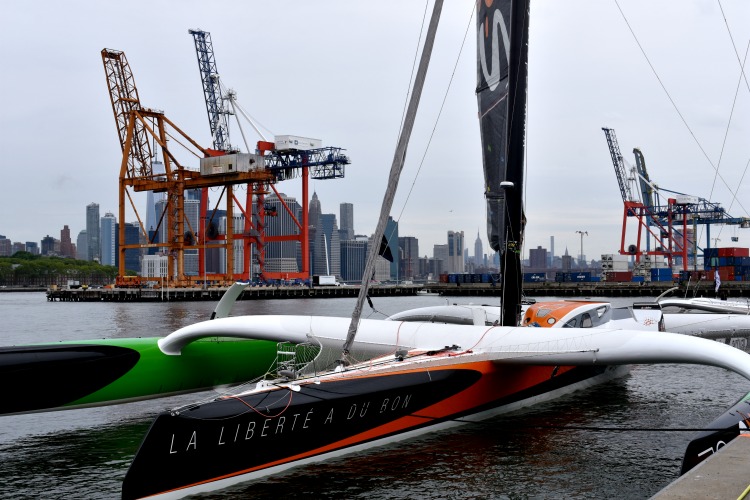 2. Colville's wife and two kids are not wimps. They tolerate him being on the water 240 days per year; and he's not exactly coasting. He's done several Mini Transats, three Volvo Ocean Races (including winning on Groupama 4), the Vendee Globe, Route du Rhum, and several around-the-world record-breaking attempts. He's always pushing hard on the fastest sailboats in the world. It's dangerous work, and his family in Brittany, France, knows it. They have to be emotionally strong to support him in his efforts and live their lives more often than not without him.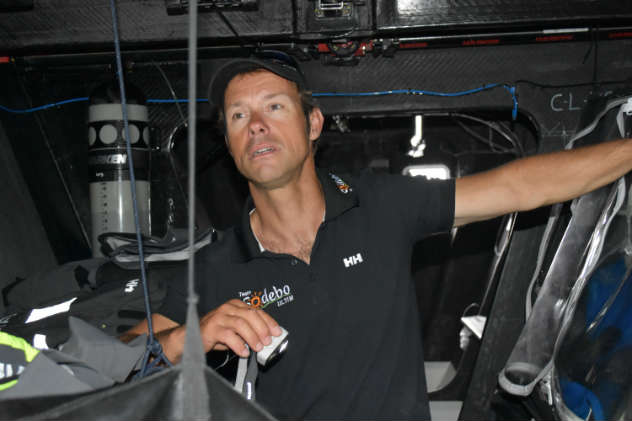 Colville told us the story of his autopilot breaking down during the Vendee Globe. He thought about withdrawing, but his wife got on the sat phone and told him that if he quit, "she'd quit him" (this made us laugh—the language barrier part, that is. We knew what he meant. She pushed him to keep going, so he finished. She's his rock.)
3. Gear may save your life. We know this, as even sailing across the Chesapeake in choppy water in cold-water season proves fatal to an unfortunate few every year, but if you step that up a notch, or really a few thousand notches in this case, every moment when sailing at top speeds (up to 46 knots!!) offshore, Colville faces life-threatening situations. As we spoke with him, he mentioned countless times that he could die in the ocean (he says this in a French accent which amps up the drama of it).
We had a chance to check out Colville's gear kit—boots, bibs, dry suit, splash top, and heavy duty skirted ocean jacket—and found that the whole kit would be great to have right here at home for all-season sailing (I personally won't be needing the dry suit!—see #1). Colville wears Helly Hansen gear exclusively, and for the better part of a decade he's been instrumental in helping its designers improve the gear's comfort and safety.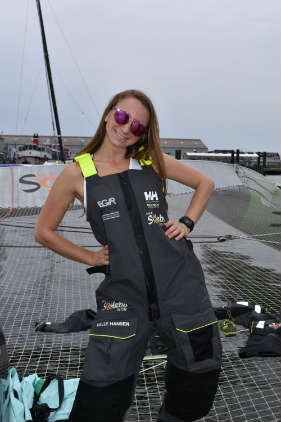 4. Claustrophobia and ocean crossing do not mix well. Oh my, were those quarters tight and muggy in the center hull of Sodebo Ultim. If you're at all claustrophobic as this editor is (see #1), it takes a deep breath and a self-pep-talk just to descend the ladder into the bowels of the small space—and that's at the dock! Once I was in there, I couldn't stop wondering how loud and rough it would be down there banging through ocean waves at 20 or 30 or 40 knots. It's not something I'll ever experience, but looking at a ripped Coville and his fit French crew, I can see that they've prepared well for it and are unfazed by it.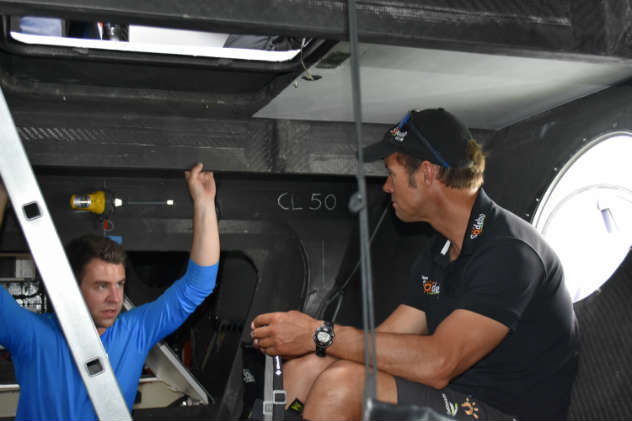 5. Somebody's celebrating a big birthday… It's Helly Hansen's 140th anniversary this year. In 1877 a Norwegian sea captain named Helly Juell Hansen and his wife Margrethe launched a business producing waterproof oilskin jackets, trousers, sou'westers, and tarpaulins made from coarse linen soaked in linseed oil. Since then the company has been innovating gear primarily for sailors and skiers (they go hand in hand, no?) and a separate portion of the business for professional workwear, outfitting commercial fisherman to tradesmen who need protection from harsh environments.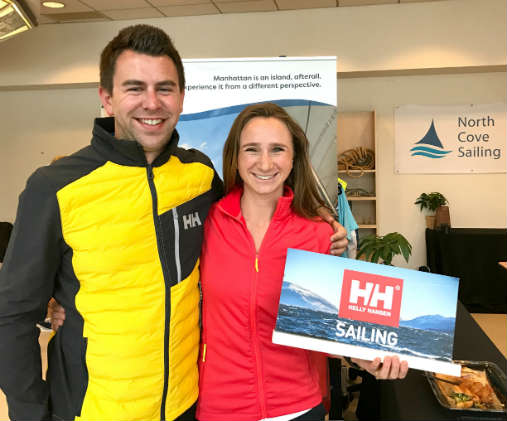 We got to see and touch some of the new and soon-to-be-released gear, including a retro version of the first fleece (but softer than the 60s model) and some technical and attractive lifestyle wear (my personal favorites were this Salt Power jacket, this cardigan, and the men's super lightweight Hydropower Insulator jacket (coming soon)). Stop by to visit Helly Hansen's Main Street Annapolis store to see what's new, and stay tuned for more news in HH's 140th anniversary year.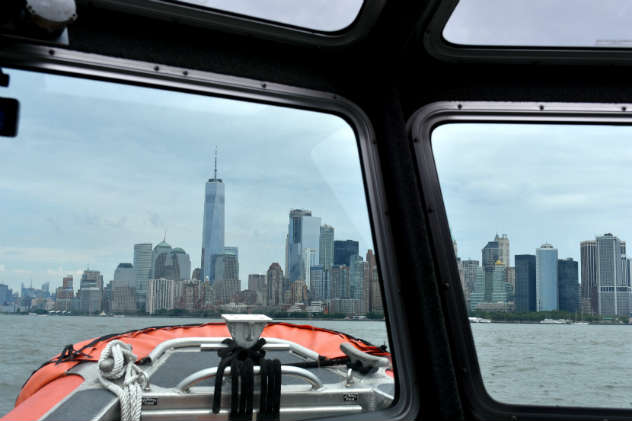 6. Downtown Manhattan has its own vibrant community sailing center. North Cove Sailing, located at North Cove Marina, only blocks from One World Trade Center, offers programming for beginning to advanced sailors, a club membership, kids' camps, team building experiences, and more. Check out North Cove Sailing on Facebook.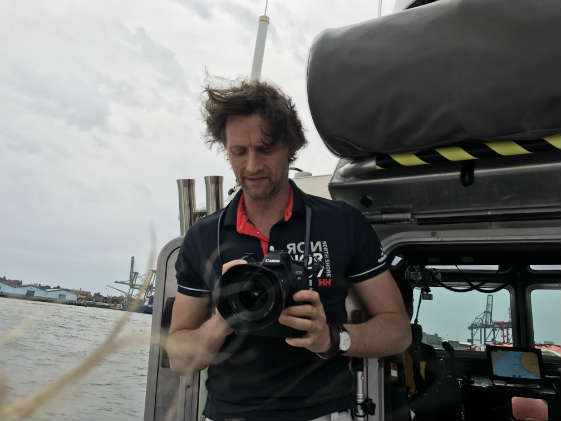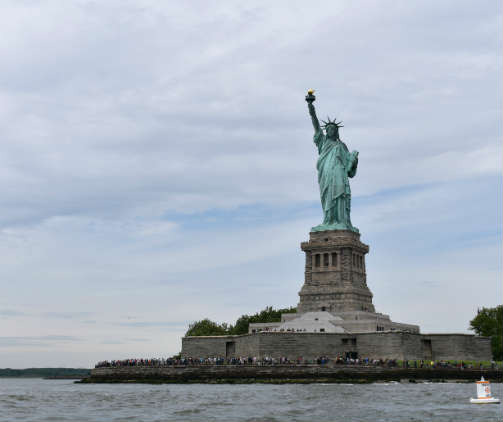 Happy Birthday, HH! And thank you for an exciting opportunity!
A WEEK AFTER OUR MEETING IN NYC, COLVILLE BROKE THE TRANSATLANTIC CROSSING RECORD BY SAILING THERE IN FOUR DAYS AND 11 HOURS!
~Molly Winans