What To Do—And What To Wait On Doing—When Planning Your Full-Time Cruising Adventure
"Have boat, will travel" — if only it were that easy. Outfitting a boat for full-time cruising takes determination and a head like a bulldozer. And it takes planning, lots of it. Comprehensive guides such as Beth Leonard's "The Voyager's Handbook: The Essential Guide to Blue Water Cruising" and Nigel Calder's "Cruising Handbook: A Compendium for Coastal and Offshore Sailors" offer spot-on advice for organizing your boat (and even your life) so that you can cast off the lines. My recommendations after only 14 months of cruising do not supersede theirs; instead, they reflect what a newcomer learned in on-the-cruise training after working through the basics covered in those two books.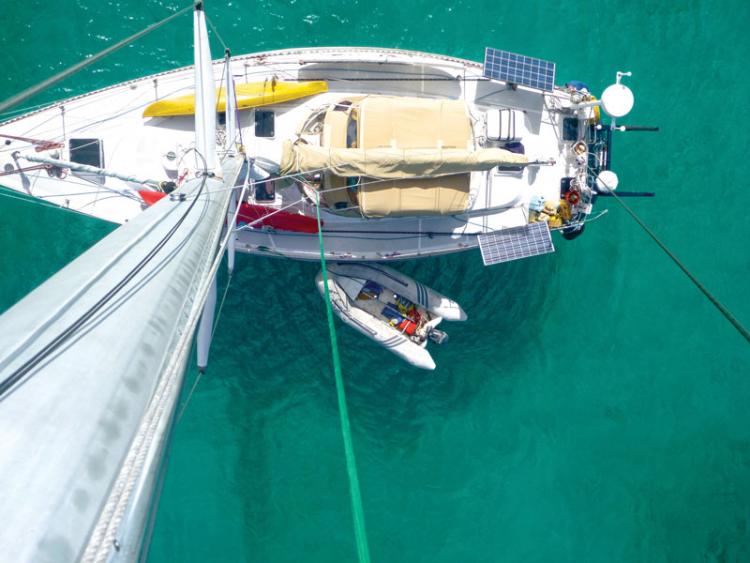 Four areas outshone all others in their importance in outfitting our boat: determining and completing the "must-do" projects, working out "plan B" for inevitable system failures, and getting our power balance and ground tackle right for our trip. Secondarily, nailing down the departure, moving aboard, and adjusting to the cruising life made leaving the dock possible.
Complete must-do repairs and routine maintenance
We talked to many cruisers who, like us, had a "must-do" list that they completed before they left and a "nice-to-do" list for finishing sometime, perhaps at anchor in a beautiful tropical setting. The "must-do" lists almost exclusively contained projects that improved the boat's safety and reliability. Most of the rest waited for a rainy day.
It's not a question of if it will fail, but when...
Over 14 months of full-time cruising, we estimate we put the equivalent of about six years of weekend wear on most of our systems. We left with a well-prepared boat, and over the course of the cruise, we lost use of our windlass battery, our VHF radio, our autopilot, our engine regulator, our head, our fuel injector pump, and the electrical wiring on our aft port side. So what do you do? One answer is to pack spares to do repairs on board: engine spares, head rebuild kits, electrical wiring connections, spare radios, and so on. Another answer is to wait in port for parts. This works pretty well for a cruise in well-supplied New England, Puerto Rico, or St. Martin; less so in parts of the Windwards and Leewards, the Bahamas, or other remote destinations. A third answer is to troubleshoot in advance major system failures and be creative at improvising. We carried a spare regulator, windlass motor, water pumps, and extra sails. Alas, we didn't pack an extra head. Friends who lost their primary refrigerator decided to eat non-refrigerated foodfor the season rather than spend a lot of time and money trying to fix it. Improvising often holds more appeal than long waits for expensive parts in port.
Get your power balance right
Take the time to understand how much energy you will consume on passages and while at anchor. Then plan your power sources accordingly. Possible options include running the engine or a generator to charge the batteries or generating some power through renewable resources with solar panels and/or a wind generator. As you decide how you want to generate power, where you are cruising may play a role. For example, we spent half of our trip in New England during the summer and half in the Caribbean during the winter. To take advantage of long summer days, we installed two solar panels. We also opted to upgrade our refrigeration, previously our biggest power hog, to an energy efficient, DC-powered system and added two batteries to our house bank. This system worked well in New England. The solar panels regularly out-produced the amount of energy we consumed at anchor. In the Caribbean, however, with shorter winter days, we had to top up every few days by running either the engine or generator. Someone planning to cruise exclusively in islands with strong and steady trade winds might prefer a wind generator to supplement the power supply. During long passages, our solar panels could not keep up with the energy requirements of our navigation equipment, so we had to run the motor every so often. Coincidentally, Mother Nature often ran out of steam at some point during our passages, so we were running the motor both to charge the batteries and to keep moving.
Ground tackle
Carry an anchor that you feel confident will hold your boat and establish an anchoring routine. Confidence in staying put weighed heavily on our minds, so in the middle of our cruise, we switched from a 66-pound Bruce, which was sized appropriately for our boat, but hard to set, to a 120-pound Rocna (affectionately dubbed Roxy). While Roxy is two sizes larger than recommended for our boat and garners a few skeptical looks, we have never regretted the decision or the expense. We haven't yet drug. We virtually always set on the first try. We take this peace of mind with us when we go exploring for long hours ashore. After all, we didn't take off cruising so that we could sit on anchor watch in the harbor.
Set a deadline for casting off the lines
And stick to it. Otherwise, you can always find another project to keep you from leaving.
Decide how connected you want to be
If strong internet and cell phone connections matter, as they did for my telecommuting husband, wireless and cellular signal boosters help a lot. Several times the cell booster picked up a signal we could not get on our phones and amplified it to multiple bars. This enabled us to stay in more remote anchorages, which we preferred, rather than anchor in large harbors near cell towers.
Move aboard as early as you can
Whether the night before or years in advance, move aboard as early as you can. We moved aboard two months in advance, appreciating the opportunity to get used to living on the boat and to finish last minute projects before we got used to cruising full-time.
Sail as much as you can in advance
This especially rings true if you're outfitting a new-to-you boat for a big cruise as we did. Even "trips to nowhere" (ours were up the Severn River) bring familiarity with how the boat handles and help with useful cruising skills like anchoring.
Plan to keep planning
Planning to take off cruising acts as good preparation for all the planning you do once you are cruising, something that took us by surprise. Each day included monitoring weather forecasts, researching new ports, plotting laundry and provisioning runs, and deciding what to do that day. Active Captain, especially through one of the mobile apps that store its database, helps immensely with the planning. The planning pays off: All of the prep work paves the way for meeting the challenges and adventures encountered underway. With a well-outfitted boat, it seems that once you cast off the lines, everything else just falls into place.
By Tracy Leonard