Use This So That Anyone Onboard Can Read How and When To Use Your Vessel Control Panel
As a captain, have you had a guest or crewmember get confused by your boat's vessel control panel? Maybe you're sometimes unsure which lights to use when. As a guest or crew, how confident are you at the navigation station?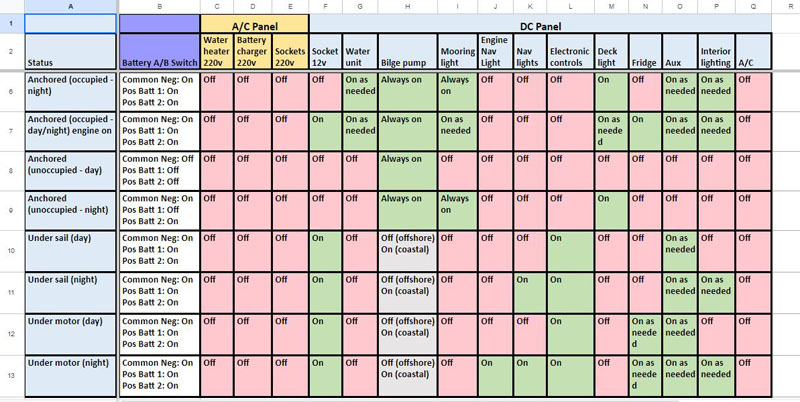 Most of us know what to do if our captain asks us to change the battery setting from ALL to One, Two, or Off. We probably also know how to flip on the navigation lights when dusk falls as we near our home slip. Beyond these basics, sometimes it can get a little fuzzy, especially if you're a guest or new crew on someone else's boat.
SpinSheet staffer Nathan Younge, who owns a sailboat and is partners in another, came up with this handy and useful vessel control Excel spreadsheet for a Watkins 33. It's adaptable for any vessel, and he's sharing it with the world, so that sailors everywhere can replicate and adapt it for use on their own boats. You many access, download, and adjust it for your vessel(s).
Share virtually with your crew and post next to the control panel in the cabin.
Younge says, "Miscommunications can arise when you have new crew, or if you are on board an unfamiliar vessel. Hopefully this spreadsheet will help to minimize mistakes. "
Try it out! Adjust it to suit your needs, and let us know how it works for you. Send your comments to [email protected].