*Sponsored content provided by Sailrite
When the sea gets rough, it's often best to sleep in the center of your boat in the main cabin, or saloon. That's where a lee cloth comes in handy. This useful item acts like a safety net to keep you in your bunk so you don't roll out while you're asleep and your boat is rocking. With fabric, tools and step-by-step instructions from Sailrite®, it has never been easier to make lee cloths for any boat!
While sewing a lee cloth is a fairly simple project, you'll need to do some critical thinking in order to properly attach it to your boat. That's because every vessel is a little different in terms of which berth your lee cloth will be best suited for. Our easy-to-follow, free video will guide you through all the steps necessary to make a lee cloth and adapt it to your boat's unique features.
Our lee cloth tutorial will walk you through everything from patterning to installing your finished lee cloth in your boat. As an optional step, we'll also show you how to add storage pockets in your lee cloth for organizing small electronics, glasses or other necessities to keep within easy reach.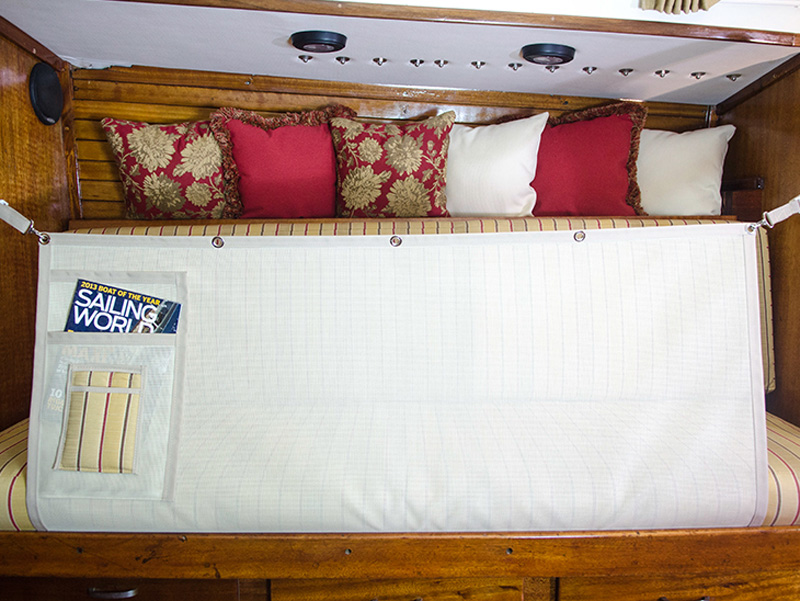 With Sailrite's incredible selection of fabric, tools, supplies, sewing machines and free instructional videos, it's never been easier to customize nearly every facet of your boat. When you sew your own projects, you're saving money and guaranteeing that you'll get a custom fit for your boat's unique specifications. Sailrite is your one-stop shop for all of your DIY projects, along with fast shipping and fair prices to sweeten the deal. Whether you're attempting a canvas repair or a complete makeover of your boat's cabin, Sailrite has everything you need in one convenient place!