*Sponsored content provided by Sailrite
A clear vinyl windshield or any piece of clear vinyl, like those on marine enclosures, should last for years if properly cared for. One way to better ensure the longevity of your clear vinyl windshield or enclosure is to keep it covered when not in use. With supplies and instructions from Sailrite, it's easy to create snap-on covers to protect your clear vinyl, potentially doubling its life!
The snap-on covers that we'll show you how to craft in our step-by-step tutorial are double layered. The outer layer is made from Sunbrella® Marine Grade Fabric. This 100% solution-dyed acrylic is resistant to mold, mildew, stains and fading to help better protect your clear vinyl from the elements. However, the inner side of the snap-on cover that comes into contact with the clear vinyl is made with Evolution® Block-It® fabric. This soft, breathable cover fabric is perfect for protecting clear vinyl without scratching it, an important factor in keeping your vinyl looking great. Thankfully, both of these quality fabrics can be purchased from Sailrite.com.
While our tutorial details how to cover the clear vinyl window material on your dodger, it can also easily be modified for any type of marine enclosure with clear vinyl. To quickly and accurately install the snaps needed to secure your covers over your vinyl, the exclusive Sailrite® SnapRite® System Complete Kit is your best friend! This unique snap fastener system features a standard rivet gun and special components, allowing you to install fasteners with ease, and saving you time and frustration.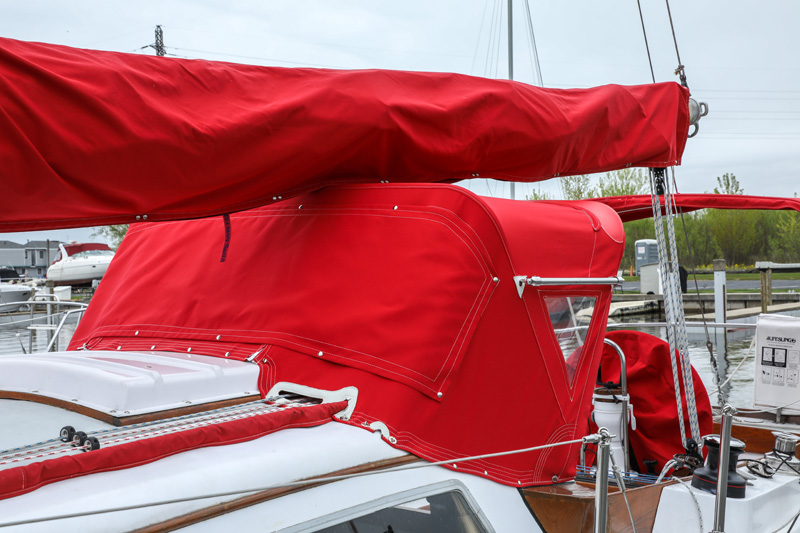 Sailrite is your one-stop shop for all things needed to keep your boat in tip-top shape season after season. From fabric and sewing machines to supplies and instructions, you'll find everything you need in one location. Prepare to be amazed by what you can create!