*Sponsored content provided by Sailrite
Looking for an easy way to mix up your décor and showcase your creativity? Switching out your throw pillows is a great way to test out new colors, textures and patterns all around your boat cabin.
This is the seventh and final lesson in the Learning to Sew Series. If you've missed our previous lessons, be sure to start at the beginning to learn how to set up your machine, wind a bobbin, and thread your machine (#200627XHT). If you already know how to sew, you can jump to any lesson in the series for a quick refresher course.
In this video tutorial, you will learn:
How to Measure & Mark Fabric
How to Match Up Patterned Fabric
How to Cut Fabric
How to Mark Zipper Placement
How to Sew a Zipper Plaque
How to Install a Zipper Slider
How to Sew Panels Together
How to Insert a Pillow Form
How To Sew a Throw Pillow
Let's put together all the skills you've learned and sew a throw pillow! We're sewing with the Ultrafeed® LSZ-1 Sewing Machine. The Ultrafeed is our portable, powerful sewing machine that can handle home and hobby projects as well as canvaswork, upholstery, leather, sailcloth and more. A pillow like this is typically made with light or medium weight home fabric, so a home sewing machine will be able to sew this project without issue. We have hundreds of decor and upholstery fabrics to choose from. We carry all the top brands including Sunbrella®, Bella-Dura®, P/Kaufmann, Covington and more. We're sure to have a pattern and color that complements your home and style.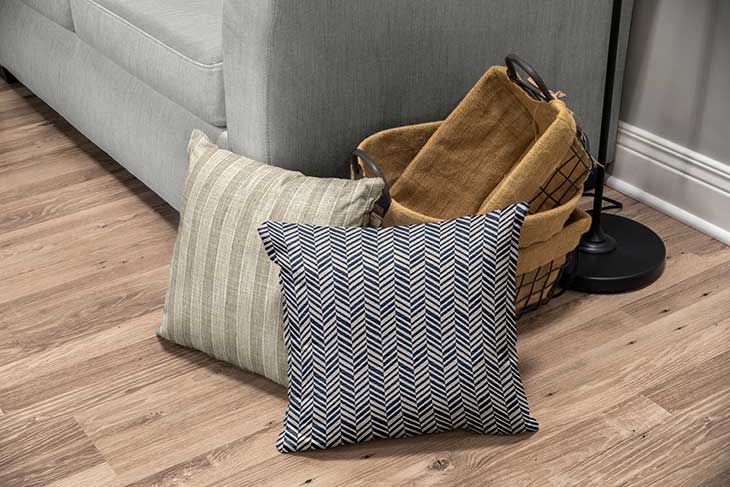 For your pillow you can choose any size pillow form you like. What's most important is to cut your top and bottom pillow panels the same size as your pillow form. For example, if your pillow form is 18 inches x 18 inches, you'll cut your fabric panels 18 inches x 18 inches. When you sew the pillow panels together with your 1/2-inch seam allowance, the pillow cover will be slightly smaller than the pillow form. This is intentional. A slightly smaller pillow cover gives a nice, plump appearance to your completed pillow.
Here are the materials you will need to complete this pillow project:
Home upholstery fabric available at Sailrite®
Pillow form of your desired size
V-69 thread
Size #16 Round Point (Sharp) Needle
YKK® #4.5 Continuous Coil Zipper (we used White #104385)
YKK® #4.5 Coil Zipper Slider (we used #104336)
Fabric scissors (we used Gingher® 8" Scissors #19104)
Sewing machine
Watch the video below to learn how to sew your very own throw pillow!