Why pedestal replacement is a good starting point
Pedestal replacement is an obvious place to start when considering a steering system replacement. Most boat owners, whether from a need to replace an inoperative system or a desire for a different appearance or functionality, decide at some point to replace significant components of their boat's system. After all, we want our boats to look and work as well as possible, and a boat's cockpit is often defined by the steering system, making it an important element. Pedestal replacement is an obvious starting point, and pedestals are straightforward to replace.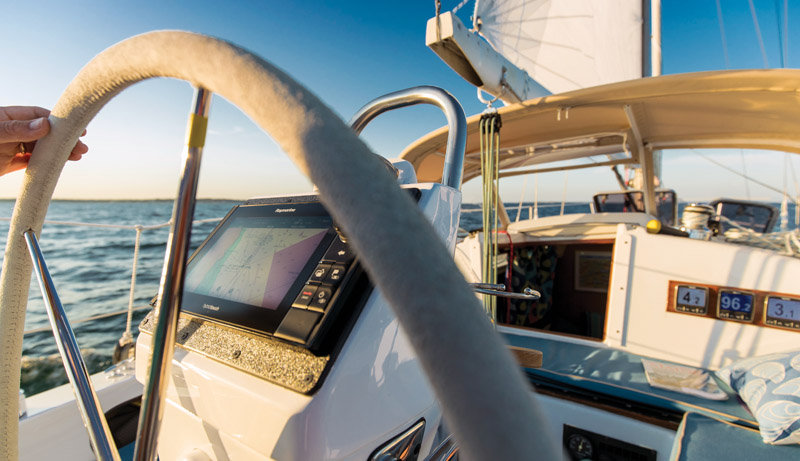 The scope of a replacement project is governed mostly by the health of the current parts and the availability of compatible replacements. Jefa, Lewmar, and Edson are the main suppliers of current sailboat steering gear, so replacing an existing system from one of them will generally be easier. Systems from Merriman and Yacht Specialties, popular in the 70s and 80s but out of production for decades since, will offer a few more challenges.
Pedestal replacement is the obvious starting point for most of these projects, and pedestals are straightforward to replace. In chain and wire systems a new pedestal from any brand can generally work with any downstream components. For example, if your boat has a chain and wire system from a company that's no longer in business, you could mate existing parts "downstream" of the idler plate underneath the pedestal to work with a new pedestal and idler plate. Existing sheaves don't know or care what's moving the wires that move across them, nor does the quadrant or radial know or care what pedestal you have.
The idler plate is the backing plate for the pedestal, and the hole spacing of pedestals and idlers is brand specific; so the pedestal and idler have to match. Reusing old parts in a new "hybridized" system is only recommended when the reused parts are in excellent condition—there can be a thin and blurry line between "smartly reusing good existing gear" and "throwing good money after bad." We've previously discussed checking these parts, so following the guidelines from previous articles is a good start (find both articles at spinsheet.com by searching "steering").
Hole spacing presents a daunting task for many boat owners, but it needn't be. First off, the pedestal mounting holes are one of the major places to find wet core or laminate in a boat. The cockpit gets a lot of water in it, originally installed bedding under the pedestal may have dried and cracked over time, and the area often needs some shoring up anyhow. On the scale of difficult fiberglass projects, this is an easy one. Essentially you remove rotted core if there is any and replace that core with new core or solid glass, working from underneath the cockpit. Access is often the only real challenge.
Leaving the deck-side skin intact removes aesthetic challenges, and your cockpit will be ready for a new hole pattern when it's done. If everything is intact, the job of filling holes is nice and easy with some resin and chopped glass. The idler plate does the hard structural work. The pedestal and guard are the main handholds in the cockpit, so you want to be sure the cockpit floor is in good shape for them to play this role.
Which style of pedestal you choose is wide open. Many boat owners now prefer to have a chartplotter right at the helm without having to mount it up high on a guard-mounted electronics mount where it can obstruct vision, so the console style pedestals work for them. Others prefer to keep a more classic look and all major steering suppliers have an option for that as well.
Reusing a wheel is often desired for economy and/or sentimental attachment to the current wheel.
by Dave Kirkpatrick of Edson Marine
Questions? Email Dave
Does my boat have Edson steering?