In an effort to find relief from the challenges to fuel containing Ethanol, the Marine Trades Association of Maryland (MTAM) has been working to substitute Isobutanol for Ethanol in Maryland. This required MTAM to send a formal request for an exemption to the regulation that had prevented the splash blending of Isobutanol with fuel. The request was granted. For the near future, this fuel will be available only to on-water fuel facilities.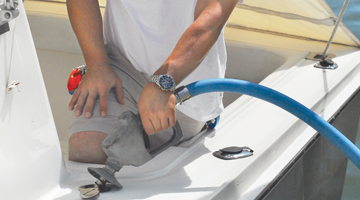 Advantages of marine fuel with Isobutanol:
Ethanol free
No phase separation
NO water solubility issues
30% higher energy content than ethanol
High octane
Reduced emissions
Made from renewable resources
The National Marine Manufacturer's Association (NMMA) has tested, recognized, and validated the performance of isobutanol blends in marine engines. Mercury, Evinrude, Johnson, Sea Doo, Volvo Penta, Honda, Yamaha, and Indmar engines have all been extensively tested on isobutanol blends up to 16%. The manufacturers acknowledge the advantages over ethanol.
For marinas that wish to offer Isobutanol:
Isobutanol is compatible with the standard materials of construction that are used for storage and dispensing of ethanol blends, as well as clear gasoline, so if you have a UL approved pump and dispenser, Isobutanol will have no issues. It is always good practice to inspect equipment, piping, and tanks for leaks so prior to switching to an Isobutanol blend.
Although an internal combustion engine will have no problems running with mixtures of E10 and i12.5 as demonstrated by NMMA testing, the EPA has not yet approved co-mingling of E10 and i12.5 in storage tanks or dispensers. So prior to loading storage tanks with i12.5, the tank should be emptied to the lowest level possible.
Labeling of the dispenser is very similar to requirements for E10, Gevo will provide labels required by the Weights and Measures Department of the State of operation of the retailer or marina. Click here for a fact sheet from MTAM.
For questions from marinas with on-water fuel, contact: Greg Roda from Gevo, (720) 267-8607 or [email protected].
MTAM thanks GEVO, a manufacturer of Isobutanol, for their work on this, and also thanks Delegate Herb McMillan (Anne Arundel County) for his leadership.