The first time I watched my six-year-old, first-born child get on a sailboat without me and head off with the wind, I aged 10 years instantly out of worry. Thankfully seeing his huge smile later that day melted my worries and gave me new confidence in my decision to send him to sailing camp.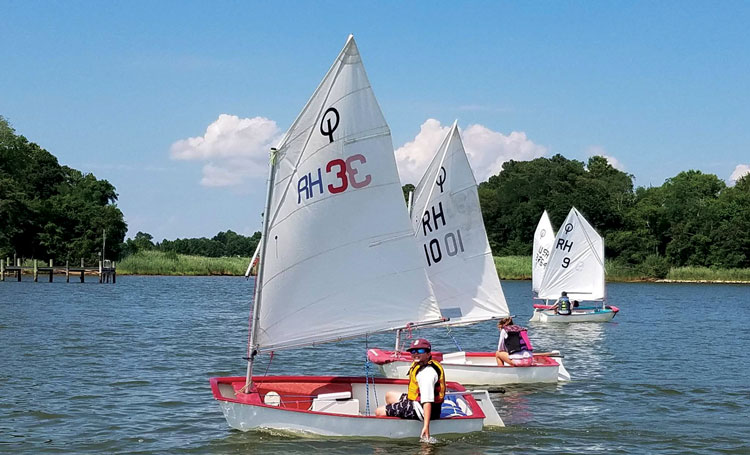 Any camp counselor is up to a challenge, wrangling hoards of energy-filled kids into a summer activity. Counselors have the added burden of keeping these wiggling little ones safe around gybing booms, deep water, and capsizing boats and teaching them a complicated skill set. It's not for the faint of heart.
Holly O'Hare founded the Eastport Yacht Club (EYC) Learn To Boat program in 2004 with six borrowed boats, one instructor, and one volunteer—the program has grown to eight weeks of instruction and hosted 260 sailors last summer. O'Hare has more than 20 years experience under her keel teaching sailing. "It was my first real job. I love kids and love teaching kids sailing or any other sport," she says.
EYC's 260 graduates only represented one program in one town. Up and down the Chesapeake Bay there are many more camps teaching kids from about age five on up all kinds of water skills from basic safety to Opti sailing to standup paddleboarding (SUP'ing) and kayaking. There are camps for kids looking to sharpen their racing skills, and there are camps for kids who have never been on the water before, and everything in between. Behind each camp there is a dedicated staff and crew of instructors who keep kids safe and happy on the water.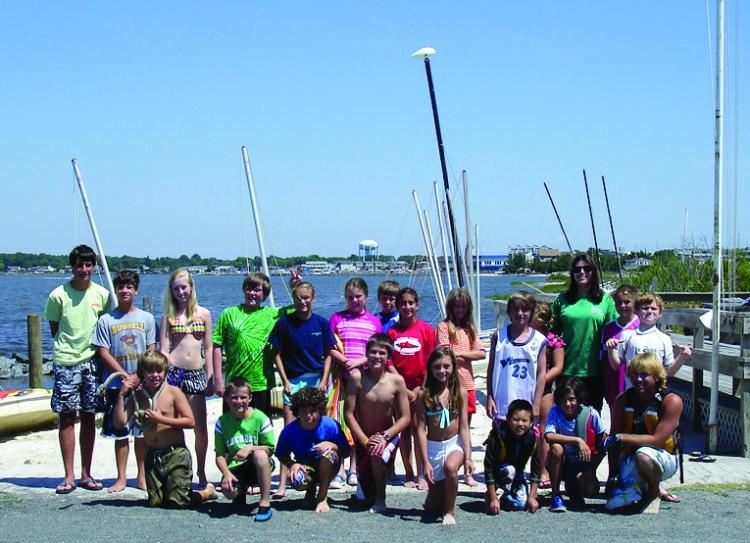 For most parents, safety is the top concern. Sailing is not kickball, and there are real dangers to this sport. "I am a parent, I get it," agrees O'Hare. "Safety must be the number one priority to any program. EYC adheres to U.S. Sailing standards for all our sailing and powerboat programs. All of our staff are certified and go through extensive pre-season training each year. In addition, EYC is a certified camp by the state of Maryland which imposes its own set of stringent standards."
Knowing all the safety boxes are checked and instructors are trained certainly allows parents to breathe a little easier. Safety is key, but camp is also supposed to be fun. Making sailing camp fun means creatively finding ways to get the rules and basics of boating in without boring or scaring kids back to terra firma. Judging by the waiting lists for many sailing camps, clearly the fun factor is full on. Instructors know how to blend fun and games with skills and safety in a way that kids often don't even realize how much they are actually learning.
"Teaching sailing can't be just about going around marks. It's about learning how to maneuver whatever boat you are in safely so you can enjoy what is happening around you and not be intimidated or scared. Fun instructors who can think outside the 'box drill' make all the difference," says O'Hare. And she adds, "Freezy pops are a big hit no matter what age!"
Kids aren't just learning the ropes about sailing a boat, they are getting the added bonus of all the things that appeal to us grown ups about sailing. Kids doing Opti camps are experiencing independence, freedom, and new-found confidence in handling something completely on their own. Kids in larger boats with other campers gain valuable teamwork skills that become tight friendships. And they're all learning how to be responsible for their vessel, and for each other. It's a tall order for sailing instructors who are not exactly getting top dollar for their time teaching kids at camp.
But that's not what it's about according to O'Hare. For her, it's "Giving back. I have sailed my entire life. My best memories were my years in junior sailing, the friendships I made, and the lessons I learned. Being able to give this gift to others is immeasurable."
I was impressed with the folks in charge of the camps my son attended when he was a little guy and later as an almost teenager. They didn't just keep him safe on the water; they also planted that seed of independence and confidence, and a lifelong love of sailing. Now I can confidently send my youngest one off to sailing camp this summer without worry.
By Cindy Wallach