Oozing with Luxury
Annapolis Yacht Sales (AYS) and Lagoon Catamarans are proud to unveil Tellstar, the most recently completed SEVENTY7, at the Miami Boat Show (MBS), taking place February 14-18.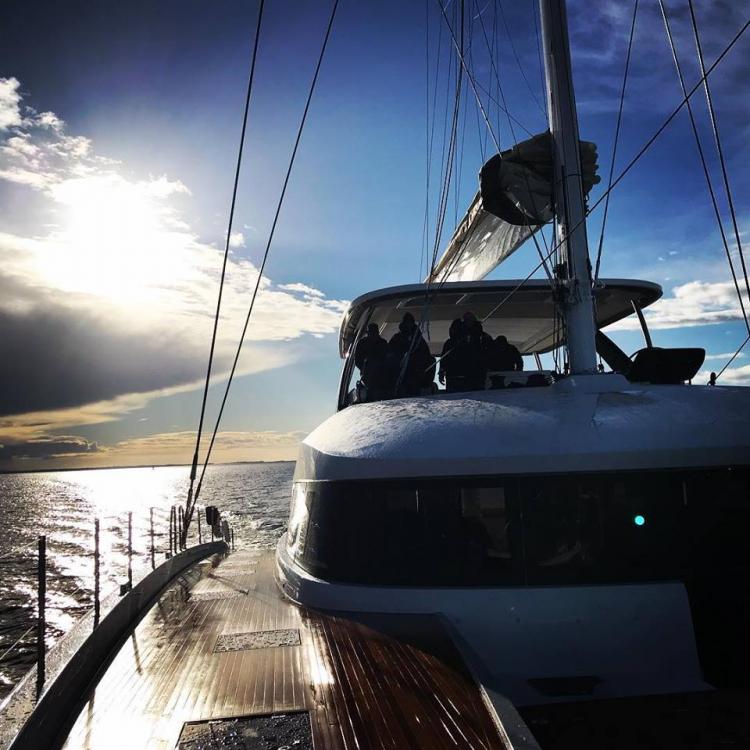 But the presence of this particular Lagoon – a model that made its U.S. debut at MBS in 2017 – will represent much more than the company's latest combination of form and functionality on the water. It will also symbolize a production and delivery process that, thanks to a host of individuals, was not only fast and flawless but an international adventure.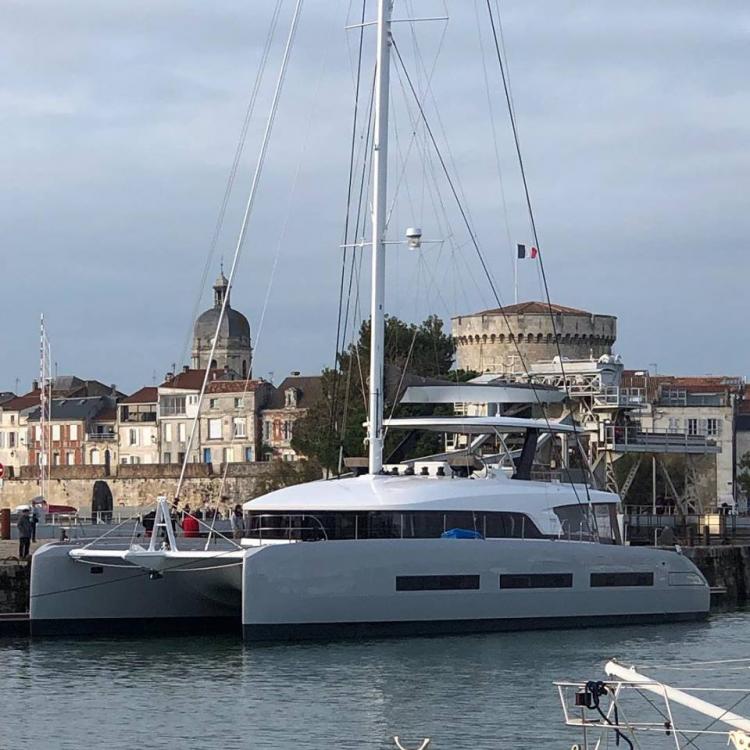 "Being here with Tellstar is a dream come true," said Patrick Tell, a Lancaster, Pa. resident, former Lagoon 620 owner, and the boat's owner. "When I heard that the SEVENTY7 would be making its U.S. debut in Miami in 2017 I knew I had to see it. After spending most of a day touring it, I knew I had to have it."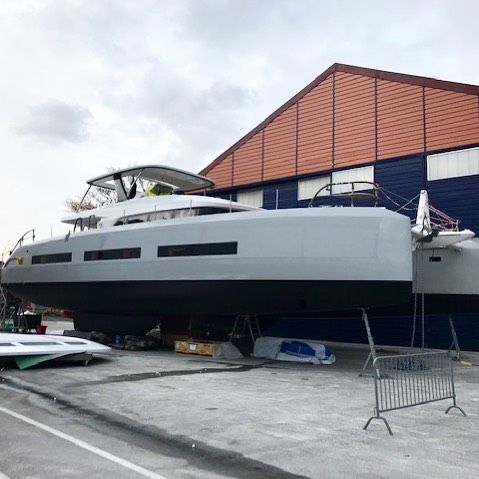 Recalling his visit to Slip 29, Pier 3, two years ago, Tell said that he was immediately attracted to the sheer size of the 77-foot, 56.8-ton flagship cat. Tell was most impressed, however, when he took a full tour of the boat with Denise Hanna, AYS Lagoon Specialist. He soon realized how much more comfortable a "vacation on water" would be for his family, charter guests, and crew on what Frederic Signat, Lagoon America Director, deems "the very best demonstration of our illustrious designers' ability to deliver unsurpassed elegance and comfort throughout all interior and exterior living spaces."
Acting quickly, Tell placed his order through AYS and Lagoon, then worked with Hanna to pick and choose the many options that allow each and every SEVENTY7 to be defined by its owner. As part of Tell's purchase agreement, AYS also agreed to oversee every step of the extremely extensive production and procurement process.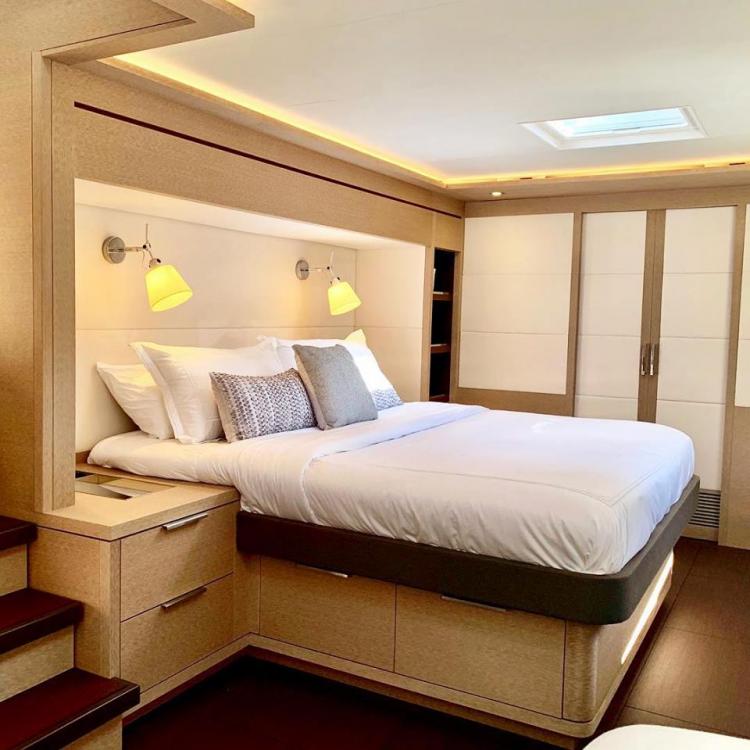 "We've been around for 65 years and have sold thousands of boats," said Chris Humphreys, AYS Principal and Director of Client Satisfaction, "but I can honestly say that this is the most complex purchase we've experienced. We knew a great deal of time and effort would be required with a delivery of this scale, and we jumped at the opportunity to rise to the challenge."
The expansive two-year process included enacting an intricate purchase and warranty contract; Humphreys and Matt Weimer, AYS Delivery Coordinator, completing two weeks of systems training and a bow-to-stern quality control check with Tell and Jack Gorman, Tellstar's full-time captain, at Lagoon's headquarters in Bordeaux, France; and all four men sailing the boat to La Rochelle in time to catch its 4,447-mile cargo ship ride to Florida.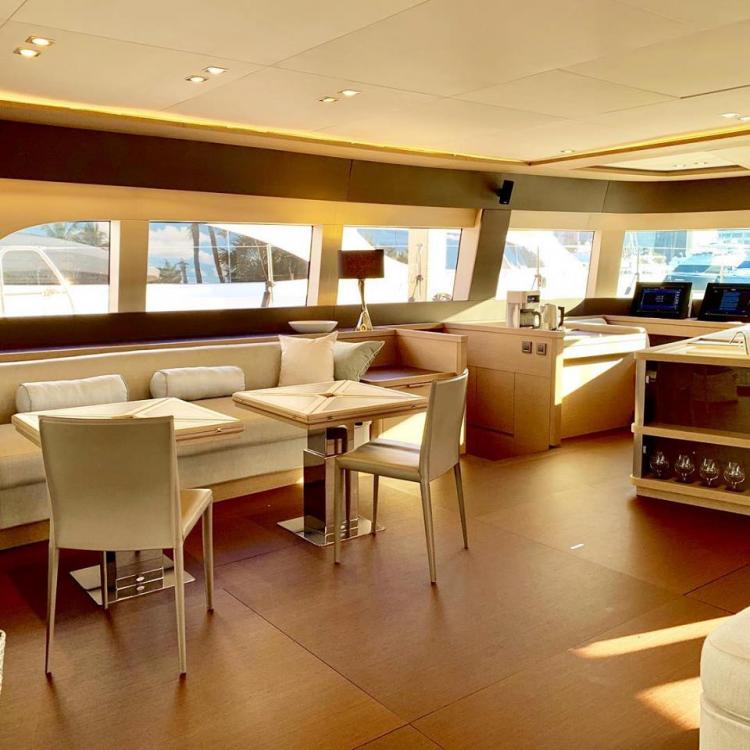 Reflecting on the experience, it's clear that Tell is one satisfied customer.
"I can't say enough good things about AYS," said Tell. "Matt and Chris served as extremely professional and trustworthy intermediaries and advocates for me throughout the process. Furthermore, they were fun. I can't imagine trusting any other company or individuals to go through this with, and I'm now happy to also call them friends."
This next chapter of the story continues at MBS, at the Lagoon booth, where Humphreys, Hanna, and Gorman will offer tours of Tellstar; answer questions about its procurement and production; and discuss its future life as a charter yacht that will split its time between the British Virgin Islands and Annapolis, Md.
In addition, The Lagoon Team will be on hand to meet with potential customers.
To learn more about AYS, click here or call 410.267.8181
To learn more about Lagoon Catamarans, click here.
Finally, to learn more about Tellstar, charter opportunities, and Captain Jack and Jaimey, who will be serving as Tellstar's full-time crew, click here.