CRAB Friends Sail To Celebrate the 30th Annivesary of the ADA
In commemoration of the 30th Anniversary of the signing of the Americans with Disabilities Act on July 26, 1990 by President George H.W. Bush, the Maryland Department of Disabilities and Chesapeake Region Accessible Boating (CRAB) teamed up to bring recognition and information about this important date in American history to the public in Annapolis.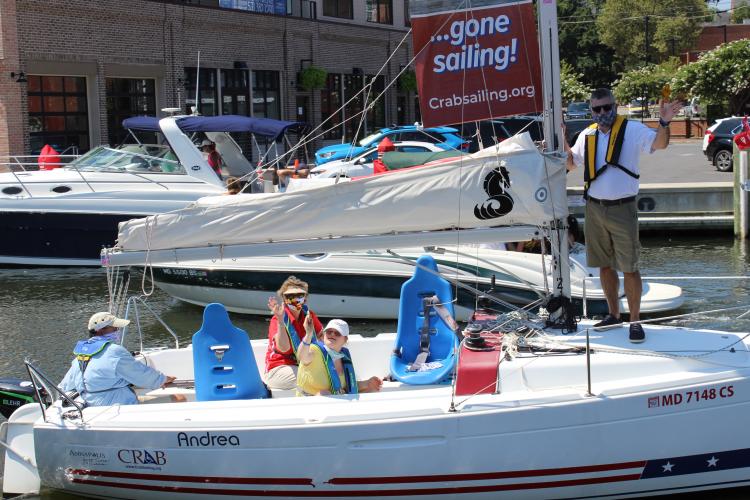 Department of Disabilities Secretary Carol Beatty and CRAB President Brad LaTour sailed in Annapolis harbor with a 15-foot high banner flying from the mast of a specially modified CRAB First 22A sailboat. With all of the weekend visitors flocking to City Dock, Ego Alley, Susan B. Campbell Park, and crossing Spa Creek Bridge the message was seen by thousands of visitors.
Secretary Beatty stated, "MDOD is pleased to celebrate the 30th anniversary of the Americans with Disabilities Act with our friends at CRAB in Annapolis. This groundbreaking civil rights legislation provides equal access for people with disabilities in all aspects of community life. MDOD and CRAB have a shared vision of full community inclusion for all."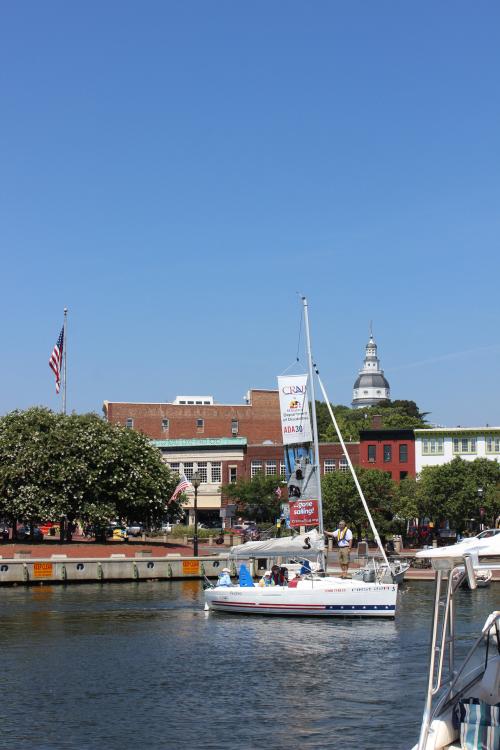 CRAB President LaTour commented, "CRAB was created by Don Backe the year following passage of the ADA. In that time, the ADA has made great improvements in the life of so many people with disabilities. CRAB volunteers have provided sailing instruction for tens of thousands of people with disabilities, free of charge, while sharing with them the thrill, freedom, and therapeutic value of sailing."
In addition to the sail, Beatty and LaTour provided information to the public and answered questions from a stand in Susan B. Campbell Park.
"Sailing from our state's capital in an accessible boat is a wonderful way to highlight the need for everyone to have the same opportunities. Every Marylander deserves the chance to experience all of the incredible natural resources our state has to offer," remarked Secretary Beatty.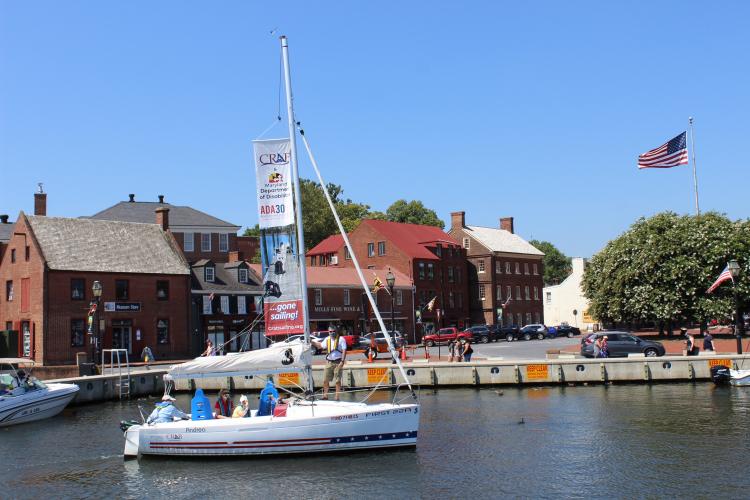 CRAB is a 501(c)3 non-profit organization that strives to make the therapeutic benefits of sailing and the freedom it provides a reality for physically and/or developmentally-challenged individuals and their families, wounded warriors, and local children from at-risk communities regardless of their financial circumstances. CRAB has been providing sailing instruction for nearly 30 years on Chesapeake Bay.
We certainly hope to see you sailors at the CRAB Cup August 15. Find this event and more on our online calendar.