Matt Rutherford... where on earth is he now? You remember Matt, the adventurer who broke the world record for his solo circumnavigation of the Americas in 2012. He sailed alone for 309 days and 27,000 miles on a 27-foot Albin to raise money for Chesapeake Region Accessible Boating, the Annapolis non-profit dedicated to sharing the joys of sailing with physically and mentally disabled individuals.
Matt's been the subject of numerous SpinSheet articles over the years, from his pre-solo-the-Americas days sailing up and African river a decade ago to the post-adventure Chesapeake-based research for his non-profit Ocean Research Project.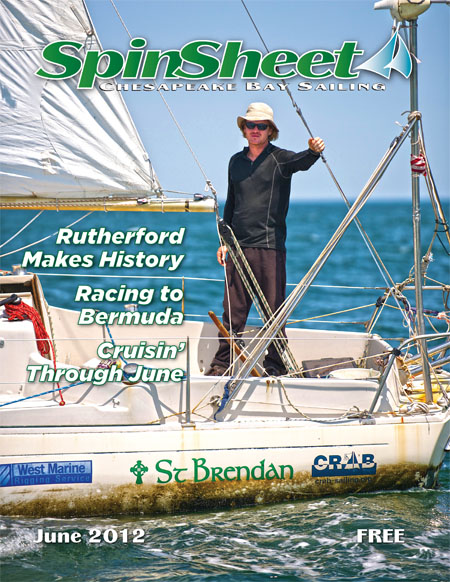 In the meantime, Tory Salvia of TheSailingChannel partnered with documentary producer/director Amy Flannery, and producer Stephanie Slewka to create the feature-length documentary about Matt's life, "Red Dot on the Ocean," which played at the Annapolis Film Festival among many other places.
Our ever-adventurous friend reached out last week with his latest podcast. Here are the five questions we asked:
Where are you right now as you write?
I'm sitting in the Rogue Wave/ David Walters office at Port Annapolis Marina. My non-profit, Ocean Research Project (ORP), is very much "non-profit," I've started selling high-quality bluewater boats as a way to make a living as my organization continues to grow.
What have you been up to for the past year?
Twelve months ago I was captaining a research sailboat in the Arctic. I returned to Annapolis from that expedition in November and have been selling bluewater sailboats and putting together an Arctic expedition for 2018.
What's on the horizon for the Ocean Research Project?
We have been developing an ocean acidification citizen science program with the Smithsonian Environmental Research Center. We want to help other boaters collect scientific data while on their sailing adventures. Citizen science will play a big role in the future of scientific data collection.
We saw your film "Red Dot on the Ocean" at the Annapolis Film Festival and loved it. What's the latest news on the film and/or how can we see it again?
"Red Dot in the Ocean" has been playing around the country on PBS for the last two years. You can find the film either on PBS's website or on Amazon Prime.
We hear there's a podcast now? Tell us about it...
My podcast is part storytelling, part sailing advice and part science. Its covers a lot of topics related to sailing. Link to Matt Rutherford's podcast here.
____________________________
TO LEARN MORE ABOUT CHESAPEAKE REGION ACCESSIBLE BOATING CLICK HERE... OR BETTER YET, COME TO THE PARTY FOR THE BOATYARD BAR & GRILL REGATTA FOR CRAB NEXT SATURDAY, AUGUST 19 AT EASTPORT YC.