April Marks the Beginning of the Sailing Season on the Chesapeake
We look forward to the day when we can outline all the great sailor parties will host for SpinSheet readers, but until then, we can offer you five virtual resources and happenings and boat show insights to help you plan your sailing season this April.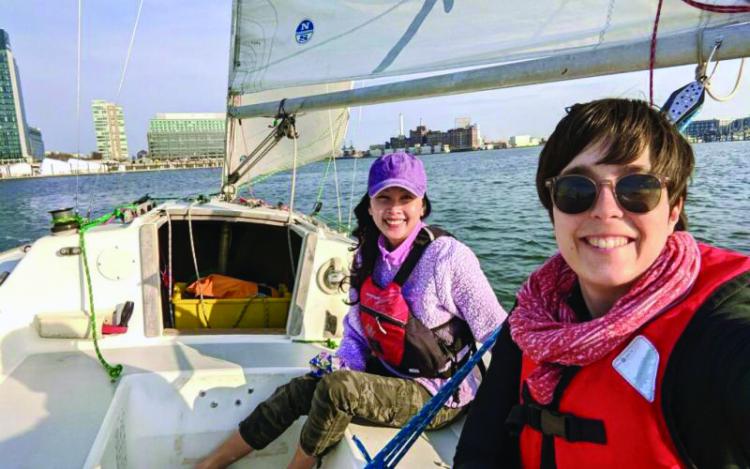 1. SpinSheet Happy Hour
Live on Facebook and YouTube on Friday evenings, the SpinSheet Happy Hour we initiated one year ago has been one of the surprising success stories of the pandemic. By the time you read this we will have aired 41 episodes of our happy hour. All are welcome to join the fun this month for two episodes: on April 9, we will interview SpinSheet columnist David Flynn of Quantum Sails on "Smart Questions To Ask Your Sailmaker," and on April 23, we will interview a few top crew bosses on "Tips for Better Crewing on Race Boats." If you'd like to see what it's all about, to find past episodes, look at our video archive at facebook.com/spinsheet. A handful are also on our YouTube channel (and future episodes will be as well).
Crew Finder
Whether you're looking for a boat to sail on or crew for your own boat, April is a great month to register or log into our free Crew Finder service or to update your profile. We are in our 26th year of connecting sailors and are always amazed how many new sailors or those new to the area don't know about it. All you need to do is click to our "crew finder" page, log in with your email, and plug in your sailing history, if any (okay to write "beginner!"). Of course, 2020 may not have been the best year for connecting with sailors online for on-water adventures, as we were all unsure of how much sailing would happen, unsure about sailing with those not living in our households, and generally unsure! We're optimistic that 2021 will be an easier season, especially the latter part of it, for meeting new sailors and sailing together.
Century Club
Aspiring SpinSheet Century Club members are already logging their days online. If you aim to log 100 days on the water in 2021 on any vessel—sailboats, standup paddleboards, kayaks, powerboats, or any combination thereof—log into our Century Club page and start counting your days. Those who don't quite reach the mark (including your loyal editor) still find the act of logging their adventures satisfying.
Racing Team
Around the same time we launched the Century Club to encourage sailors to get on the water more often we launched the SpinSheet Racing Team, powered by Team One Newport, to give credit to the racers who competed in a wide variety and large quantity of regattas, regardless of their finishes. All racing sailors are welcome to join the fun and start logging your regattas.
Spring Sailboat Show
By now you have probably heard that the Annapolis Spring Sailboat Show, usually held the last weekend in April, will be merged into the Bay Bridge Boat Show April 15-18. Our smiling, yet masked team from SpinSheet, PropTalk, and FishTalk will be on hand at our booth at the Bay Bridge Marina to wave from a safe distance and encourage you to pick up the magazines.
Find SpinSheet's Calendar here.