Bright blue skies and brisk cold air. A wide-open Bay under the mid-day sun. No wonder many of our readers keep sailing right through January and February. Here are five things cold water sailors should remember.
1. Dress for the occasion and stay dry.
Wind can carry away body heat faster than you can replenish it, so wearing the right gear is critical. Dress in wool, silk, or polypropylene inner layers. They hold body heat better than cotton, which when wet will absorb and trap water in its fibers. Remember, water temperatures are dangerously cold. In February near the Bay Bridge Tunnel they average 40 degrees Fahrenheit. Near Annapolis it's closer to the mid 30s, and the Northern Bay is even colder. Stay in the boat and wear a spray-resistant outer shell. Cold water will dramatically accelerate heat loss.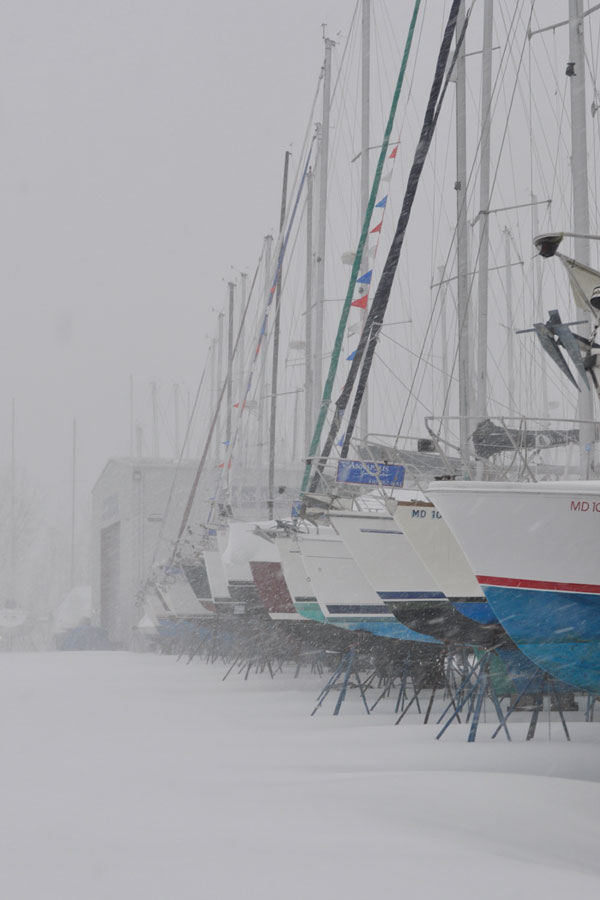 2. Wear a PFD.
Wear your PFD and insist your crew does the same. This isn't about whether you can swim. It's about the devastating physiological changes brought on almost instantly by coldwater immersion.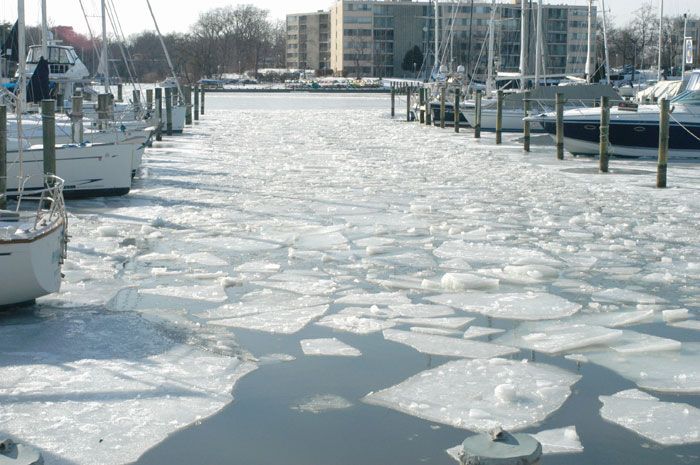 3. Ice isn't the only thing that makes docks and boat decks slippery.
Frost and snow can too. Use eco-friendly ice melt, and before venturing down that finger pier, stop and think. We recommend the buddy system when possible, but if you're alone, make sure someone knows your float plan. Notice the location of any ladders out of the water onto the pier. Wear your PFD until you're safely in the cabin. Wear nonskid footwear, which means a pair of winter boots or specialized sailing footwear, Yaktrax, or even plain wool socks, which sort of "stick" to snow and ice.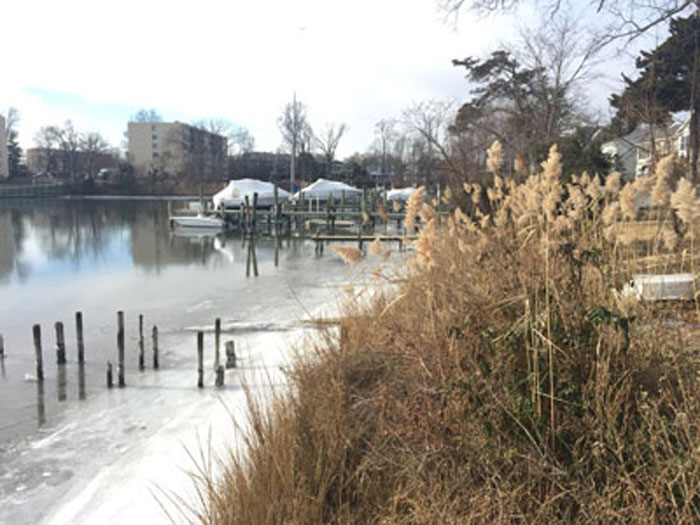 4. Freezing water expands.
And when it does, it can wreak havoc with pilings, piers, hoses, thru hulls, and boat hulls. The potential for thousands of dollars of damage is real. To protect boat and pier, install a deicer, which will circulate warmer water upward from the bottom of the creek or river. A timer and thermostat may be added for efficiency. A deicer will cost you $20 to $500, but it's well worth the investment. Most last for years and only require simple routine maintenance. Protecting the freshwater, bilge, and engine systems from freezing is important too. Use sea-safe, biodegradable, and nontoxic anti-freeze. If you choose to use an engine room heater, make sure it has ignition protection. Regular ceramic heaters and heat lamps are simply not safe.

5. Enjoy!
Whether underway or on the shoreline, stop and enjoy the view. Winter brings a special kind of beauty to the Bay.