Food Drive During the Eastport Parade of Lights: Finding the perfect spot to watch the Eastport Yacht Club Parade of Lights just got a little easier and lot more rewarding.
Watermark is hosting their "Queen of All Food Drives" on one of their vessels during the 35th Annual Eastport Yacht Club Lights Parade on Saturday, December 9th from 5:30-8:30 p.m, benefitting the Anne Arundel County Food Bank. For a donation of non-perishable items, pet food or a monetary donation, guests receive a prime viewing location at the end of City Dock. Watermark's crew and staff members decorate the boat in bright holiday lights and décor to celebrate this Annapolis holiday tradition. The boat will stay dockside for the evening with entertainment on board.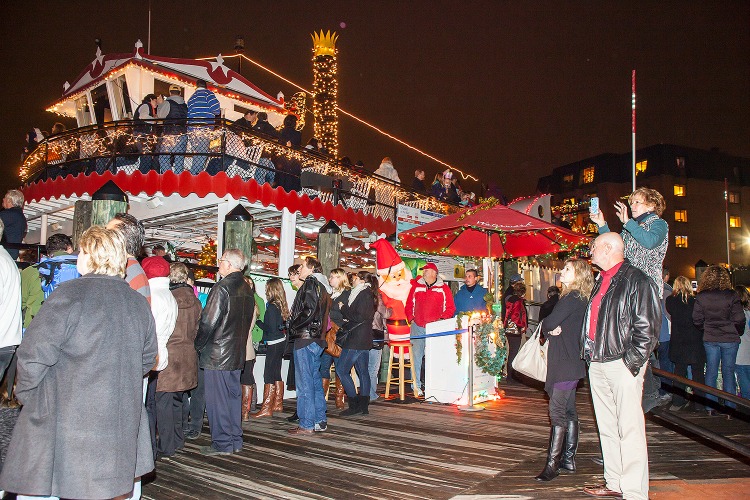 In addition to the festive décor and the great view of the Parade, there will be complimentary light snacks on board and a full cash bar with a portion of proceeds benefitting the Anne Arundel County Food Bank. The Chesapeake Revelers will provide live entertainment through great songs and stories. This group of dedicated performers from the Chesapeake Theater Company and Chesapeake Youth Players can be found in seasonal venues throughout the region. Appearing in period costume, the Victorian carolers donned in top hates, capes, holly and ribbon will wassail and make merry with all!
The public is invited to dress warmly and bring their holiday spirit to Annapolis City Dock to help those in need while enjoying a festive Annapolis tradition. Donations of non-perishable food items, pet food or monetary donations will gain access to the viewing platform on the boat to watch the Lights Parade. A suggested donation value is $10 per person. The event is "open house" style with guests free to come and go throughout the evening. Representatives from the Food Bank will be in attendance. There are no advanced reservations; guests should walk up to Watermark's slip at the end of City Dock for the festivities.
This is the sixth "Queen of All Food Drives." Inspired by Claudette McDonald, longtime Watermark staff member, the event has raised almost $10,000 and collected more than 2,200 pounds of food, with the amount collected growing every year. The Anne Arundel County Food Bank is the only free, multi-purpose Agency in Maryland that provides food, nutritional supplements, medical equipment, furniture, vehicles, appliances, and more to those in need, free of charge.
For more information about the "Queen of All Food Drives" and Watermark, visit CruisesOnTheBay.com.