A Virtual GCBSR To Raise Funds for the Bay
Each year for the past 31 years, the Chesapeake Bay has been graced by its iconic Great Chesapeake Bay Schooner Race (GCBSR), held each October, starting Columbus Day weekend… but not this year. Instead of a gathering of historic vessels racing from Annapolis to Norfolk, the race will go virtual, creating instead a fundraising event held over the same time period to benefit the nonprofit organizations which the race would normally support.
Determining that a physical race this year would be impractical and a liability for the organization, the GCBSR announced the cancellation of the physical GCBSR for 2020. Wanting to create an event so that their message doesn't fade away, came the idea of a Virtual GCBSR, or VGCBSR.
Each boat will partner with a non-profit organization of their choice which fits into the GCBSR mission: preservation of the Chesapeake Bay's history and ecology. The race would consist of a weeklong fundraising event in October co-sponsored by a schooner and a non-profit partner; both reaching out to their constituents for donations. (Educational boats with their own 501-c3 status could raise money for themselves.) These donations would be collected on the GCBSR website, on a page dedicated to each team.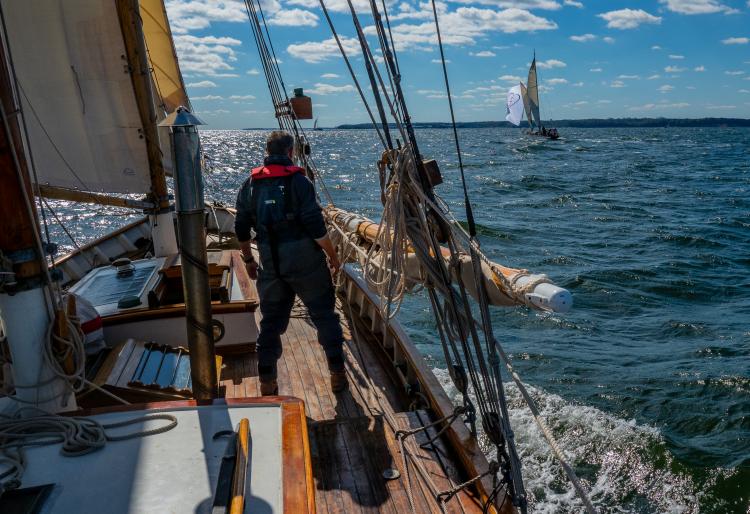 When the week ends, the team with the greatest amount of money raised wins. All collected donations would then be given to the non-profit partners. During these upcoming months, schooners and their non-profit partners will create content for their constituents which will be pushed out via social media, news outlets, and posted on their websites.
The idea is to benefit our communities as we normally do, while all can stay safe, stay involved with our boats, and connect with new friends.
The winner of the race will be the schooner which raises the most money in donations. Please consider helping VGCBSR race virtually down the Bay from Annapolis to Norfolk. Look for ongoing announcements about the VGCBSR in the upcoming months.
Learn more at GCBSR.org.