More Than It's Cracked Up To Be

Cutting 20-foot-wide swaths of clear water through two- to four-inch ice isn't a job for the faint of heart. Just ask Maryland Department of Natural Resources (DNR) icebreaker J.W. Widener's skipper Jeff Lill. He's been on the job for over two decades, and he readily admits "every day is different out on the water… especially so when that water is frozen solid after a couple of weeks of sub-zero weather."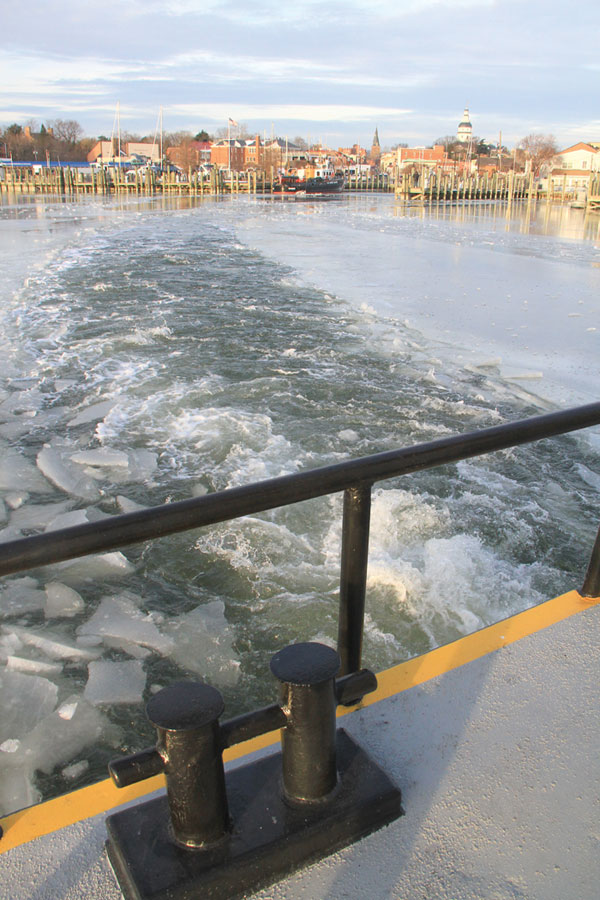 Such was the case in early January when your intrepid reporter braved 20-degree weather (actually, a heat wave compared to the temperatures a few days previously) to accompany Lill and his three-man crew on an ice breaking mission around Annapolis's City Dock and Spa Creek.
I was in for a couple of surprises. First off, there's neither a coffee pot nor a crock-pot filled with hot soup onboard. So much for the notion of manly men steaming off into the cold, grey dawn slurping prodigious amounts of warm liquids to stave off the elements.
Secondly, the best piece of advice one of the crewmen gave me on how to keep warm on an icebreaker was "Stay in the cabin." As a follow up, he cautioned to dress in layers, to not wear bulky clothes, and to put your trust in merino wool for its heat-retaining qualities.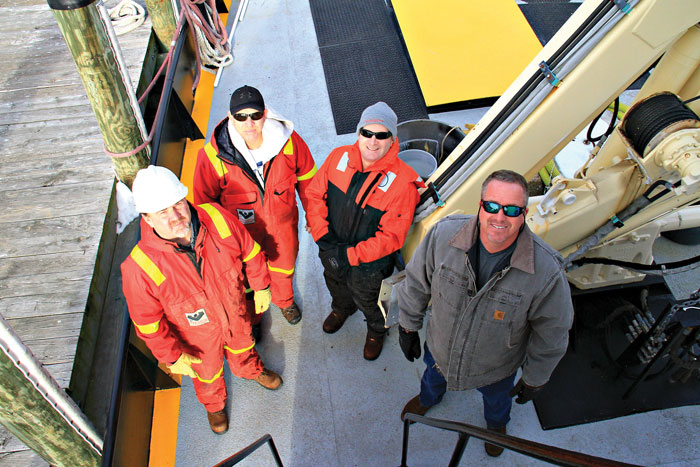 And thirdly, the thickness of the Widener's hull (less than half an inch of steel at the bow), makes breaking ice in and around Annapolis a delicate job. Compare this to the 1.5-inch hull of the Coast Guard's super-ice breaker, the Polar Star, and you can see why Lill needs a gentle hand at the tiller.
Thus far, the ice on the Chesapeake hasn't reached the near-record proportions of the deep freeze of 2015, when ice thicknesses of over 18 to 24 inches in the C and D Canal were reported by the Coast Guard Cutter Chock. But anytime up to 50 percent of the Bay and its tributaries are covered in a sheet of ice isn't anything to sneeze at.
Maryland's DNR deploys four ice breakers to keep waterways clear in and around harbors, fuel docks, marinas, and shipping channels. The USCG supplements DNR efforts with a fleet of purpose-built icebreakers as well.
The DNR and USCG divide Bay region ice breaking duties, with the Coasties taking care of Federal channels, while the DNR boats work with smaller harbors, tributaries, Smith Island, marinas, vessel repair facilities, and marine construction operations and barges. The two work together to clear spots such as the ports of Salisbury and Tangier Island.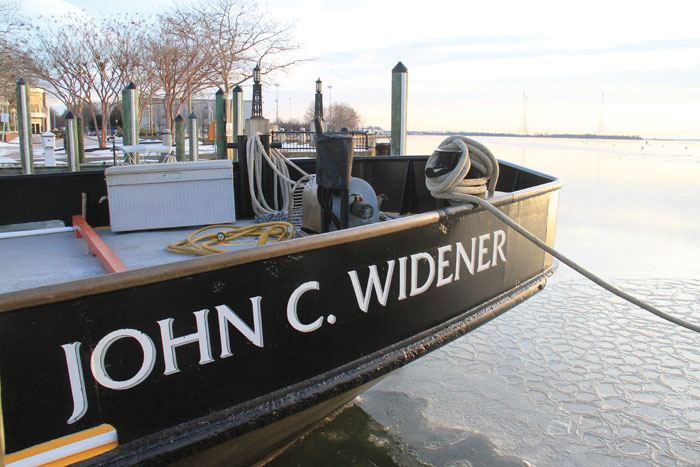 There is no charge for DNR ice-breaking services, which are funded by boating taxes and license fees. Requests for service should be directed to John Gallagher of Hydrographic Operations ((410) 643-6521 or by cell phone (443) 534-9610. You can e-mail the office for specific instructions or emergencies.)
The DNR boats, ranging in length from The J.M.Tawes at 100 feet in length to the much smaller Big Lou, a 50-foot tug operating out of Kent Narrows and the Choptank, serve as icebreakers in the winter and buoy tenders/tugs during the rest of the year.
The J.W. Widener was built in 1964. She was captained by famed Bay waterman Edgar Lewis in the 1970s. The boat is 72 feet long and has a draft of six feet and a beam of 22 feet. She is powered by a 525-hp Cummins diesel engine and is rated at just under 80 tons.
When she is cutting through three- to four-inch ice, there's just the barest shimmy noticeable on the toasty-warm bridge. "But when we start going through some heavier stuff, you can really feel the boat struggling for every inch of headway," says Lill. "It's a wonder she stays in one piece when the going gets particularly nasty."
Lill says that cutting through 18-inch-thick ice that's been softened by a thaw is "no big deal. It's when we've had a week or so of really cold weather that hardens the ice that we can really feel it up here."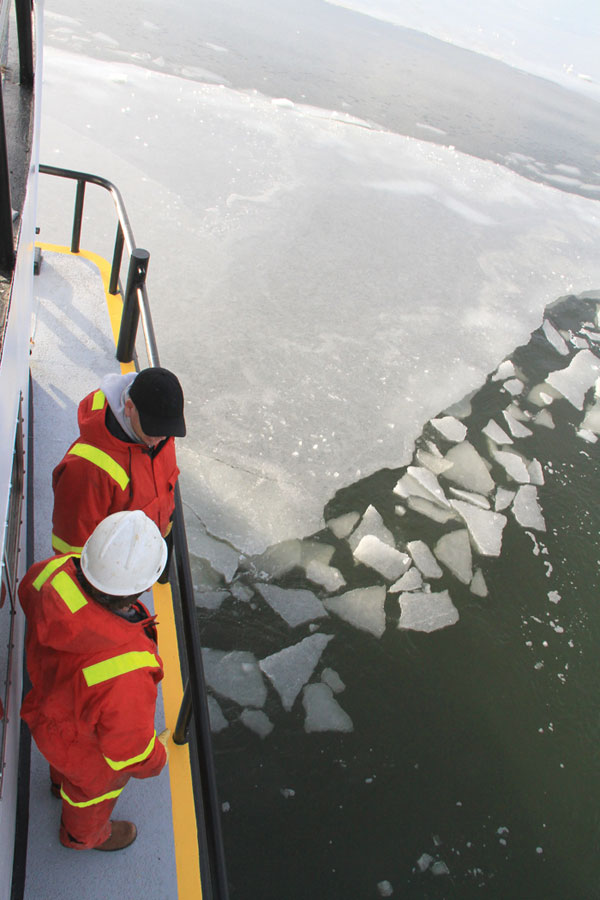 Standing on the bow, with the powerful engine purring away well to the rear, the only sound you hear is a soft crinkle of ice peeling away from the Widener's bow.
Go below, and that sound is magnified significantly. "When we're really bucking some big chunks, it sounds like the boat is pulling apart." Lill sheepishly admits to punching a "quarter-sized hole" in the Widener's bottom some years back. "That makes you respect the power of the ice even more."
Lill has to be especially careful as he maneuvers around boats tied up to mooring balls and in marina slips. "Some of these people call and ask us to break some ice around their positions. We need to be mindful of what a five-foot-long sliver of ice can do to a fiberglass hull."
Annapolis Harbormaster Beth Bellis says having the Widener berthed at City Dock is a big advantage for area boaters. "We have a number of liveaboards up Spa Creek. The Widener checks on these boaters from time to time which gives us all peace of mind." Additionally, Bellis says, the presence of the icebreaker means mariners can have access to fuel docks and facilities if and when the weather clears enough to venture out into the Bay.
"A big thaw is what we all need to make the waters more navigable," Lill says. "Until then, we'll keep going out and clearing our pathways. That way, when the weather turns, the clear channels we've broken will expand quicker, letting people get out sooner without us having to ice break every nook and cranny of every creek."
Here's hoping that change of the weather comes soon.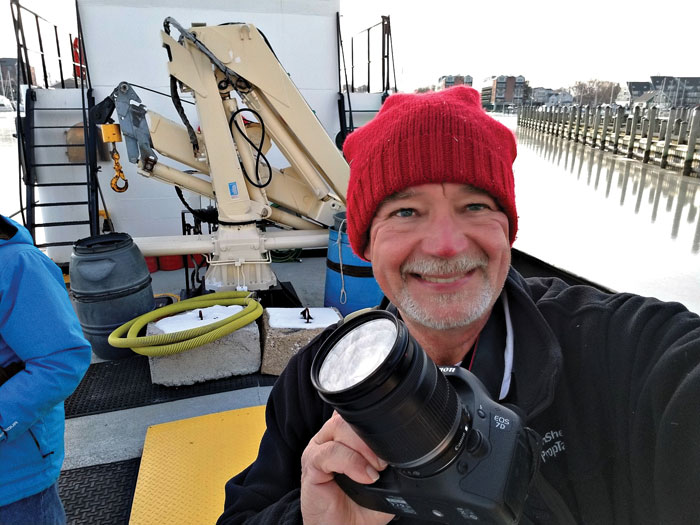 For the record, my trip on the Widener was a pleasant, yet chilly way to spend a couple of hours. Next time, however, I'll be sure to bring my own cup of coffee. Even a working journalist needs a little warmth now and then!
Story and photos by Craig Ligibel
About the Author: Craig Ligibel, a retired adman turned roving journalist and photographer, has penned numerous stories for SpinSheet. He sails a 20-foot classically designed catboat called Mystic Wind.