Fireworks on the Chesapeake!
Have a safe and happy Fourth of July! See you on the water at one of the Chesapeake Bay's top fireworks displays: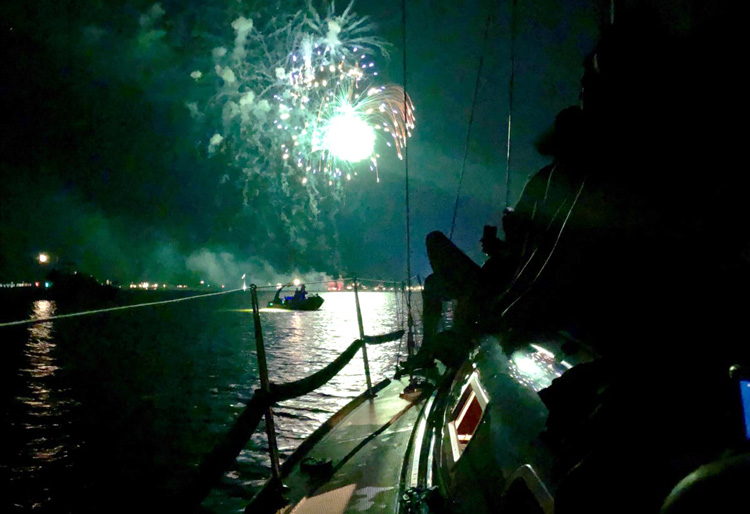 July 3
Chesapeake Beach Fireworks Over the Bay: In Chesapeake Beach, MD. Rain date July 5.
Fireworks in Oxford: Fireworks beginning at dusk (9-9:30 p.m.) at the Strand in Oxford, MD. Sponsored by the Tred Avon Yacht Club.
Rock Hall Fireworks: Fireworks in Rock Hall, MD, at the Bulkhead on Bayside Avenue beginning at 9 p.m. Annual parade July 4 at 10 a.m. featuring floats, bands, fire trucks, marchers, horseback riders, and more.
Salute to Cecil County Veterans: 5 to 9 p.m. at the North East Town Park in North East, MD. The park will be filled with military equipment and personnel, family-oriented activities such has a rubber ducky race and horse rides, live music, and awards presentation to veterans. The event concludes with patriotic-themed music and fireworks.
July 4
Annapolis Fourth of July Parade and Fireworks: Parade from 6:30 to 8 p.m., with marching bands, fire engines, cars, service clubs, and scouts beginning at Amos Garrett and ending in front of the Market House. Fireworks launched from a barge in Annapolis Harbor around 9:15 p.m.
Baltimore's Fourth of July Celebration: Starting at 7 p.m., the U.S. Navy Jazz Band Commodores perform classic music and today's top hits at the Inner Harbor Amphitheater at Pratt and Light streets. Fireworks begin at 9:30 p.m. over Baltimore's Inner Harbor. Presented by Ports America Chesapeake.
Dundalk Independence Day Parade and Fireworks: Parade begins around 8:15 a.m., beginning at Logan Village Shopping Center. Fireworks start at 9:15 p.m. at Grange Elementary.
Fire on the Mountain: Fireworks will light up the sky above Marsh Mountain at Wisp Resort (set off from the tubing hill) overlooking Deep Creek Lake around 9:30 p.m. Rain date July 5.
Fourth of July in Chestertown: Fireworks will be launched as soon as possible after dusk, usually between 9 and 9:15 p.m. in Wilmer Park in Chestertown, MD.
Fourth of July in the Nation's Capital: The National Independence Day Parade begins around 11:45 a.m., between 7th and 17th Streets in Washington, DC. A Capitol Fourth concert begins at 8 p.m. on the West Lawn of the U.S. Capitol, followed by fireworks over the National Mall just after 9 p.m.
Frederick's Fourth Celebration: Noon to dusk at Baker Park in Frederick, MD. Two stages of entertainment, family-friendly rides, activities, food, and fireworks.
OC July 4th Concert and Fireworks: Two locations in Ocean City, MD: downtown on the beach at North Division Street or uptown at Northside Park. Both locations will feature a free concert at 8 p.m. followed by 9:30 p.m. fireworks.
Solomons Fourth of July Fireworks: Fireworks between 9:15 and 9:30 p.m. in Solomons, MD. Presented by the Solomons Business Association.
Fourth of July Great American Picnic: 5 to 10 p.m. at Town Point Park along the downtown Norfolk, VA, waterfront. Free and open to the public. Traditional all-American fare with all the fixin's available for purchase, live music, and fireworks at 9:30 p.m. Presented by Norfolk Festevents.
Fourth of July Stars in the Sky: Free event begins at 7 p.m. at Victory Landing Park in Newport News, VA, with free moon bounces, obstacle courses, and children's face painting, food vendors, live music, and fireworks over the James River at 9:30 p.m.
Stars and Stripes Explosion: On the beach at 24th Street, at 17th Street Park, and 31st Street Park in Virginia Beach, VA. Multiple live performances on oceanfront stages followed by fireworks. Free and open to the public.
Yorktown Independence Day Celebration: A free family-friendly celebration, 8 a.m. to 10 p.m. in Historic Yorktown, VA. 8K run, 5K walk, patriotic parade along Water and Main Streets, live music, and fireworks over the York River.
July 5
Fireworks at Fort Monroe: 6 to 10 p.m. at Fort Monroe in Fort Monroe, VA. Family-friendly activities, food vendors, music, and fireworks display beginning at 9:15 p.m.
July 6
Big Band Night at CBMM: 7 to 10 p.m. on the Tolchester Beach Bandstand at the Chesapeake Bay Maritime Museum in St. Michaels, MD. Bring lawn chairs and blankets for an evening of music, dancing, and fireworks along the Miles River. $10 for non-members; $2 after 8:45 p.m. (for fireworks show only).
Crisfield Freedom Fest: 5 to 9 p.m. at Somers Cove Marina in Crisfield, MD. Celebrate our nation's birthday with food, live music, arts and crafts, military appreciation, and fireworks beginning at 9:15 p.m. Presented by the American Legion.
Havre de Grace Independence Day Celebration: The parade will begin at 2 p.m., traveling from Union Avenue to Tydings Memorial Park, and will focus on honoring and recognizing local first responders. Beginning at 7 p.m., there will be a concert at Hutchins Park, followed by fireworks at dark (around 9:30 p.m.).
MTABC Community Fireworks on Middle River: Fireworks at dusk off Wilson Point on Middle River in Middle River, MD. The Marine Trades Association of Baltimore County was able to bring the Middle River fireworks back in 2018, and they need your help to make this year's show another success. Raffle tickets are available at local marinas to support the community fireworks.
Did we miss a show? Send our editor an email, and we'll add it to the list. [email protected]