Drive-Through Crab Pickup for Your Backyard Feast to Support the Community
The Rotary Club of Annapolis will hold Rotary Crabs To Go! August 7 at Navy-Marine Corps Memorial Stadium. This is an online, pre-order, drive-through event for people to hold crab feasts safely in their own back yards or in picnic areas with appropriate spacing.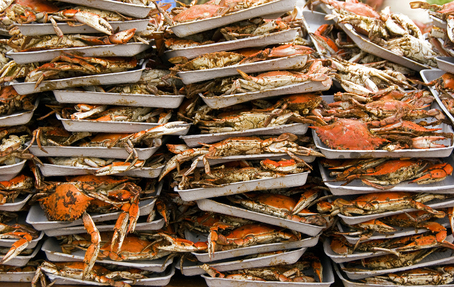 Rotary Crabs to Go! is a drive-through crab and corn fundraiser replacing the Club's traditional crab feast this year. While it is not possible to gather together 2000 guests at the stadium for the normal event held on the first Friday in August each year, the xlub wants to provide crabs and corn in a safe manner and raise funds for the community in this difficult time.
Customers can order crabs online here and choose when to pick up their crabs in 30 minute increments from 4:30 p.m. to 7 p.m. Rotarians (wearing PPE) will deliver orders to customers at designated spots in the stadium lot, without anyone getting out of their car.
Crabs will be fresh steamed at the event and packaged for travel. Best #1 crabs will be sold by: one dozen $65, two dozen $125, half bushel $150, bushel $290—to include corn on the cob.
Raffle tickets will be sold online as well; $5 each or 5 for $20, with prizes and a chance to win $500. Orders can be placed until 6 p.m. on August 6.Net proceeds will be promptly granted to local nonprofit organizations in this increased time of need in our community.
For more information, contact Frank Andracchi (410) 615-0460 or [email protected].
Find SpinSheet's current event calendar here.
Rotary's Motto is Service Above Self -