Protect Your Sailing Crew Affordably with BoatUS's EPIRB-PLB Rental Program
The BoatUS Foundation personal locator beacon rental program saves money and increases safety aboard.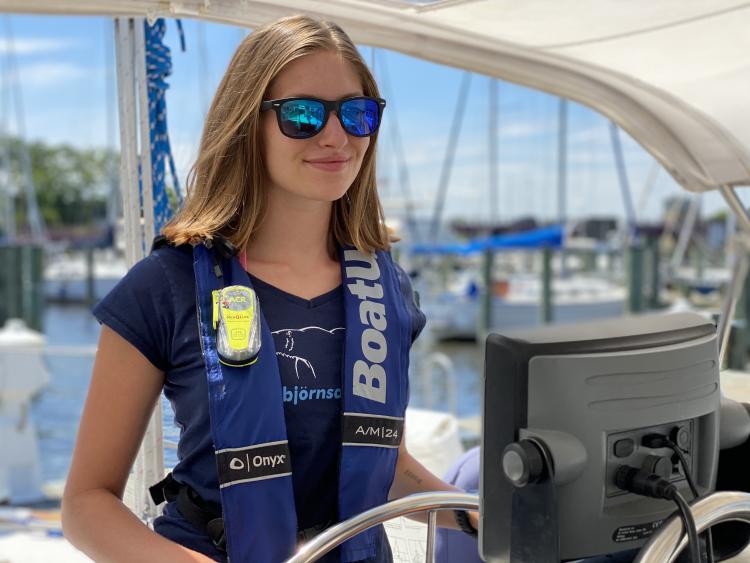 For sailing and yacht clubs and other groups organizing sailboat racing this summer, the rules have all changed with Covid-19. Captains know that having success with social distancing could mean having fewer (nonrelated) crew aboard this racing season. However, fewer crew could also mean fewer hands aboard—and potentially fewer eyeballs to spot someone in the water—in the event of a crew-overboard situation. Racing sailors may be able gain back some of that safety net by having each crewmember wear a personal locator beacon (PLB). However, starting at around $300 per unit, fitting out everyone may stretch the sailing budget.
A less expensive option is renting units from the BoatUS Foundation for Boating Safety and Clean Water's EPIRB / PLB Rental Program. Perfect for short-term needs such as sailboat races and crossings, the program offers ACR ResQLink 406 MHz Personal Locator Beacons for $7 daily, $45 weekly, or $150 monthly.
The Foundation also rents GPS-enabled Emergency Position Indicating Rescue Beacons (GPIRBs) for $10 daily, $65 weekly or $220 monthly.
Find easy online ordering at BoatUS.org/EPIRB/Rentals. A $25 shipping fee covers all (three-day FedEx Express Saver) shipping, including the return. Rush shipping ($45) can deliver an EPIRB or PLB via FedEx overnight or two-day (if rented by 2 p.m. ET).
The BoatUS Foundation is the nonprofit 501(c)(3) boating safety and clean water sister organization to the Boat Owners Association of The United States (BoatUS) and largely funded through BoatUS member donations and other fundraising programs.
Want to learn more about sailing safely? Click here for more safety articles.