High Tech Sailmaking in Nevada
When I told friends that I would be visiting the North Sails manufacturing facility in Minden, NV, in December, their reaction was the same: a perplexed face followed by "where?" It doesn't make much more sense when you arrive into the dry and flat valley surrounded by the craggy Sierra Nevadas, as different from Annapolis landscape as you can get and the kind of place where you'd expect a tumbleweed to roll by.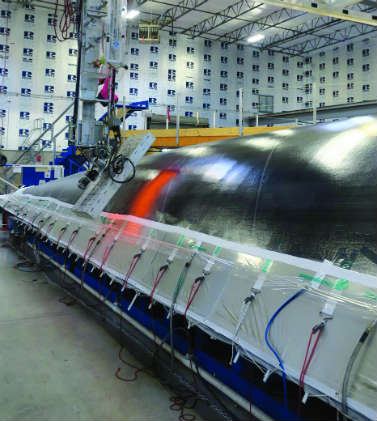 To further confuse things, the outside temperature was 32 degrees Fahrenheit at 4700 feet—yet it had been a freakishly warm 53 degrees at 7000 feet at our starting point near Lake Tahoe, CA, just over an hour's drive away.
"On clear days we have an inversion effect here," explained the operations manager, Brian Loshbough, who gave us our tour. We hopped into the car and drove the half mile to building #2, where all American-made, custom 3Di sails begin. Buildings #1 (which opened in 1995) and #2 (2011) comprise the largest sail manufacturing facility in North America with 150,000 square feet of space.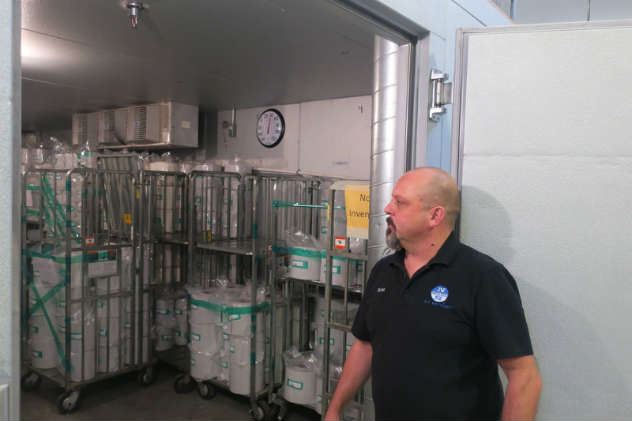 The secret sauce
Our first stop was where they make the "secret sauce" or secret tape, as is the case for the company's patented 3Di technology. Here's the process in North Sails brochure terms:
Raw fiber purchased from various manufacturers.
Fibers converted to resin-impregnated filament spread tapes.
Filament tapes are robotically assembled into sail sections.
Sail sections are vacuum-molded and cured into amalgamated, unitary sail membrane.
Sail membrane fitted with ropes, rings, and tapes.
Finished sail transported to customer.
If you're like me and got lost in the above list at "resin-impregnated" and tuned back in at "fitted with ropes," that's okay. The key takeaways are that these sails are stiffer, more durable, more resistant to stretch, faster, and more efficient than the last generation of sails; they look and act like sails, but perform like foils. And because they are "consolidated" rather than "laminated," there's no delamination.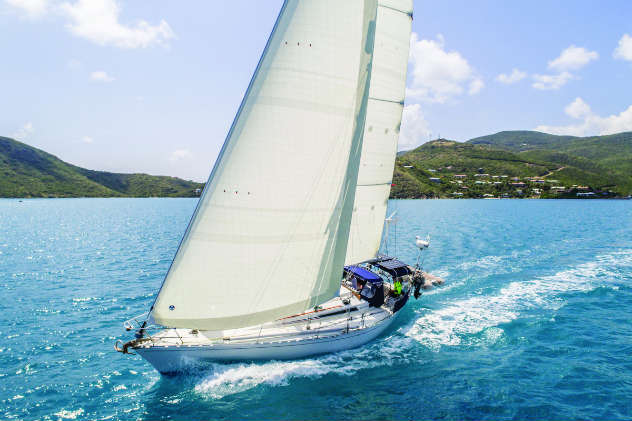 Five out of six of the Volvo Ocean Race entries in the 2010 edition had 3Di sails on them, and name a significant top-tier distance event in the last two years—singlehanded around-the-world record runs, Transatlantic, Fastnet, Sydney Hobart, Newport to Bermuda, Caribbean 600—and you will find boats with 3Di sails that have racked up first-place finishes.
North Sails's Minden factory is not run by robots. Although high-tech machinery fills each room and it's all computer-driven, there are 130 employees at the plant (the population of Minden is only 3000). There's a giant sewing machine and a guy in the "pit" and a sail hung on the wall labeling "clew," "tack," "leech," and the like. As high tech as the process is, you recognize that you're in a sailmaking facility and are warmly greeted by those working hard to help you (and your superyachting friends) sail fast.
Need more beer (coolers)
When showing us the secret tape area and discussing the strength of the materials, Brian explained how they used the same components as some bullet proof vests; although, he advised not testing the bullet-stopping theory on your new sails. The tape is cut into rolls with a 75-day shelf life. They are refrigerated in a gigantic cooler (a "wasted beer cooler" says Brian). Within 12 days they get moved to the tapehead area.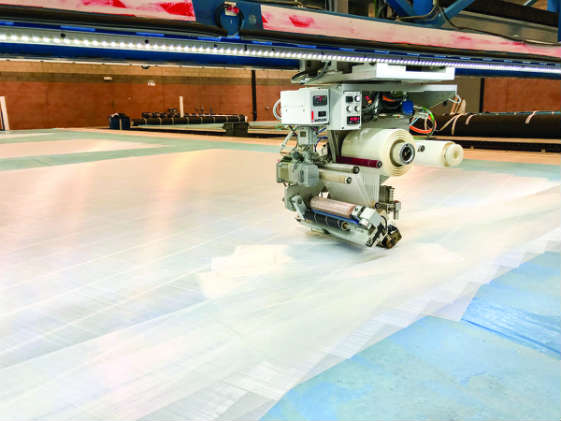 When we arrived in this area, they were assembling sail sections for a 78-foot Italian yacht for customers in Spain. The sail took up three tapeheads; each are about two tennis courts long and 16 feet wide. Brian explained that if the boat is large enough, its sail material may be spread out on all seven tapeheads.
The finishing area, where sails are outfitted with batten compartments, grommets, telltales, and graphics, is also in building #2. Sails must be transported to #1 for molding and curing before returning to #2 if not sent as "blanks" to another location around the world for finishing. This means that sails and the operations manager go back and forth quite a bit. Brian travels between buildings five or six times per day.
Also in #2, there's an engineering department and in-house lab to test stress and structural components of materials and a maintenance department.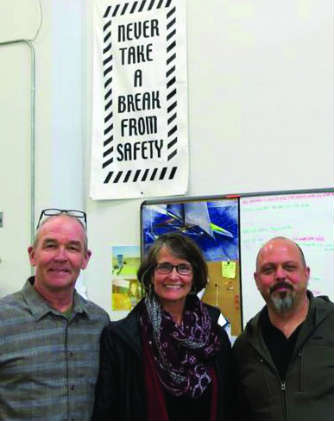 Of molds and popcorn
We headed back to building #1 to visit the molding department. These sails are not laminated; they are consolidated, molded, and cured. One of the weirdest and most interesting parts of our tour was seeing a sail being molded by 240 pneumatic lifters. Brian gave us a heads up that it was going to sound like a giant Jiffy Popcorn machine, and he was right. Pop-pop-pop-pop, and right before our eyes in a matter of minutes, a headsail for a 68-foot Baltic went from flat on an enormous table to curved to the sail's precise flying shape, as if a giant, sleeping animal breathed in the air and came to life.

What astonished me was the size of these sails being made. Ask yourself this: how heavy is your mainsail and how many people does it take to lift it? Now, imagine that you had a Frers 138 with a luff measuring 105 feet. How many beefy crew members would you need to transport that? Brian noted that some of the larger sails have weighed up to 3000 pounds. That's what my MINI Cooper weighs.
Sailors in the Sagebrush State
So, why is this high-tech sailmaking plant located in this arid Nevada Valley? It's cost-effective, roomy, dry, and close to the airport. It's a fascinating place to visit. Thank you, North Sails, for the invitation. Thank you, Brian, for sharing your time, knowledge, and humor with SpinSheet.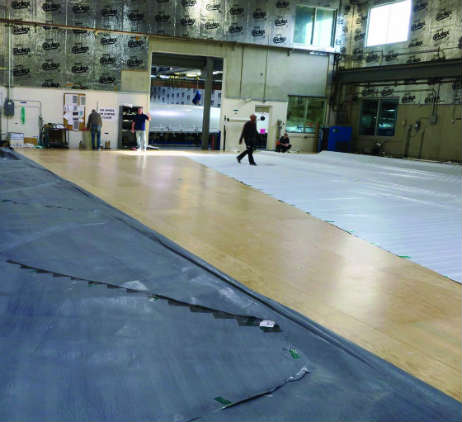 To learn more about North Sails 3Di technology, including RAW, ENDURANCE, FORCE, and the latest cruising sails, NORDAC, visit northsails.com.