Schedule of Lighted Boat Parades on the Chesapeake Bay
It's that time of year again! Lights parade enthusiasts around the Bay are planning their displays and scoping out the parade routes. Here's a round-up of many of the options. Which one will you go to see?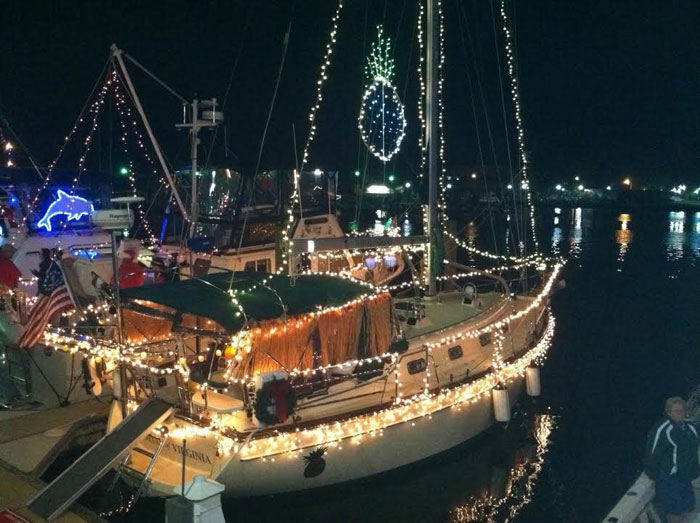 November 25: The Middle River Lighted Boat Parade
Begins at 5:45 p.m. in front of Stansbury Yacht Basin. Please note that Darkhead Cove is closed, so there will be limited viewing from Wilson Point Park. The parade will proceed past Carson's Creekside and Hawthorne; on to Middle River Yacht Club, Crazy Tuna, and Riverwatch; past Bauershmidt Manor and Eastern Yacht Club; past Turkey Point, on to Bowleys Point/Bowleys Quarters; and past Sunset Cove before returning to Stansbury. Hailed as the Mid-Atlantic's largest lighted boat parade! Registration is now closed.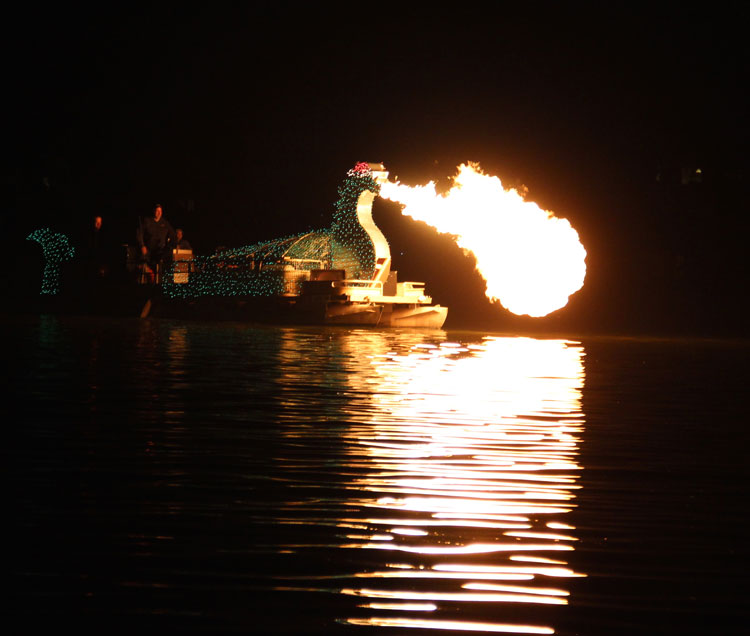 December 2:
The Baltimore Parade of Lighted Boats
Takes place annually on the Saturday night of the first weekend in December. The parade benefits the Marine's "Toys for Tots" annual Christmas campaign. Prior to the parade, organized by Fells Point Yacht Club, Santa Claus arrives in the morning at Fells Point by tugboat. Two groups of boats make up the parade, with one departing from Fells Point at 6 p.m. and the other departing from the Inner Harbor at 6:30 p.m. A mandatory skipper's meeting will be held November 29 at 6:30 p.m. at the Anchorage Marina Boater's Lounge in Canton. Register online through Fells Point Yacht Club.
The Solomons Lighted Boat Parade
Begins at 6:15 p.m., weather permitting, during the Solomons Christmas Walk celebration. All boats, of any size, shape, or make, are welcome. All that is required is to decorate your ship's starboard size; decorate more if you're feeling in the spirt! A captain's meeting covering the route, safety issues, and the rules for judging will be held at Solomons Yachting Center club house at 5:15 p.m. (boats must be docked at the facility prior to the meeting). Register for the parade through the Solomons Business Association.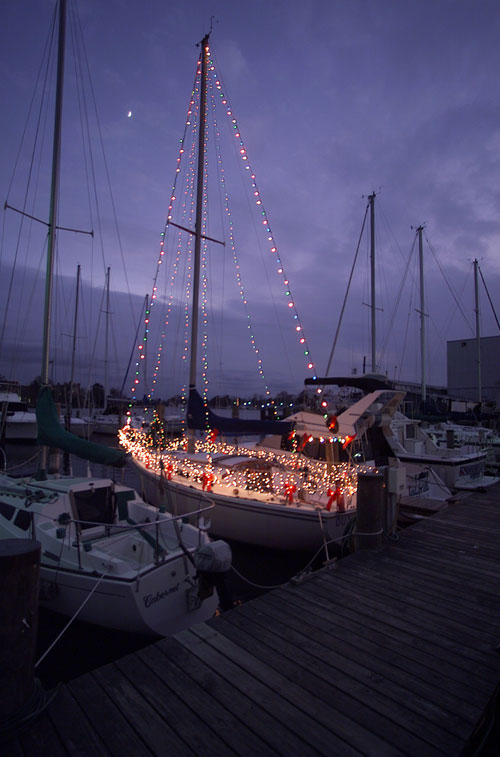 The Alexandria Holiday Boat Parade of Lights
The culmination of a full weekend of holiday festivities throughout Old Town Alexandria, VA. Santa will arrive by boat around 4:15 p.m. to welcome guests. The parade will begin around 5:30 p.m. along the Alexandria Waterfront, which is located behind the Torpedo Factory Art Center. There will be fresh-baked cookies, drinks, a choir, gourmet hot chocolate bar, and a full size recreation of Santa's fireboat display inside the Torpedo Factory for picture-taking. Register online here.
The Alexandria Holiday Boat Parade of Lights is in collaboration with The Wharf, which hosts the District's Holiday Boat Parade the same evening. Boaters are encouraged to participate in both parades.
The District's Holiday Boat Parade
Begins at 7 p.m. and runs from the tip of Hains Point to the docks of The Wharf (which just opened in October!). Free public events begin on land at 6 p.m., including family photos with Santa, gingerbread cookie decorating, live holiday music, Christmas tree lighting, s'mores around a roaring bonfire, hot chocolate, and a firework finale at 8 p.m. The ice skating rink will also be open and you can sample winter drinks at the Waterfront Wine and Beer Garden. Each pre-registered boat will receive a commemorative holiday boat parade captain's bag, distributed at the private Captain's After Party, beginning at 8 p.m. at The Wharf. UPDATE: boat registration is SOLD OUT. Learn more at the District Wharf's site.
Yorktown Lighted Boat Parade
Sail and power boats compete for "best in show" on the Yorktown waterfront, with caroling, a beach bonfire, and complimentary hot cider on shore. 6 to 8 p.m. Water Street, Yorktown, VA. Learn how to join the parade through Visit Yorktown.
December 8: The Downtown Hampton Lighted Boat Parade
Kicks off with live music beginning at 6 p.m., followed by the 7 p.m. parade of illuminated power and sailboats along the downtown Hampton waterfront. Spectators wanting to hear the narration will want to find a spot near the Hampton Maritime Center. Each vessel that participates will have an opportunity to win a free dock slip during the 19th annual Blackbeard Pirate Festival, June 1-3, 2018. Learn how to register your boat/learn how you can participate even if you don't have a boat through Downtown Hampton.
December 9: The Eastport Yacht Club Lights Parade
Last year voted the #1 holiday parade by USA Today! The event will run from 6 to 8 p.m., rain or shine, through Annapolis Harbor and Spa Creek above the Eastport Bridge. Participants can compete for prizes and recognition either individually, or as a representative of their club. Register online and cast your vote for the best holiday parade of 2017 (the Eastport Yacht Club Lights Parade is currently in fourth place) at eastportyc.org/our-events/lights-parade.
December 9: The James River Parade of Lights
Richmond, VA. Click here to learn more.
December 21: Deale, MD
The Deale First Annual Parade of Lights on Rockhold Creek will be held Thursday, Dec. 21 from 7 to 9 p.m.
All boats are welcome to compete. Residents are highly encouraged to attend. Dress your boat up with Christmas cheer and join our local watermen as we parade down the creek to Skipper's Pier. All boats must begin at Anchored Inn or Happy Harbor beginning at 7p.m. If you would like to participate, please email Jessica to provide your boat and captains name to be announced during the judging.
Watch from your favorite spot anywhere on the creek or come to Skipper's to watch as the judges award three prizes to the top three boats. Cash prizes and donations provided by Deale Captains Association, Anchored Inn, Happy Harbor, Skipper's Pier and Dockside.