How Will You Make the Most of September Sailing?
Relish: enjoyment of or delight in something that satisfies one's tastes, inclinations, or desires; a strong liking. SpinSheet staffers are on the Chesapeake year round, but we've got to admit that we really relish September sailing. Here's why: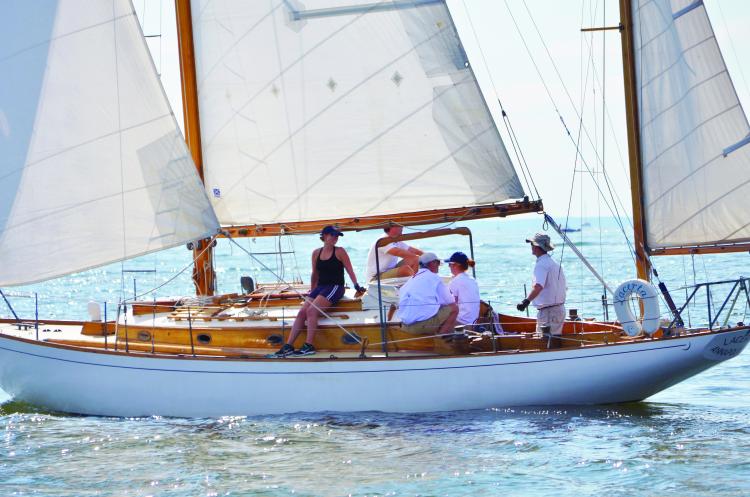 R: Racing
This month's racing calendar includes big boats competing in the Naval Academy Sailing Squadron (NASS) Race to Oxford (September 7) and small boat boats battling it out in the Hampton Roads Sunfish Challenge Dinghy Distance Race (September 21). Short-handed racing includes the YPRCC Singlehanded Race at the Rappahannock River Yacht Club (September 14) and the new Annapolis Yacht Club Doublehanded Distance Race (September 28-29). See the full racing calendar starting on page 29.
E: Enjoyment
The breeze picks up, the sky is deep blue, the humidity (hopefully) is lower, the water is still warm enough to swim, and the powerboat wake lightens up considerably. Whether you're a racer or a cruiser, sailing a big boat or a dinghy, soak it up!
L: Log Canoes
Make your way to the Eastern Shore and take in the Log Canoe Labor Day Series in St. Michaels, MD, (September 7-8); the Log Canoe Higgens and Commodores Race hosted by the Miles River Yacht Club (September 14); and the Log Canoe Bartlett Cup presented by the Miles River Yacht Club at Chesapeake Bay Maritime Museum (September 15).
I: Itinerary
Cruising sailors headed southbound are planning their routes. The Seven Seas Cruising Association Annapolis Gam, which unfolds September 27-29 at Maryland Yacht Club, helps liveaboard cruisers share their stories and expertise and meet others who dream of ocean passages.
S: SpinSheet Century Club and Racing Team
It's a great time to bank more days (or sign up) for the SpinSheet Century Club for sailors who log 100 days on the water and the SpinSheet Racing Team for racers who compete in a large number and wide variety of regattas on the Bay.
H: Helping
If you haven't taken time to volunteer this summer, there's no time like the present. Charity regattas are a perfect place to indulge your passion for the water while helping others. Events this month include: the Washington Sailing Marina Leukemia Cup (September 7); DC Sail's Cantina Cup (September 14); the Hospice Cup (September 14); and the Downtown Sailing Center's You Gotta Regatta (September 21 and 28).
~by Beth Crabtree