Welcome Home Wilma Lee
After an absence of 16 years the skipjack Wilma Lee has returned to the Chesapeake Bay. Wilma was built in 1940, the first of many of these distinctive sailing workboats to be built by legendary Wingate, MD, boat builder Bronza Parks.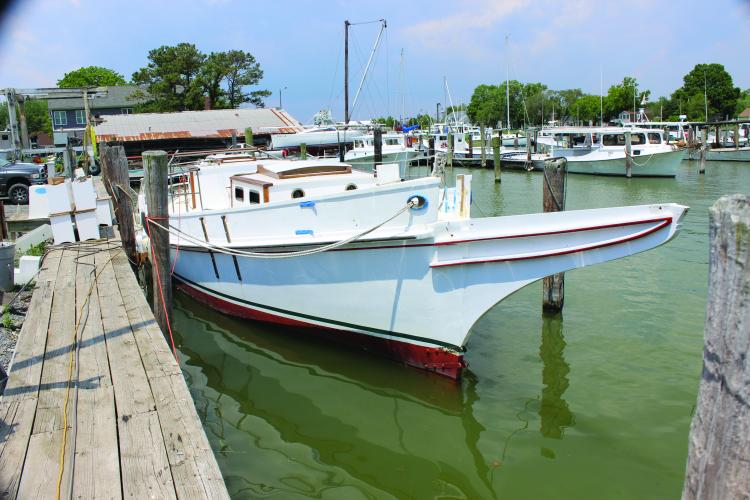 She dredged oysters for several owners until she was acquired by Herb Carden in 1994. As part of her restoration Carden converted her to a yacht with twin diesel engines, a gen set, air conditioning, a full electric galley, and below deck staterooms. Wilma was rebuilt to meet Coast Guard requirements as a passenger carrying vessel, including such improvements as four water-tight compartments and a full fire suppression system. In 2002 she went to Ocracoke Alive in North Carolina. The Annapolis Maritime Museum (AMM) acquired her from there, and she spent most of 2019 at Deadrise Marine Services in Tilghman, MD, undergoing restoration and repairs by shipwright Mark Weist, coming home to her berth at the museum in Annapolis in early fall.
I stopped by recently to find out more about this interesting addition to the Eastport waterfront. Alice Estrada, president/CEO of the museum, explained some of the background of the project.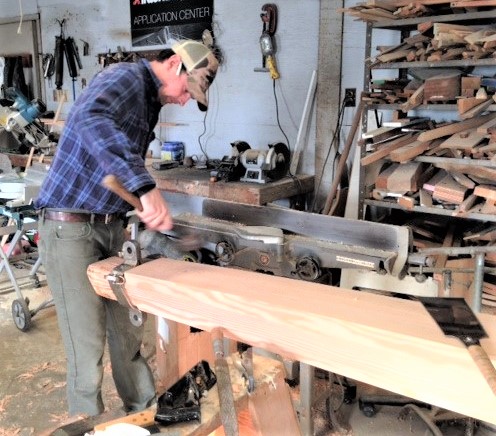 "Our newest learning platform and maritime artifact is the Wilma Lee, a 1940 skipjack. We've spent the better part of a year restoring and refurbishing her. She's back at her dock. We won't have her open for business until spring. She has some final sea trials and inspections to complete, but she's absolutely a beauty. It was a labor of love to restore her over a period of many months," Estrada explained.
"A brilliant shipwright (Weist) in Tilghman brought her back to life. We have pages and pages of repairs and work done on her, but the major project was the fabrication and installation of a new mast. The old mast and mast step had more rot than we had expected, so they had to be replaced. Unlike the original, the new mast is not a solid spar, but is a composite spar laminated from many pieces. Watching Mark turn that long square timber into a round, gently tapering mast was quite an experience. We want to talk about our intentions and how we plan to put this great boat to work," she concluded.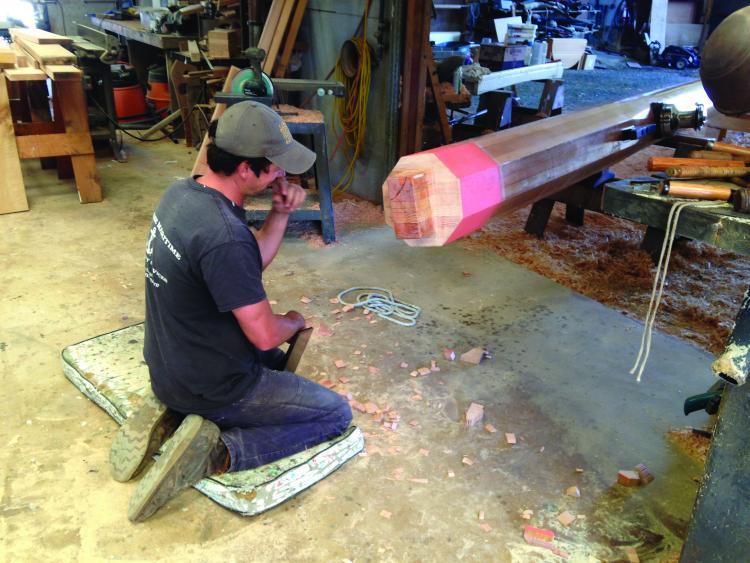 Caitlin Swaim, curator of the museum, expanded on both the background of the boat and plans for her use. "The skipjack replaced the bugeye as the most popular form of oyster dredger in the late 19th century. They were smaller, simpler designs; supposedly anyone could build one. They required fewer crew to handle them, so they were ideal for watermen to use."
Swaim outlined her plans. "I hope the most popular of our programs will be the public sails. They'll be on a regular schedule, going out in the early afternoon. Hopefully they'll get popular enough that we can start offering them on a regular basis. They are going to have a heritage focus, getting people out on the water and learning about watermen, the history of skipjacks, and why it's important to the history of Annapolis. We just want to get people out on the water. We might even do a little dredging, not like with the kid's educational programs, but enough to involve people in hands-on learning on the water."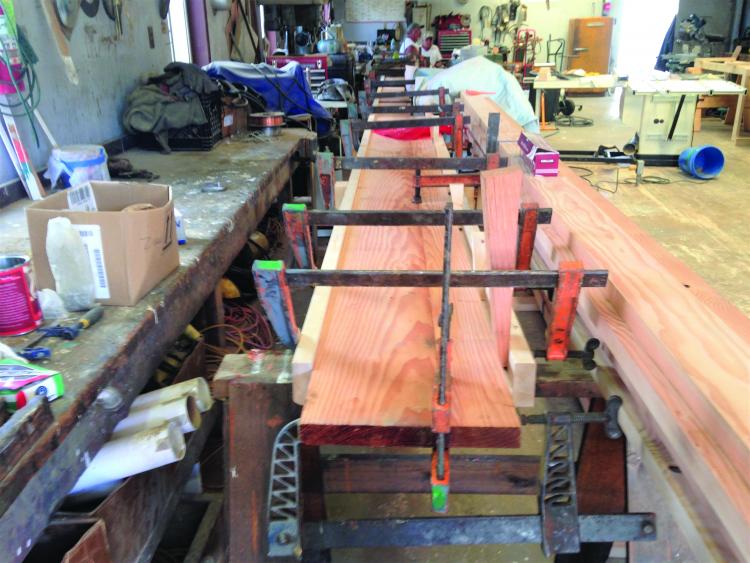 Sarah Krizek, education director, outlined some of her plans for Wilma. "We are going to use her to expand our teaching program, keeping it really hands on. We're going to be doing a lot of ecology programs on the boat. We will also be doing STEM (Science, Technology, Engineering, and Math) programs. The kids will learn about how a boat sails, what you have to do to build a boat, and things like that. We will be dredging some oysters. We have a scientific collection permit, and we'll be dredging under that with a small dredge, maybe two or three feet. We're not going to be using a full size one. But we will do some dredging and pull up some oysters and some critters for the kids to look at.
"We see about 11,000 students per year through our education programs," Krizek added. "We try to tie in not only the ecology of the Bay but the heritage of the watermen as well. We try to tie both of those disciplines into our presentations. The majority of our programs are for kindergarten through sixth grade. The boat will give us an opportunity to involve older students. We plan to have middle school and high school students going out on the boat. We are really excited about that."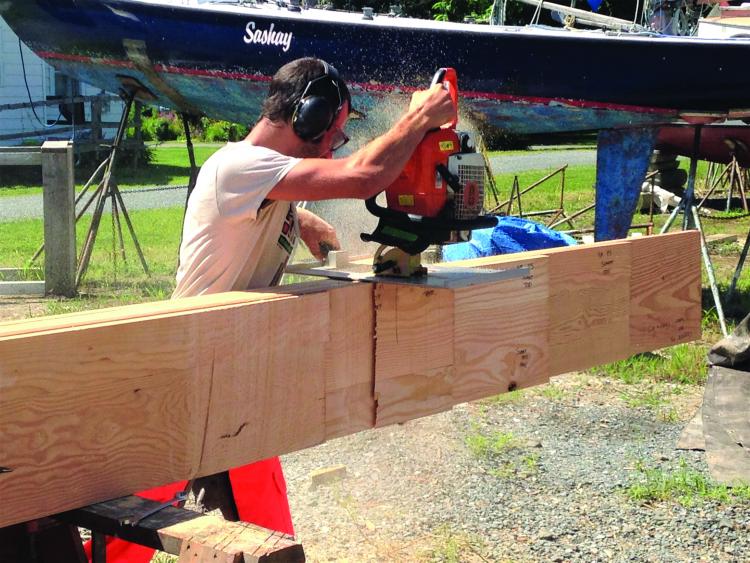 Estrada outlined some of the long-term possibilities she envisions for the use of the skipjack "We will use her for private tours and sunset sails, always incorporating some education into the program. We try to provide an understanding of the ecology and heritage of the Chesapeake in everything we do. That said, we will do wine and cheese cruises, sunset cruises, and various private events.
"I've already been approached by someone who wants to get married on the boat. We could do small weddings, bachelorette parties, and anniversaries, whatever. We will go slow at first and get a feel for what the demand might be for these activities. In the long term we hope to have a dock built at the Back Creek Park campus so that we could moor her there as well. At both locations she will be a permanent part of our exhibits. When she's not out working, she'll be available for docent-led tours, so we are going to keep her busy," she concluded.
~By Capt. Rick Franke
To those who do not know him, Capt Rick is a well-rounded boater and boating writer. As well as reading his work in SpinSheet occasionally, find his monthly column at PropTalk.com.