By sailing several times a week Cynthia Houston gained lots of sailing experience and was soon ready for racing overnight, working race committee, and even instructing.
Tell us about how you got into sailing?
When I was 40 years of age my team and I were RIF'd (reduction in force) from a government contract, and I found myself unemployed. It was not a happy time. I needed to do something to take my mind off the situation and wanted to learn something new. Then I ran across the Pentagon Sailing Club (PSC). I remember thinking, "I love water sports. Why don't I know how to sail?" I took a basic keelboat course with PSC and right away felt at home with the sport.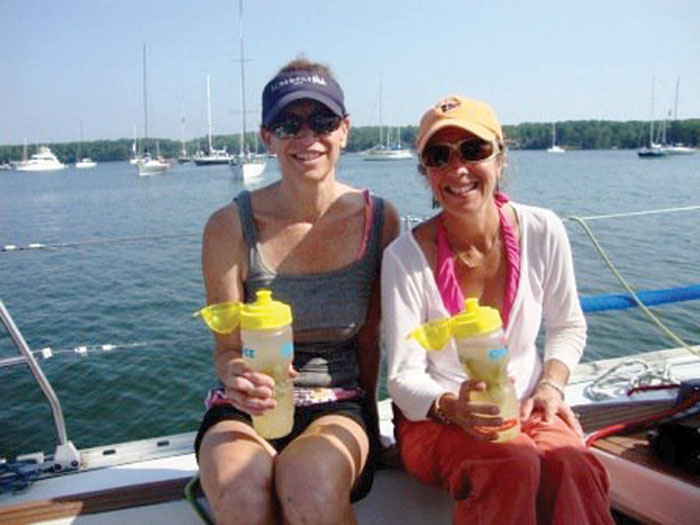 Did you have any preconceived notions about sailing that proved true or untrue?
My mother and younger brother took sailing lessons years ago, and I remember my mother relaying that her instructor yelled at her and that his directions were very confusing. So I was worried most about the learning environment. Luckily there were no 'yellers' in my basic class. The instructors were old salts and were great at what they did. I still sail with several of them.
Tell us about your sailing experiences thus far and your future plans?
I started with PSC's basic keelboat class and have taken a lot of classes through PSC. There's so much to learn, and classes are for me the best way to plug a lot of knowledge into a short period of time.
My first year I sailed and raced the Catalina 22s that PSC owns on the Potomac, and I became an ASA instructor for those boats. After that I made the effort to crew with sailing clubs on the Potomac and on the Bay, trying to get maximum time on the water in different clubs' races and on different boats. I was on the water several times a week for a couple of years. It was great. My best experiences have been overnight Bay racing events, and I also love instructing.
In terms of future plans, I enjoy working race committee and would like to do a race officer certification program. Several PSC instructors have become volunteer instructors for the U.S. Naval Academy's Off-Shore Sail Training Squadron, and I've recently started an introduction and classes for that program.
If someone were interested in learning to sail, what would you tell them?
Well, based on my own introduction to sailing, I would tell them to ditch the insane work ethic you can get stuck in, particularly in D.C. There is life outside the office. Find it now!