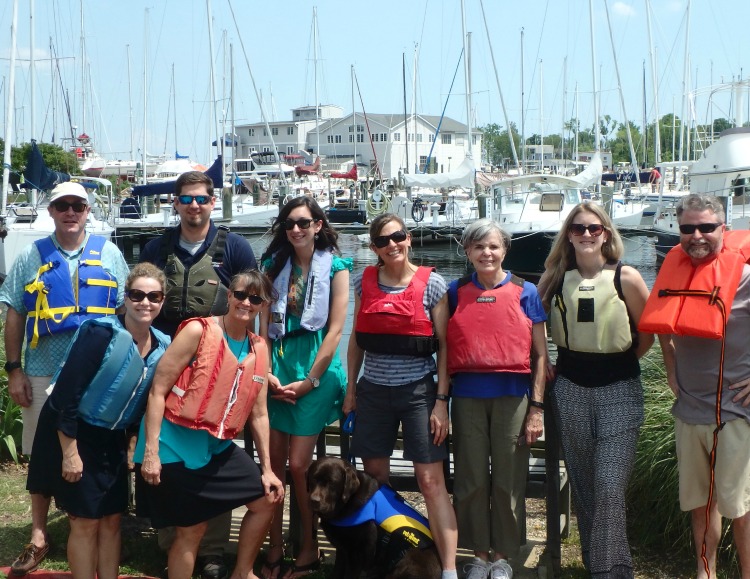 Team SpinSheet celebrates Wear Your Lifejacket to Work Day which kicks off National Safe Boating Week, May 20-26
What looks like a perfect day for boating can quickly become hazardous if someone ends up in the water. Boating safety advocates across the United States and Canada have teamed up to promote safe and responsible boating – including consistent life jacket wear every time boaters are on the water – during National Safe Boating Week, held from May 20-26, 2017.
"Each year hundreds of people lose their lives in boating incidences, and they may still be alive if they had been wearing a life jacket," said Rachel Johnson, CAE, executive director of the National Safe Boating Council and lead organization for the North American Safe Boating Campaign, a yearlong effort focused on boating safety that kicks off annually with National Safe Boating Week.
"It's not enough to just own a life jacket and store it on a boat, you must wear it," Johnson said.
U.S. Coast Guard statistics show that drowning was the reported cause of death in three-fourths of recreational boating fatalities in 2015, and that 85 percent of those who drowned were not wearing life jackets.
New life jackets are much more comfortable, cool and lightweight than the bulky orange style most boaters know. Innovative options, such as inflatables, allow for mobility and flexibility during boating activities such as fishing, paddling or hunting.
"It's important to encourage everyone on board the boat to wear a life jacket," said John Johnson, CAE, executive director and CEO of the National Association of State Boating Law Administrators. "Accidents can happen too fast to put on a stowed life jacket." Read more about it here.
If you're in Baltimore this weekend, check out the National Maritime Day Port Expo on Sunday, May 21.
And although it's not connected, it does fall on the same day. Team SpinSheet enjoyed our tradition of Bike To Work Day today on City Dock Annapolis.