Why We Burn Socks: Annapolis Maritime Museum shares its version of what's become a Chesapeake tradition: burning socks on the spring equinox!
Burn your socks my friend, the winter is done, Tis time for boating, crabbing, and fun.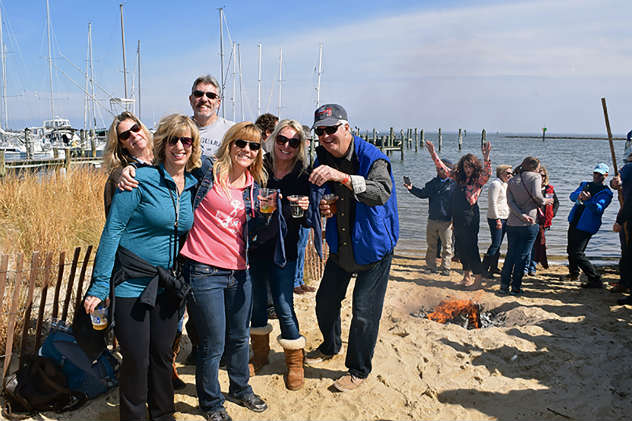 Spring fever is real. It is, by definition, the feeling of restlessness and excitement felt as the mercury in the thermometer begins to rise. In northern climes, the feeling is more acute, and in Annapolis all that pent up frustration is taken out on socks. Yes, socks.
They have become such a symbol of the ire we feel towards the harsh winter months that they are quite literally burnt at the stake for their crimes.
Light them on fire, yes let them burn, A promise that warm water is soon to return.
This annual sock burning ritual began in 1978 (some say during the harsh winter of 1977, others say early 80s), when local yardman and sailor Bob Turner, fed up with the year's grueling winter grabbed a Budweiser and decided to rid himself of the oppressive (and perhaps pungent?) necessities of winter in a bonfire at the spring equinox.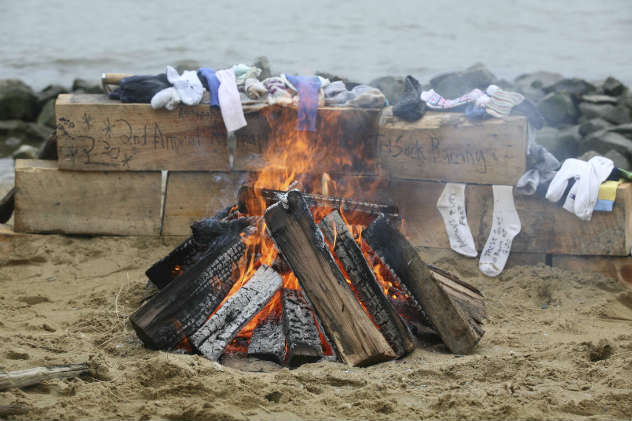 Since then, this spontaneous gesture has been replicated by many up and down the Chesapeake Bay and beyond (it's been written about in the New York Times and Wall Street Journal!)… The spirit lives on at the Annapolis Oyster Roast and Sock Burning, held each March at the Annapolis Maritime Museum.
So pull up those pantlegs, and take off your shoes, Pull off those socks and break out the brews.
As the local ambassador for the area's maritime history, the museum has formally continued the tradition since 2010, pairing it with a delectable oyster roast and various fun activities that have people coming back for more every year. The museum is located in the last oyster packing plant in Annapolis, and dedicates itself to the preservation of all local maritime tales – no matter how quirky!
Goodbye to winter, only deck shoes we wear! Though the socks we are burning leave a stink in the air!
Join in the fun this year; mark your calendars for March 24. This event is all about getting together with friends for good drinks, good music, and good food. Get your tickets early, especially if you want a People's Choice ticket: get spoiled by 10 local restaurants and caterers and then vote for your favorite. Live music, boat rides, and an oyster shucking contest will round out this true Annapolis experience.
And so the tale ends and the sock smoke shall rise... Long live our tradition, an Annapolis pride!
Find out more at amaritime.org
Find some tips for sock burning etiquette here