Nine Tips for Better Sailing Photography in 2018: Looking to improve your sailing photography skills in the New Year? Here are some tips from SpinSheet photographers to get you started.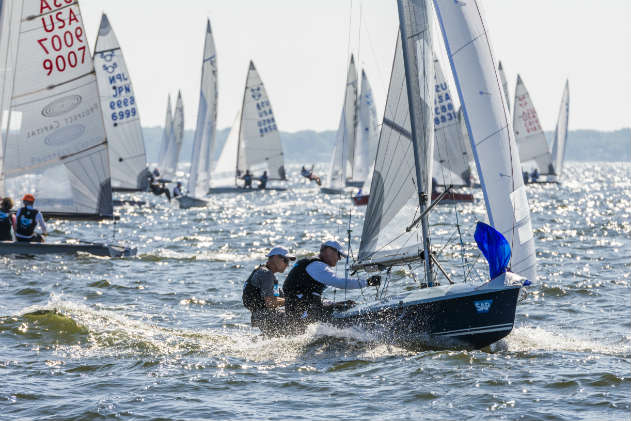 1. Get the settings right. Our longtime racing photographer, Dan Phelps, advises, "Check your camera to make sure that you have the right settings for the day. The worst thing you can do to yourself is shoot a regatta on a bright sunny day only to go home and find that your camera was set up for night fireworks." He recommends long lenses: 200mm, 300mm, 400mm-plus. "A longer lens allows you to be away from the action and gives the racers the room to do their thing. It's less stressful on you and on them, and it still enables you to stay connected with the action."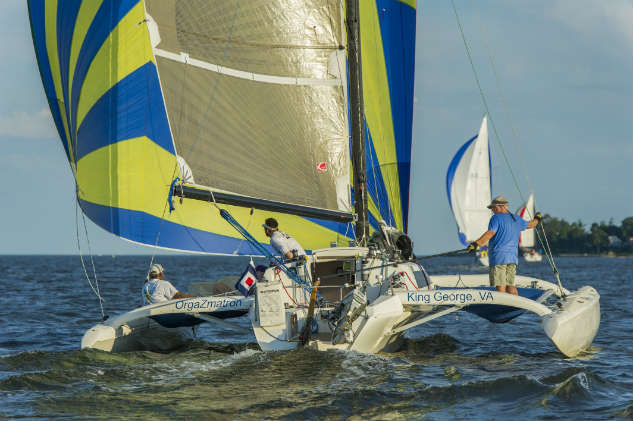 Make a plan. Dan pages through Instagram or magazines to see what the pros are up to, gets some inspiration, and then comes up with a plan. "I find that going out with a plan for myself to get a certain angle on a boat helps to give the session some purpose. I get to learn a new angle or style, and (hopefully) the shots live up to the art."
Get up close! "Close ups and faces are the key," he says. "Don't worry about getting the whole boat. If you look at the top pros, they often only have a very small section of the boat in frame, but their focus is right where the action is happening."


Horizon job. Shannon Hibberd chimed in: "Try to get a straight horizon. Nothing ruins a great photo like having the horizon slightly tilted (if it's dramatically tilted, you can claim artistic license)…"
When shooting boats… Hibberd says, "Don't just shoot boats; try to get the expressions of crew and action onboard. If there's a lot of wind/wave action, bring foulies, a towel, a lens cloth in case of splashing, and a waterproof bag or case for expensive cameras and equipment."


Find the moment. Mark Duehmig says, "My favorite weather is after a storm has passed. The sun is lighting up the boat, but the background sky is dark. When shooting onboard the boat, go for people shots and look for big emotion. The effort shown when grinding a winch or hoisting a sail. Concentration on a helmsman's face. Even boredom by the rail meat, or the excitement while reeling in a fish. If you are racing and someone is down below pulling in the spinnaker, don't forget about him or her... The golden hour really works for boats; noontime is the most boring," Duehmig adds. "Boats at rest can be wonderful."


Go for shutter speed. Al Schreitmueller kept his advice short and sweet: "Forget tripods and monopods. Go for shutter speed—twice the usual 1/mm's, ie. 300mm lens use 2xmm = 1/600 minimum speed. Try hard to keep the sun at your back. If it's really rough, don't use your camera bag as a barf bag or for fish."
Better selfies: My 18-year-old niece, Mia, completed the pro advice with a tip on the best way to hold an iPhone for a selfie: "Put your two middle fingers on the back of the phone, and the pointer finger and pinky hold it in place. The thumb takes the photo." Find some great iPhone photo tips here.
Get published in SpinSheet. Anytime of the year, send racing, cruising, sailing party photos, and anything showing Chesapeake sailors (or yourself!) having a great time on or along the water to

[email protected]

.