Chesapeake Racing during and after the rain, your weekend roundup
Rain, rain, rain, rain, and then, there was sunlight… but not until Sunday, and all with light winds. Such were the conditions on the Chesapeake over the weekend of May 19-20 for racing sailors in the Viper 640 Atlantic Coast Championships, the Gibson Island Race, and more. Here's your weekly racing roundup.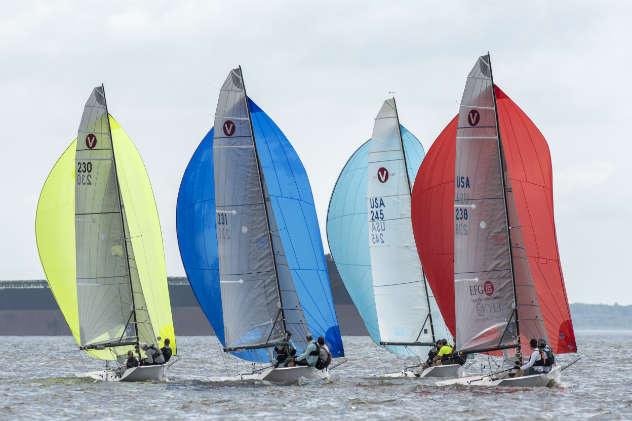 Sixteen competing boats showed up for the Viper ACCs hosted at Eastport Yacht Club.
1. USA 269 Great Scott! Viper 640 Peter Beardsley 1-8-3-2 1: 15.0
2. USA 287 Moxie Viper 640 Zeke Horowitz 8-9-1-1 2: 21.0
3. USA 248 Terminally Pretty Viper 640 Mary Ewenson 3-2-6-6 4: 21.0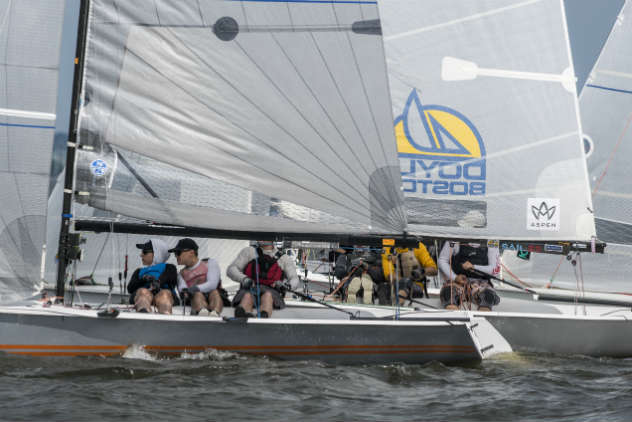 Find SpinSheet's downloadable photos for purchase here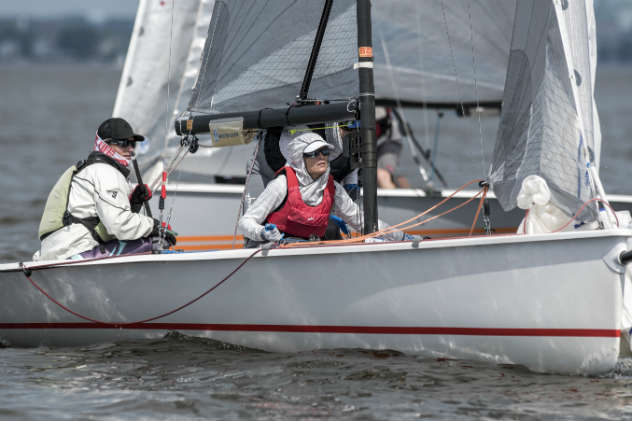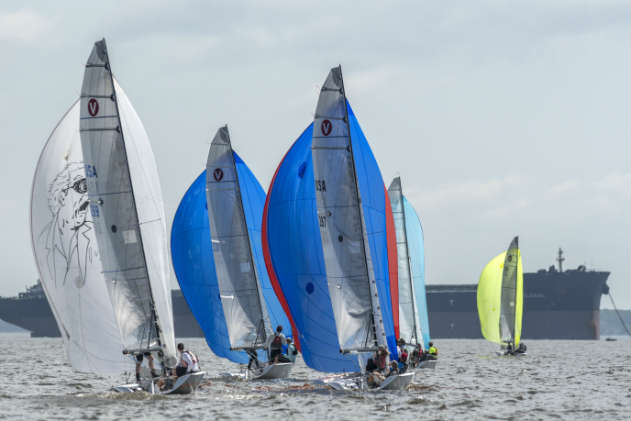 Gibson Island Race
For the eighth annual Gibson Island Race, hosted by the Sailing Club of the Chesapeake and the Gibson Island Yacht Squadron, a couple dozen boats showed up in light air, rain, and fog at Hacketts Point off Annapolis for the mid-distance race—which is supposed to be 10-25 miles long depending on conditions. In this case, it was shortened.
Unfortunately, all GI Race results have not yet been posted . Congratulations to John White and crew for winning in the J/105 one-design class…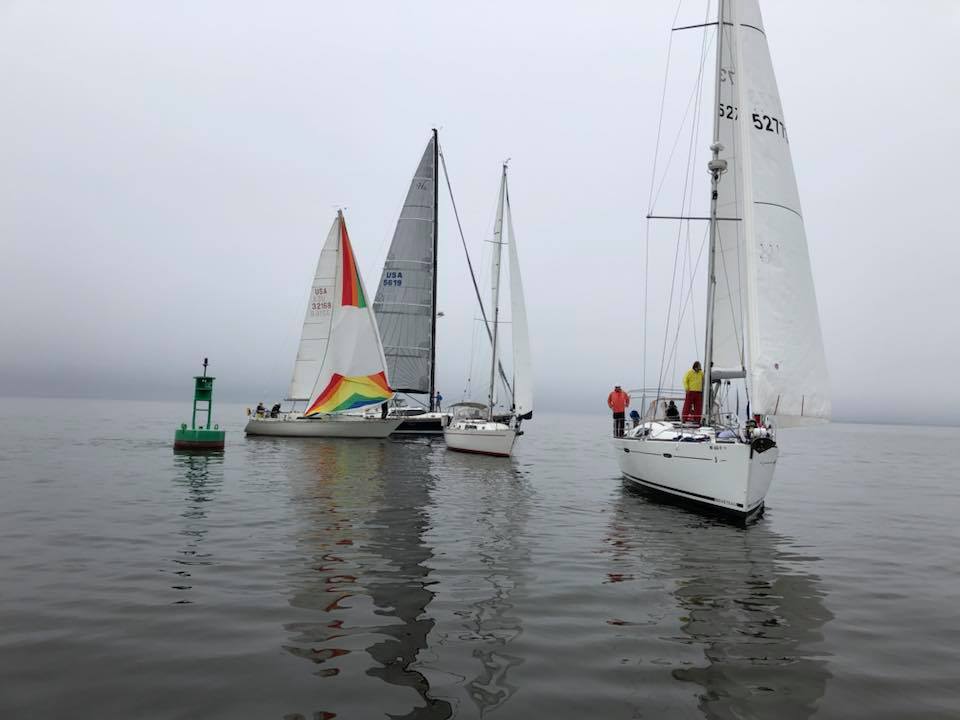 We did hear a story that warmed our hearts, especially in the aftermath of the last distance race that ended with bad vibes. Frank Martien and crew on the new Tartan Starbird was a little bit faster than expected….
When the race committee shortened the course, the Starbird team had already passed the mark that was supposed to indicate the new finish line. A bunch of sailors got on the radio and helped out the race committee by saying "If he already passed it, let's call him first and the rest of us will race for second place." Now, that's the spirit, racers! Thanks for being good sports and making it easy on your hard-working RC volunteers!
Cape Henry Cup
This just in from Lin McCarthy's Southern Bay Racing News You Can Use about the Cape Henry Cup: It was a damp nineteen (18.9) miles, but at least there was a racing breeze . . . most of the time. Some sails suffered damage in the rain squalls that moved through during the race. And, the current, the weather iffy-ness, and an aircraft carrier all provided "entertainment" for skippers and crew as they came up Buckroe Beach to the finish line off Ft Monroe.
The aircraft carrier was the Gerald R. Ford (78) slipping out the channel as a number of the Cape Henry Cup boats were finishing.
RESULTS:
PHRF A (7 boats): 1.Danger Paws, Neil Ford & Lis Biondi; 2.Myrage, Christian Schaumloffel; 3.Feather, Phil Briggs.
PHRF B/C (6 boats): 1.Rumble, Ben Weeks & Michele Cochran; 2.Blue Ghost, Guy Sorensen; 3.Callinectes, Ben Cuker.
PHRF Non-Spin (4 boats): 1.Black Widow, Copeland / Girardin / Gade; 2.Seeker, Al Johnson; 3.Pisces, John Wandling.
CRUISING (4 boats): 1.Modus Vivendi, Sergio Diehl; 2.Klimax, Booty Baker; 3.Tempo, Jonathan Romero.
Principal Race Officer: Scott Almond; Signal Boat: Eric and Cathy Brinsfield. The Cape Henry Cup is administered by Broad Bay Sailing Association.
Off the Bay...
Annapolis sailor Thom Bowen wins the J/70 North American Championships in Mexico!
Find the story here. Way to CRUSH IT, Thom!!
Chesapeake Bay boat is invited to Times Square and Fox news.
~By Don DeLoatch
As most Bay boaters are now fully involved in day trips, weekend races, or cruising, the Vortex Race team from Hampton Yacht Club has been busy readying, testing, and racing our most ambitious effort yet. We had just upped our game by replacing our J/105 with a fairly new and well set up Melges 32 Riff Raff. The crew had spent many of the winter weekends setting up the new boat, testing sails, and as the warmer weather rolled in, racing.
A welcome two-week break from racing sent my wife Molly and me to a quiet cabin in rural Virginia with our dogs. With spotty cell service, I did catch a call from our friends at GetMyBoat asking if the Vortex crew could get our J/70 named GetMyBoat to Fox Studios in New York the next week for a promotional spot on summer activities to include sailing on the popular Fox and Friends show May 13.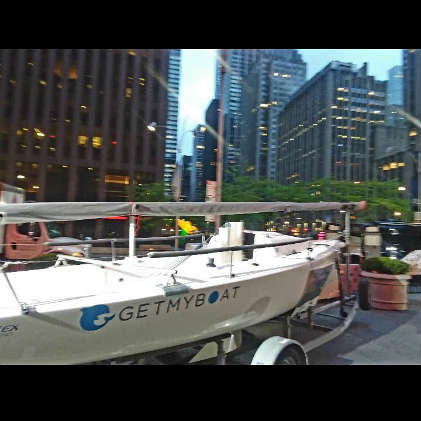 I must admit my mind raced to the memory of Michael Douglas in the movie Romancing the Stone, a blockbuster movie (1984), pulling his sailboat down the streets of Manhattan to end the movie and get the girl. In my mind I knew this had to happen so I put out feelers to the crew, Ryan Kozoriz our team manager was quick to volunteer for this wild and unforgettable experience. My wife had grown up outside of New York in a town called Mountain Lakes, and we had spent some time in the city over the years. As a southern boy I was always impressed by the sheer volume of everything New York.
As manager of the Vortex team we know and use the GetMyBoat app and thought this promotion would be helpful to many Bay sailors and powerboaters who may want to use the app as we have. I mentioned the quiet cabin I stayed at, this cabin was on the banks of a large lake, and I found a kayak rental on the GetMyBoat app; it was easy. Several years back our team planned to race the Rolex Big Boat in San Francisco on our J/105. This trip was at least a year in the making, and in our planning we found a J/105 charter available through the GetMyBoat app that saved our team two thirds the transportation cost and a considerable amount of time to pack and ready our boat, saving many man days of work.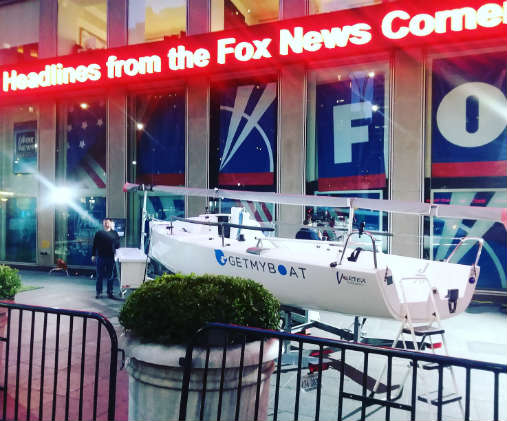 GetMyBoat has helped our team get to many far off experiences, but driving through Times Square with our race boat was not expected. Somewhere on 49th street a cabbie pulled up revved his engine and asked "where's the start area?"
Many eyes turned to gaze at the sparkling clean and sexy racer sliding down the mean streets of Manhattan. I was issued a parking permit in advance from the Mayor's office so I felt like a VIP. At Fox studios they treated us like VIPs. Fox had a crew ready to help us move the boat onto the set. Also on the set, a fantastic Airstream camper and a vacation photographer who specializes in documenting your vacation for you--no more selfies.
All in all it was a great experience for Ryan and me to share our love of sailing with a national audience in a way that may help some people get on the water more often. The Fox people knew a little about race boats, and I think they did a excellent job with the piece and several teasers featuring our J/70. I have also learned that GetMyBoat was pleased and saw an increase in activity on the site.
I think sailing is a great motivator to get off the couch, meet people, and maybe take your friends on a wild ride like we have been enjoying. Get out and sail; it will make a difference in you!
Moran in the Melges 20 in Charleston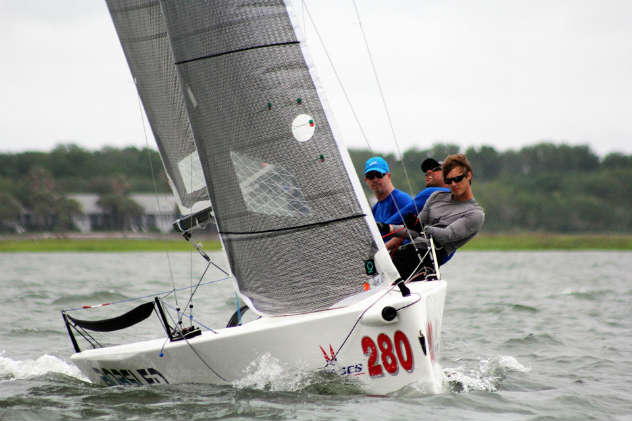 Priscilla Parker sent us these terrific photos of Annapolis sailor Bob Moran and his team at the Melges 20 Nationals in Charleston May 17-20. Bob and team came in 8th of 10 in their first effort in the Melges in light air with Charleston's notorious current, too.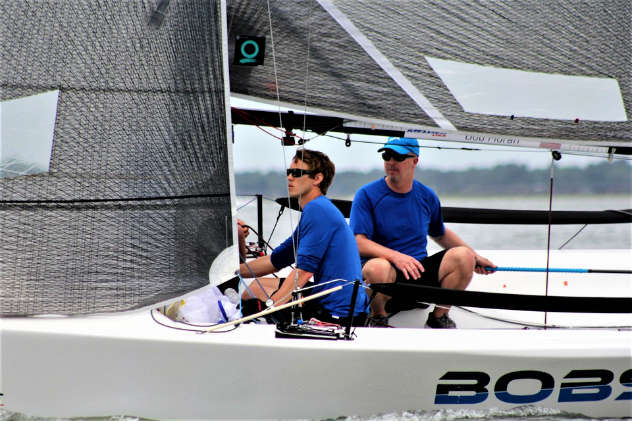 And last but not least… Up in that OTHER sailing capital...
Of course we didn't forget about the Volvo Ocean Race Newport Stopover. SpinSheet had a photographer and two reporters there, so stay tuned for the July issue (June is already at the printer).
Here are some photos from Saturday's in-port race. Find the VOR Newport In Port race report here.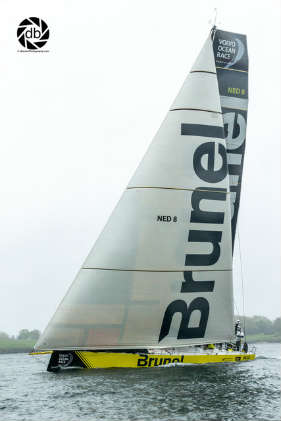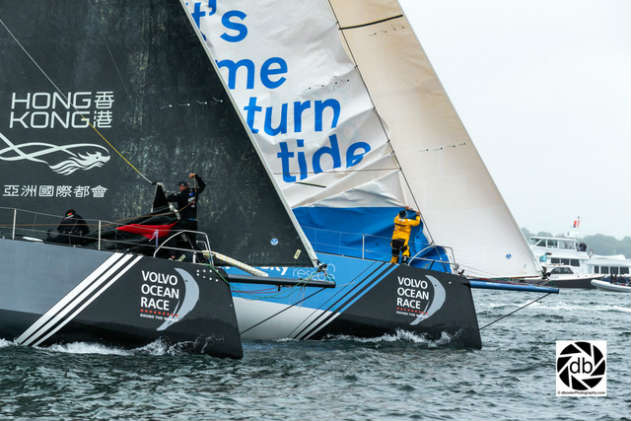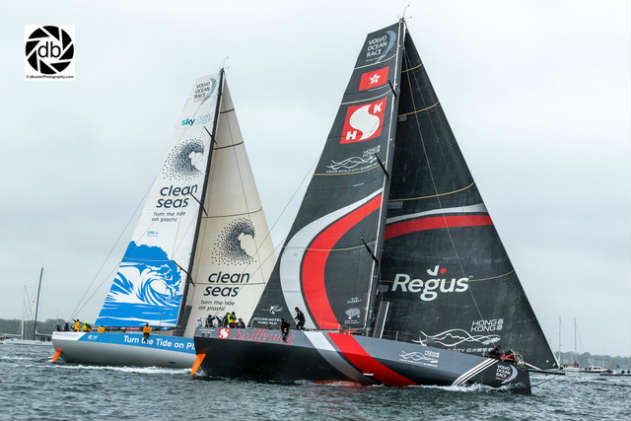 Here are some photos from Sunday's restart to Cardiff, Wales. Find the VOR Newport to Cardiff restart recap here.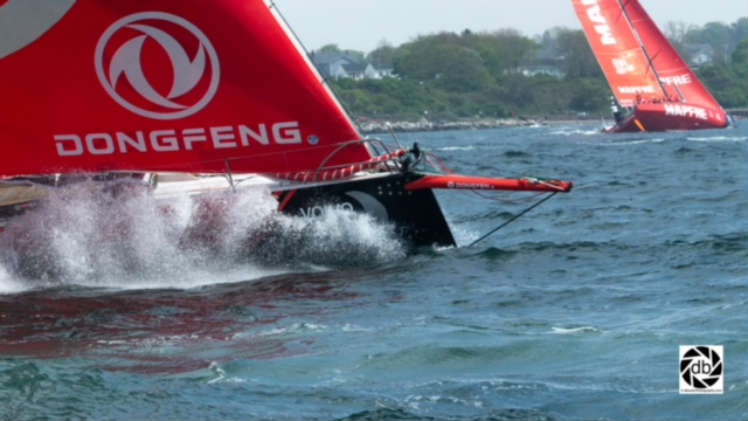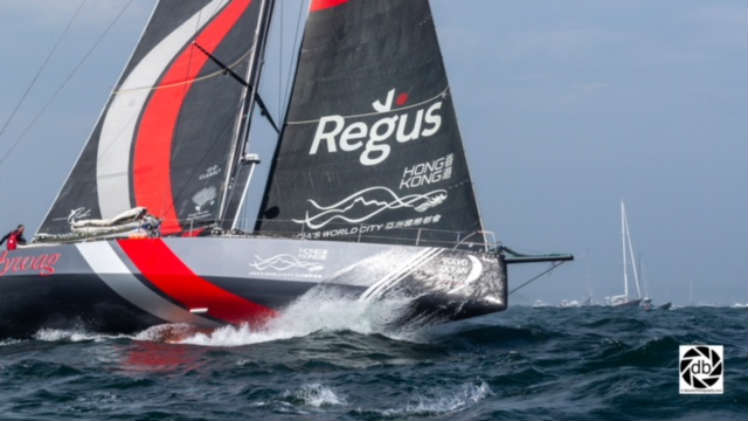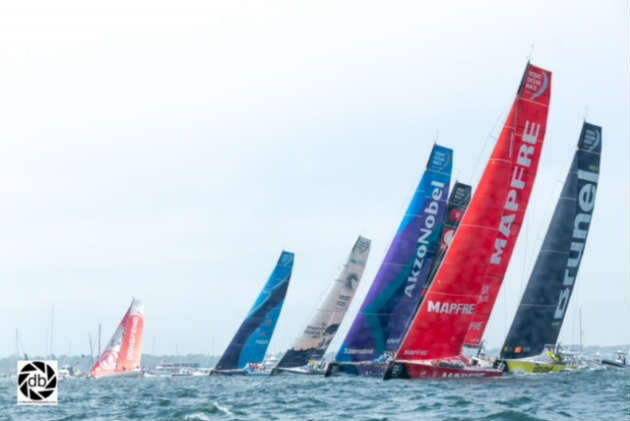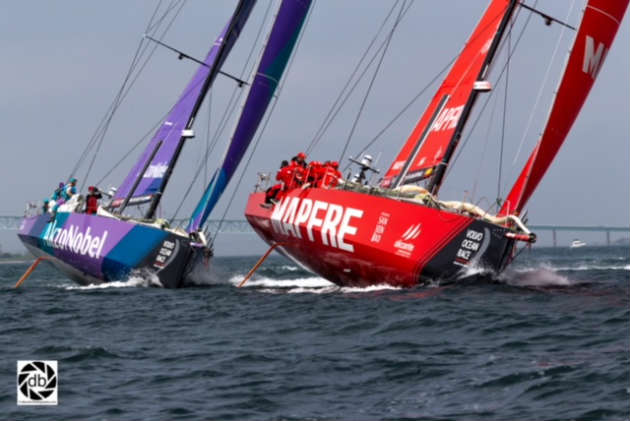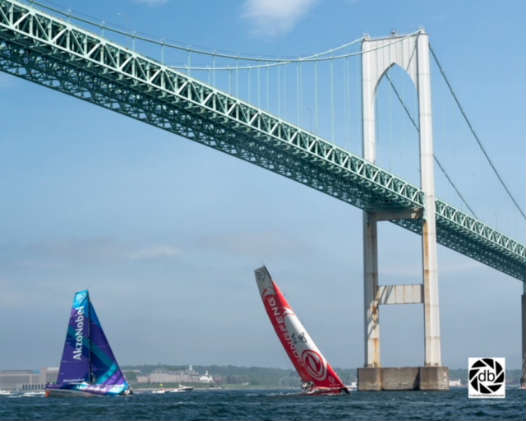 Don't see your club's news in this week's racing roundup? We're happy to tell our readers all about your event, but we need your help! Send photos and stories to us by 9 a.m. on Monday, anytime, and we're happy to share it! Remember, SpinSheet is for and by sailors, so you are a part of the team! [email protected]