Bring Back That (Old Regatta) Lovin Feeling
Don't you love the racing stories that begin with, "Remember when we had 75 or 100 boats for the Such-and-Such Regatta? The parties were great, and the racing was fantastic." These old stories are told frequently, and we all wish we could return to the days when almost any event we attended had the same story of a great party and crowded starting lines.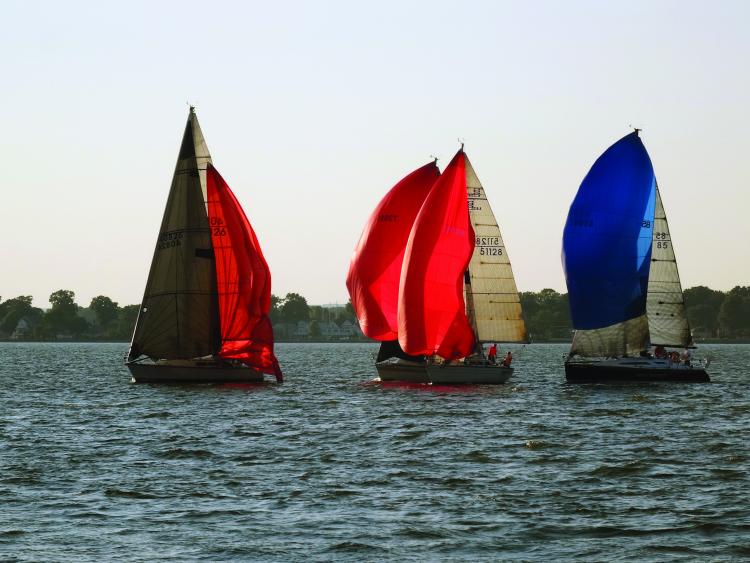 Many of us sit around the bar wistfully remembering and discussing regattas of old, where we had to thread our way through the fleet just to be able to reach the starting line. The majority of us have been on planning committees and tried to revitalize a race of old to relive the fun we had but have now given up, realizing the futility of our efforts. Many of us are just glad we lived during a period where sailing was king and no one had a camera to remind us of our antics at the post-race parties. We are all in agreement that these events are history and cannot be repeated in our lifetimes. News Flash! We were wrong. You can go home again!
For many decades Glenmar Sailing Association (GSA) sponsored Northern Bay Race Week, which at its heyday saw 90 to 100 boats registered for this two-day event. The last few years saw attendance drop to less than a dozen boats, with no post-race party and many of us calling for dropping the event from our schedule. This all changed in 2018 when the newly named Northern Bay Regatta (NBR) was once again an event that reminded many of us of regattas of the past, leaving many of us scratching our heads as to how this was accomplished.
Let me set the stage to share with you how this was accomplished. For GSA, 2018 arrived with a new sailing season and a new fleet captain, Michael Johns, in charge of our racing activities. Michael had sailed with GSA for the past few years and was not programmed to believe reviving this event was impossible. As we listened to him, we explained how many of these same ideas had been tried in years past. However, we soon realized the difference needed would be combining these same ideas with determination and follow-through, which in the end propelled the NBR into one of the best sailing events in 2018.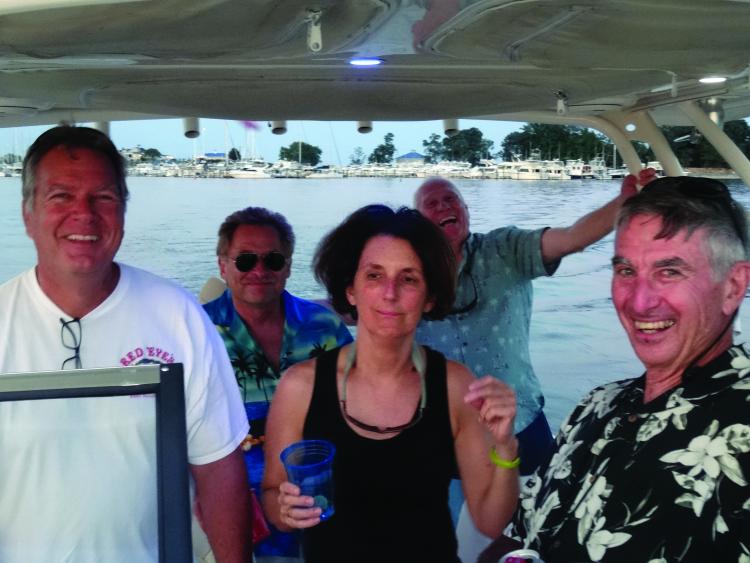 Interested in accomplishing the same with one of your own events? This is how Michael did it in Northern Bay last year, but first a reminder from the last paragraph. Partial compliance with all the listed items will lead to partial success, and without motivation and follow-through you will not achieve success. Sounds like a real-life business situation, which is what is exactly what it is, and the same principles apply. So here goes:
Energy: Michael provided the spark which got many of us excited, but that energy had to be supplied not just once, but weekly, to push everyone toward maximizing the results. A single burst of effort will not bring needed results.
Planning Committee: The 2018 committee was not comprised of the normal three or four regulars, but instead more than a dozen people with various backgrounds and allegiances. Other clubs were invited along with sponsors and even SpinSheet staff. All brought a can-do attitude and many different approaches.
Race Venue: This was a major change from our standard round the buoys format of old. We looked at whom we were trying to attract and how to get them to our event. We thought a feeder race like the one Solomons Island uses might work, and since we were trying to attract boats from Annapolis to the Inner Harbor, we scheduled Saturday's race to be a distance event starting near the seven-foot knoll at the mouth of the Patapsco and ending at Middle River. This was a difficult discussion, as we also wanted to include boats from the north, but we relied on history as well as interest and chose to start from the south and settled on a distance race that would be of interest to the cruising class of boats and the short-handed racers, CHESSS.
Race Course: A huge benefit of racing in Northern Bay, and one we needed to capitalize on and advertise, is that our racing area is one of the best in the Chesapeake. The timing of the event was the unofficial July 4 holiday weekend, when almost all boating areas are full of powerboats and powerboat wakes, but our racing area is mostly powerboat free, even on the busiest of weekends. The shipping channel that runs north to the Upper Bay is located on the extreme eastern side of the Bay, which leaves the middle of the Bay entirely to our group, with few crab pots or other obstructions. We also chose the date of the event to not compete with other racing events or with family vacations.

Everyone is welcome: We invited cruisers, PHRF divisions, multihulls, and CHESSS. We made sure each fleet was represented at the planning meetings to insure we made the venue to be of interest to all, and those attendees were responsible for promoting the event to each fleet. As I mentioned earlier, follow-through was critical, and this was a great example of where you increase attendance by charging individuals with promoting the event to their own groups.
Advertising: SpinSheet was great in publishing an event notice, and we had a poster created for use in all mailings. Many of us attended events where we were given the floor for a few minutes to promote our event.
Networking: Nothing beats face to face meetings. Michael attended the Baltimore City Yacht Association Formal party to meet many of the racers, and I spoke to CHESSS at the March meeting and promoted the Saturday distance race. Maryland Yacht Club agreed to provide free slips Friday night for those racers traveling to make the Saturday start. The Green Book is a great reference, but excitement comes from face to face meetings; we had many!
Sponsors: The Chesapeake has some large events that are well sponsored, but reviving a dead regatta is not high on any sponsor's list. We were very fortunate to have two corporate sponsors support our efforts: APS and North Sails. An individual from our club, Dave Kozera, donated drink cozies, and many others pitched in. We made sure everyone attending this event knew who had helped make it a success (I know where my first stop will be in 2019 for equipment or sails). Although sponsors are not easy to find, they really help add credibility and seed money or in-kind items.
Party: Michael went with the approach of "build it and they will come." He was right. He asked a local waterfront restaurant, The Crazy Tuna, to provide food and drink and a roped-off area at reduced pricing on a busy summer weekend. The atmosphere was great, food excellent, and location perfect, resulting in one of the best social events all summer. This year he has plans for an even better event. All this is extremely high praise from this author, as I normally forgo the social end of racing at this point in my life. But I would not miss this affair.
More Good Stuff: Michael arranged free slips Saturday night for our guests and held the event during the same weekend as the Middle River fireworks display, which were visible from some of the piers. The party was not far from I-695 and I-95, making it easy for crews to run home if needed and to bring in fresh crew for Sunday's racing.
Racing is not dead, nor do we have to accept declining attendance, as this event proved. However, I truly believe that if a single item from this list had been be eliminated, the regatta would not have been as successful as it was in 2018. So what does Michael have planned for 2019? "Eighty boats registered" is what I hear from very early planning meetings, and now believe this is not only possible but probable. Learn more about the Northern Bay Regatta here.
~by Joe Borrison
P.S. Michael did arrive at the SpinSheet office after the regatta with thank you treats for helping to promote the event---we would have written about this regatta without treats, but such enthusiasm is indeed memorable! Thank you, Michael.