CRAB's Don Backe Memorial Regatta, a Nailbiter!
Chesapeake Region Accessible Boating's (CRAB) 25th Annual Don Backe Memorial Regatta, hosted by the Annapolis Yacht Club (AYC) on Saturday, June 4 was decided on the last of five sailboat races by a proverbial nose.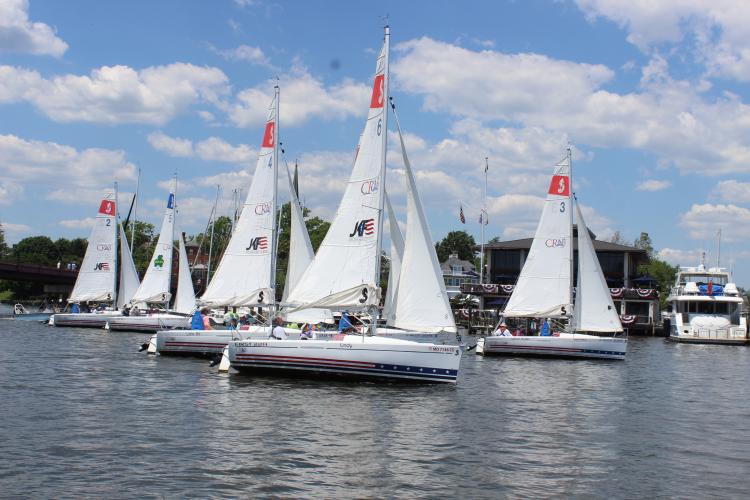 All six of CRAB's Beneteau First 22As were on the course that took them from the starting line in front of the AYC Clubhouse out into the harbor and back again for a finish off of the club dock. All skippers had a disability and in some cases an additional disabled crewmember. The boat tacticians were a mix of CRAB volunteers and AYC skippers.
AYC Principal Race Officer Peter Gordon delayed the regatta by an hour due to no-wind at the scheduled start. The lone race in the morning was won by Rob Klein on Little Bit. As it turns out, three boats were able to claim first across the line honors in at least one race.
After the teams enjoyed a nice lunch from Leeward Market, they reboarded boats and found totally different conditions on the water. Plenty of wind had arrived making for very serious racing conditions out in the harbor. Tim McGee and his USNA All-American crew made the most of the lunch break and claimed a victory in the second race.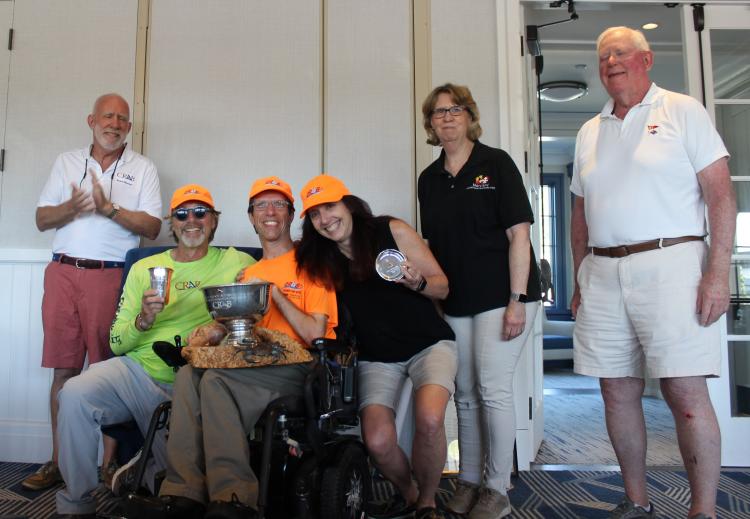 However, their lunch settled in, they sailed the wrong course for a last place finish in the third race. Making the most of this error was Kevin Detwiler on Lainie who finished the afternoon with two bullets and a second. Kevin's team of Walt Laird and Maude Laurence claimed overall victory by a matter of a few feet, just edging out Rob Klein's Little Bit by one point.
It was a great day on the water for the disabled skippers and able-bodied crews who made it the tightest regatta finish in CRAB history.
At the Champion's Reception & Awards Ceremony at the AYC Sailing Center, Maryland Department of Disabilities Secretary Carol Beatty made a presentation on behalf of Governor Larry Hogan. Sec. Beatty presented CRAB President David Hankey with a framed proclamation declaring June as Adaptive Boating Month in Maryland. She said that CRAB has a lot of friends in the Governor's Cabinet and everyone looks forward to seeing the completion of the new Adaptive Boating Center in February of 2023.
Race Results:
Kevin Detwiler, Walt Laird/Maude Laurence on Lainie 2,3,1,1,2 9pts
Rob Klein, Chris Murphy/Scott Gitchell/ Amy Harris on Little Bit 1,2,2,2,3 10pts
Tim McGee, Paul Van Cleve/Pam Corwin on Lindy 3,1,6,4,1 15pts
Bruce Slaff, Carl Larson/Doug Fineberg on Andrea 4,4,4,3,5 20pts
Jay Streit, John Cantrick/John Rogers/Dee Perry on Club Mac 5,5,3,6,4 23pts
John Tarrant, Dillon Hale/Andrew Katz/Seon Hollett on Whoa Dudes6,6,5,5,6 28pts
We look forward to seeing these skippers and sailors who support CRAB's mission at the CRAB Cup on August 20.
Find more sailboat racing stories here.