American Magic is hitting on all cylinders
American Magic crew selected. Check.
Two American Magic foiling AC40's racing against each other in the waters off Barcelona. Check.
American Magic AC75 foiling monohull enroute to Barcelona. Check.
American Magic President of Sailing Operations and skipper and Annapolis native Terry Hutchinson is permitting himself a smile and sigh of accomplishment. Check. Check. Check.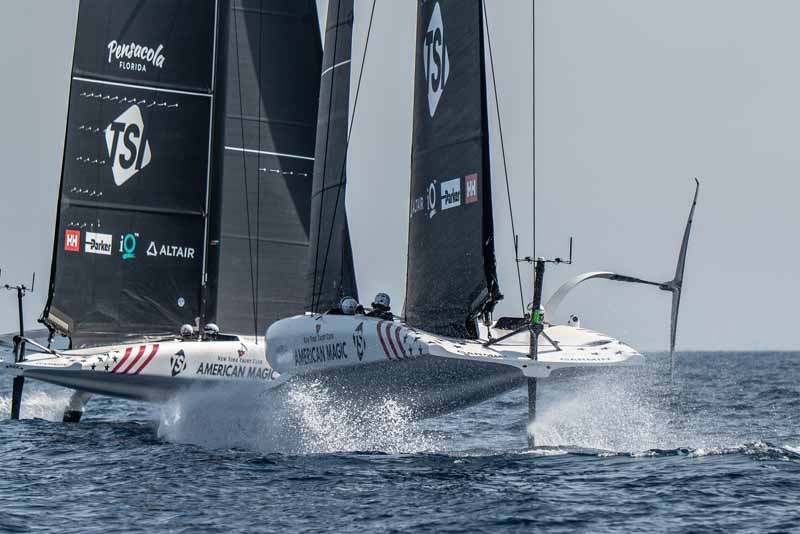 Even though the 37th American's Cup is more than 15 months away, (challenger elimination series races begin in August, 2024 with the first Defense of the Cup race slated for October 12), the New York Yacht Club challenger American Magic is hitting on all cylinders in Barcelona as Terry Hutchinson and his crew begin the all-important shakedown of men and machines prior to what is highly anticipated to be a very competitive fight for the Auld Mug, the oldest trophy in sport.
"We have a new team at American Magic," Hutchinson says. "And we have a renewed focus on absolute perfection in performance."
Readers might recall that a momentary lapse of focus during a preliminary race at Auckland's 36th America's Cup left the American entry almost sinking in the Waitemata Harbor, a disaster that the team never could overcome.
After the team's two AC40's took to the water in Barcelona in early July, the normally taciturn Hutchinson permitted himself a little smile of satisfaction. "Barcelona is an incredible city…an incredible spot to go sailing. We've been sailing Magic and christening that and getting ready to two boat sail. Today was about sea trialing America…making sure everything is in good working order. Everything is tight and perfect…once the boat gets over its jetlag, we'll be ready for two boat sailing. Our focus is learning and developing for the AC75 to win the Cup. Everything we do, that's our focus."
Major modifications
Teams have made some major modifications in the configuration of their AC75s.
For starters, hydraulics can now be powered by two cyclers, replacing the more traditional pedestal grinding stations. Crew numbers have been reduced from 11 to eight, and light air performance has been improved.
Australian Tom Slingsby, one of the most successful sailors in the world, having won an Olympic gold medal, nine world championships, the America's Cup, and setting numerous world records, in addition to being crowned 2010 World Sailor of the Year, will share helming duties with England's Paul Goodison, a three-time Moth world champion and veteran of American Magic's 2022 America's Cup campaign. At press time, it is assumed that each will drive a specific tack during the race, mimicking the successful helming strategy employed by Luna Rossa's Jimmy Spithill and Francesco Bruni in the last edition of the America's Cup.
The helmsmen will be joined by a host of America's Cup veterans as well as 11-new-to-the circuit sailors including 2021 Rolex Yachtsman of the year Harry Melges IV . Melges is the superstar young sailor who is the grandson of recently deceased sailing legend and America's Cup winner Buddy Melges.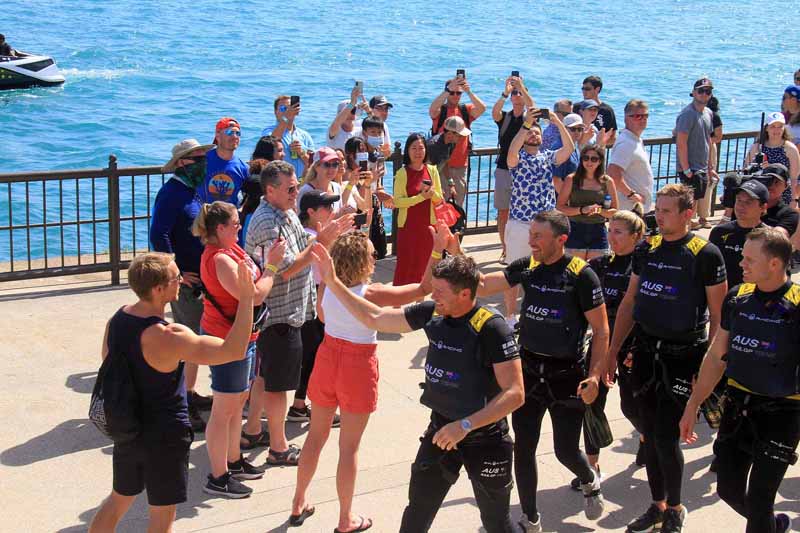 Preparations to challenge for the Cup
In a recent press conference held in Barcelona, team members had this to say about their preparations to challenge for the Cup:
Tom Slingsby said, "In the last three America's Cups, which were held in foiling boats, the venues were Auckland, Bermuda, and San Francisco, all of which had flat water. Now, we're in a venue with waves. Historically, foiling in waves has been very challenging. This America's Cup will be really interesting because the designers and teams have to create a boat that can perform in all conditions."
Paul Goodison added, "As we transition into the waves, all the teams have a lot to learn about what their boats are capable of in different conditions. As the sea state gets bigger, sailing becomes more difficult, and it's about understanding how hard you can push in certain conditions while racing against both yourself and the other teams."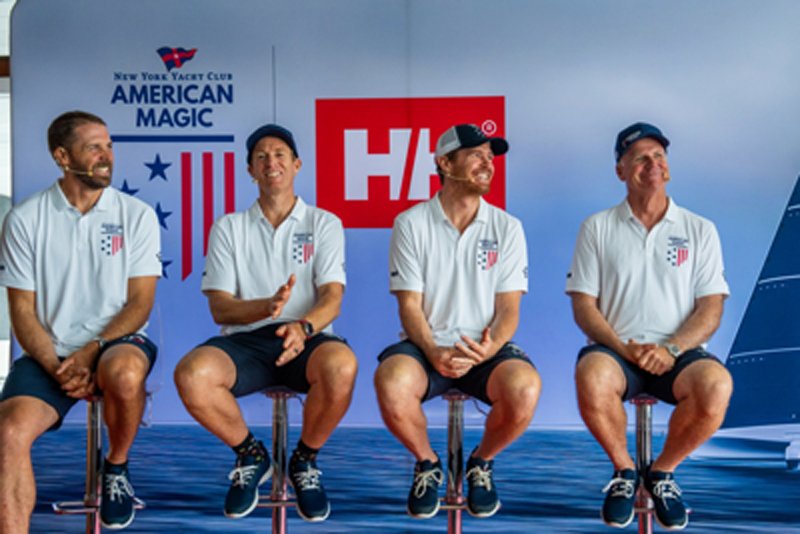 Joining the fray
Great Britain's Ineos Team Great Britain is the Challenger of Record. In addition to the American entry, teams from Italy, France and Switzerland and will join the fray.
This will be New Zealand's second defense of the Cup. Helmsman Peter Burling is no stranger to the international stage. Since becoming the youngest America's Cup skipper at age 26 with his decisive win over the United States in Bermuda's 35th America's Cup in 2017, Burling has been on an international roll, notching the win over Luna Rossa in Auckland's 2022 Cup as well as finishing second as skipper in the high-flying Sail GP world-wide series the past two years. Burling and Slingsby are definitely the skippers to keep your eye on the maneuver their AC75 around the Barcelona race course at speeds approaching 40 mph .
The Deed of Gift is specific as to when the competitive teams can launch and race their AC75's.
Before that time, the teams will sail a new configuration, a foiling AC40, which despite its size will present similar challenges to sailing the much larger AC75's. "We are excited to begin two-boat sailing in Barcelona," Slingsby said. "We have a lot to work out and we look forward to having more time on the water."

A new addition
A new addition this year to Cup participants and interested parties is the sharing of intelligence from a single source re: the on-water performance of the boats. Previously, the teams resulted to high-and low-tech spying on each other's activities, even going so far as to deploy SCUBA divers to scope out Australia's famous bulb keel in the 25th America's Cup in 1982. Now, teams just need to log onto the RECON site to find out the specifics of competitive boat's daily performance. You can get a glimpse of the kind of information now readily shared at the America's Cup Recon-new webpage.
The first time the AC75's will go head to head against one another will be at the August, 2024 Barcelona Preliminary Regatta. The initial roster of Challenger skippers reads like a who's who of international sailing:
Sir Ben Ainslie will helm Ineos Team Great Britain. Jimmy Spithill and Francesco Bruni will share helming duties for Team Luna Rosa. Quentin Delapierre will helm the French boat. At press time, New Zealand is the oddsmakers favorite to retain the Cup.
By Craig Ligibel
The schedule for the America's Cup
o Vilanova preliminary regatta- Sept.15-17,2023
o Jeddah preliminary regatta- Nov 29-Dec 2, 2023
o Barcelona preliminary regatta-August, 2024
o Opening ceremony- August 22, 2024
o Challenger selection series- August-September, 2024
o Youth and PUIG Women's Americas Cup- Sept 26-Oct 16,2024
o 37th America's Cup Matches- Oct 12-20,2024
More information about American Magic and the 37th America's Cup