Big Regattas, Big Learning Opportunities
Early last month, a group of talented artists descended on Annapolis from around the country to participate—and compete—in Paint Annapolis 2019. All around the city, painters set up their easels and paints to capture outdoor scenes from around the state capital. In addition to time set aside for painting, there were competitions and social events.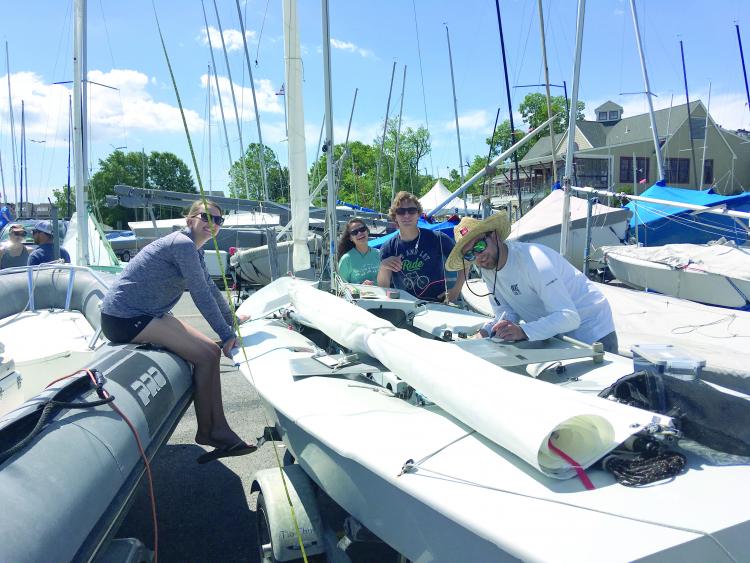 "How delightful," I thought. "How fun, to spend some time outdoors creating a unique snapshot perhaps of some boats sailing out the Severn and to get together with fellow artists to relive the day's work."
Yeah, but. And it's a big but. I'm a lousy artist. Why would I ever want to participate in a competition and hang out with artists who are gobs better than I am? Well, seems like a great place to learn more.
And that got me to thinking: If only one racing team can win any given regatta, why do so many people keep going to regattas? Especially if you're new to sailing or to a certain kind of boat, why go to a big regatta if there's only a very slim chance of winning?
Because winning isn't what draws most of us to sailing—it's the opportunity to continually learn more, to go faster and smarter each time (well, and it's fun). So while it may seem daunting to sign up for your class's national championship, it's one of the best ways around to ensure you go faster.
You'll learn on the water. The most obvious opportunities for gaining skills present themselves while you're out sailing. Watch the top boats as they sail upwind—are they using a lot of vang, or none? Where does the crew sit in the boat when it gets windy? Check out their tacks and gybes and garner some boathandling ideas.
You'll learn in the boat park. Many one-design boats allow for different ways of setting up the rigging and such. How are the top boats set up? Of course, don't go poking around someone's boat without their permission, but ask and likely they'll be happy to show you just how they set up that smooth-running traveler system.
You'll learn before the regatta starts. For big regattas, many boats will arrive a day or two early to get their boats set up and get some time out sailing at the regatta venue. Sail with these folks; one-design sailors are always happy to have more boats out to train with, and they'll often share tips while you're out on the water. In pre-regatta training, getting you faster helps push them to go faster. And sailing at the regatta venue ahead of the regatta itself is a great way to study local wind and current conditions, a good skill to practice.
You'll learn by watching routines. Most top sailors aren't just winging it every morning when they arrive at the regatta site. They generally have a mental checklist that they follow each day, including getting their boat ready, getting their on-water hydration and nutrition ready, getting themselves and their gear ready, making sure they have a good handle on the weather forecast, and much more. To sail fast, you need to check a lot of boxes, so watching sailors work through all their to-dos can give you ideas about how you'd like to handle yours. Similarly, while their routines are all slightly different, top sailors use the time before and after each race efficiently, topping up on food and checking the line and the course.
You'll learn at evening socials. While conversation bounces around from topic to topic at regatta dinners, it always comes back to sailing, often to talking through the day's racing. Fellow sailors often share how they set their boat up, why they chose one side of the course, what they thought the current was doing….
You'll learn by growing relationships with fellow sailors. How best to get to regattas? With a travel buddy! How best to meet travel buddies? At regattas! For new sailors, traveling can be daunting. From securing boats on racks or trailers to driving a big vehicle towing a trailer to so very many hours on the road, there's so much to handle. Sharing the tasks with another team can make it all a lot easier and rewarding. Chat folks up in the boat park, and find out who else is going to a regatta you might be interested in enjoying, too.
You'll learn through photos. Big regattas often have event photographers. Check out your boat pictures, and critique them! No, not the artistic composition! You can often identify things in photos that you can't see in the heat of competition; perhaps the jib leads could be a little farther off in the big breeze, or maybe the pole should be back a little farther. And of course, sailing photos are always great on your desk back at work.
These are only a handful of the learning opportunities at big regattas. Instead of setting a good finish as your goal, set learning as your goal, and register for that big regatta today!
~by Kim Couranz