Colleges and universities across the country have sent off the Class of 2018 and a crop of new, young sailors is moving to the Chesapeake to start their first job and begin a new chapter in their sailing careers. We'd like to take a moment to congratulate these new grads and welcome them to the area. You'll quickly come to love the sailing, history, good food, culture, sport, and entertainment available to you. You'll more begrudgingly learn to tolerate the traffic and higher than average cost of living. You'll find that life is always plusses and minuses.
But let's focus on the sailing. If you fancy some racing but don't have a boat lined up yet, consider looking at the (shameless plug alert!) SpinSheet Crew Finder. Or just head down to your local club with a case of beer and a smile on your face on their race night -- chances are good that someone will ask you aboard.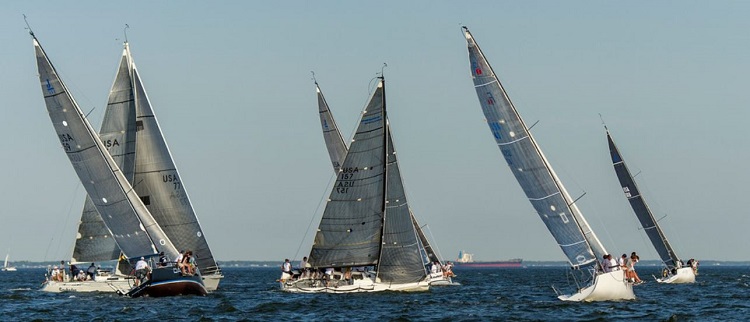 And when you do find that first boat to sail on, let us give you the benefit of our wisdom (aka: age) by passing on a few tips that will keep you happy and in the good graces of your new team:
1) Always say "thank you" to the owner of the boat. Every time.
This isn't just to make your mother proud. Owning a boat is no small thing. Boats are expensive, time consuming, and there is constant list of items that need to be replaced or maintained. Owners pour considerable personal resources into their boats and it's a privilege that many of us, old and young, take for granted when we show up at the dock and there's a race ready boat for us.
Just getting a boat ready each year is a job. Think about how long it can take you to wash and clean out your car. Now multiply that by three, four, seven, nine, whatever times bigger the boat is.
Is there bottom paint on the boat? That stuff goes for $100/gallon, minimum. It also tends to be toxic as all get out, so if the owner did the bottom by themselves, they were probably kitted out in a respirator, goggles, gloves, etc -- and if it was even a little warm out when they did it, I can assure you that's no fun.
Smaller boats don't get you off the hook, either. Take a look at the J/22 -- it's one of the smallest keelboats that you're going to see out there racing. A full set of new sails for a 22 can run up to $5,000. That's very real money. If the boat is bigger, the sails are exponentially more - the J/80 is just over four feet bigger but the full kit of sails is 70% more expensive! And we haven't even touched on regatta fees, dockage, etc.
And nothing… NOTHING… takes less than an hour to fix on boat. From the time that the owner leaves their house, goes to pick up a replacement part, goes to the boat to do the fix, and comes home, you're always talking about a serious investment in time.
Finally, it really, truly, does not matter if the owner is "rich". They're still spending money on something you get to enjoy -- it's money that they'd otherwise be spending on their home, family, a vacation, etc.
It's a small gesture, but acknowledging the efforts of owner every time you go out is just a really good thing to do.
2) Be seen, not heard.
Look around your boat. Everyone on board has other things that they could be doing or people that they could be with, but they're all spending their limited free time on this boat along with you. The same goes for the crew on every other boat that you're racing against. That's why there's never a reason to be the person that yells or takes it all a little too seriously - it'll also get you a terrible reputation that takes years to shake.
Finding the line between competitive and jerk can sometimes be tricky, but when in doubt take a deep breath and force yourself to crack a joke or be positive. As long as nobody gets hurt, it's all just a race for a $10 trophy and some bragging rights - though, while we're at it, don't be the person that brags about winning. Nobody likes that person much either.
Maybe 25% of the country ever gets to be on a boat period (depending on your internet source) and you're racing on the Chesapeake with a team of good people. Try to keep it all in perspective about how lucky that makes you.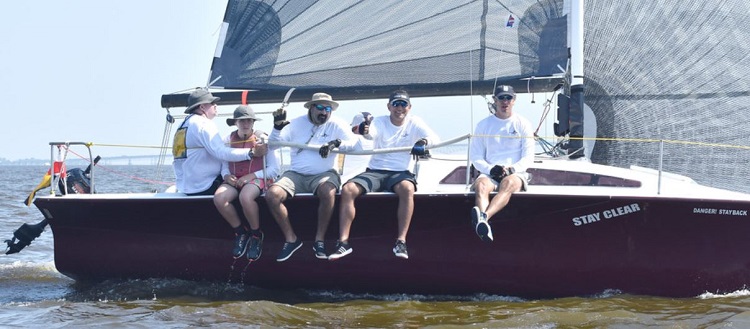 3) Show up sober...ish.
Yes, you're young and made of unicorn blood and rubber. Your hangovers measured in hours and aren't the debilitating, week-long events that those of us over the age of 35 have to deal with.
But regatta parties often serve up unlimited booze and finding yourself at a bar after racing isn't unheard of. If you have to go sailing the next day, try to moderate a little. Have fun, but be capable the next day -- don't be the person laboring at every turn that's sweating out Goslings and Miller Lite. You owe it to the owner and the team to be in decent shape when you show up.
Also, it's straight up miserable on a hot day to be sailing with a hangover.
4) Listen, learn, and ask questions.
Newsflash: you don't know everything. Yeah, came as a shock to me too when I was younger.
The geography of the Chesapeake makes it a complex place to sail. It can make professionals with decades of experience look silly on any given day. Every time out is opportunity to learn and you shouldn't hesitate to take advantage of more experienced sailors with local knowledge by asking questions to better understand the winds and currents.
The same goes for whatever job you're doing on the boat. Sail trim is an art form. So is running the bow. And a good person in the pit can absolutely win you races. Always ask what you can be doing better and approach feedback with an open mind (as hard as that can be sometimes). Look around and work with the team to figure out how to make a maneuver just a little bit better and each move just a little bit slicker. Small changes and little gains here and there can add up to race winning gains in the end.
Finally, always take a chance to do a new job on a boat -- seeing things from a different perspective on the boat can be really helpful to understand how everyone's efforts come together to win a race. Bow guy didn't show up? Warm up the phrase "be quiet back there, I'm doing it as fast as I can" and take the leap.
5) Invest in good foulies.
Save up when you can and buy a really good set of foul weather gear as soon as you can. It's just not a place that you want to have cut corners when you go to use them. There will be poor weather regattas where you're going to live in these things and you do not want to have gear that is ill fitting, leaky, or generally just not up to the job. Invest wisely, take care of them, and you'll be happy that you did. Ask around for recommendations but, if you can swing it, Gore-Tex rarely disappoints.
One tip -- the Annapolis Boat Show in October is a great time to go and buy foulies. Manufacturers rarely allow discounts and this is one of the times. Often the cheapest prices on a set of foulies can be found there.
The end of the year is also a good time to cruise the Sale/Clearance racks at sailing shops -- it's when then get to clear out gear to make way for the new offerings coming the following year.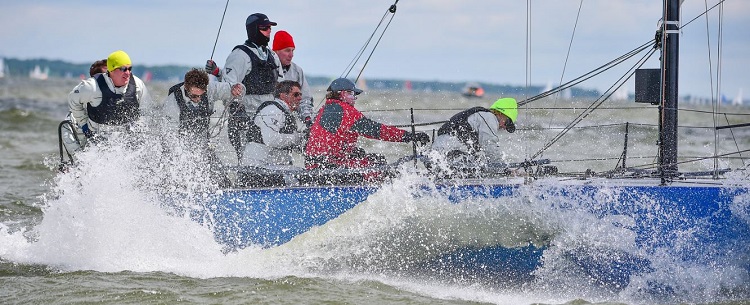 6) Say yes to other invites.
You never know what an opportunity will lead to. When I first got to Annapolis, I worked at a local sailing shop as a customer service rep. I started a week before the Annapolis NOOD and got asked to fill-in on a J/24. Great! A couple of days before the event I got a text message that I'd been traded (seriously) from the J/24 to an Alberg 30. To this day I'm pretty sure that I was handed over for a six pack of beer and a handshake. I had no idea what an Alberg 30 was, but figured what the heck -- plus, it was their World Championships (or some version of that), so maybe it would be interesting.
Admittedly, it may not have been the sportiest sailing I've ever done, but we ended up winning the regatta, the racing was close, and the crew was very welcoming and nice to me. And after just 10 days in Annapolis I got to say that I was now a "World Champion". When I jokingly said something like that shortly after the regatta, it jumped started a conversation that landed me an invite with a new team on different type of boat. They ended up adding me to their normal roster and I got to travel with them to Key West, Charleston, and Newport. The guy that invited me ended up as the Best Man at my wedding.
You just never know.
7) Enjoy and have fun.
Maybe this one should have been first, because it really is the most important thing -- always try to have fun. When anything stops being fun, it becomes work and you'll be working for the next 40 years (probably… don't think about that too much) - there's no need to put in a second more of that than you need to!
Have fun and be safe out there!