No love lost between New Zealand fans and Luna Rossa's Jimmy Spithill
To read the local New Zealand press about the America's Cup, you would think Team Luna Rossa's helmsman Aussie Jimmy Spithill was the devil incarnate. "He's the villain we all love to hate" quips one Kiwi sailing scribe. Others are not so generous.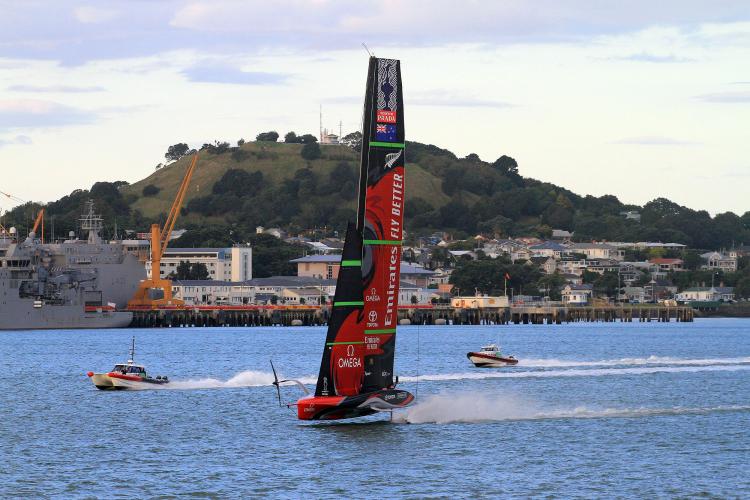 Just chat up any New Zealand fan and they'll recount the "Miracle on the Bay" where Spithill's Oracle Team USA staged one of the greatest comebacks in sport when they won eight races in a row to defeat Emirates Team New Zealand in the 34th edition of the America's Cup staged in San Francisco Bay in 2013.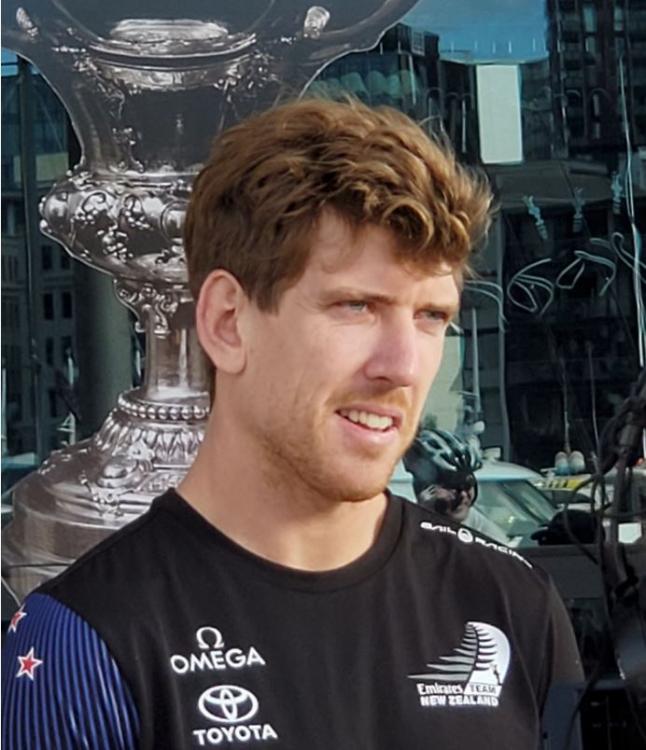 "He stole that cup right from our hands," they'll tell you. In the next breath, they'll recount the joy they felt when Team New Zealand bested Oracle three years later in Bermuda to bring the Auld Mug home to the City of Sails.
In that contest, 26-year-old Kiwi helmsman Peter Burling won all but two duals at the starting line. And with those flying 50-foot cats, winning the start was enough of a margin to ensure victory.
The New Zealand Herald calls Spithill "a pit bull ready to bite back at Team New Zealand at a moment's notice." Spithill wears the pit bull nickname with pride. It's the term the Italian press have coined for their new hero.
Luna Rossa grinder Nicholas Brezzi has another animal in mind when he talks about his helmsman. "He's a wolf. Ready to pounce."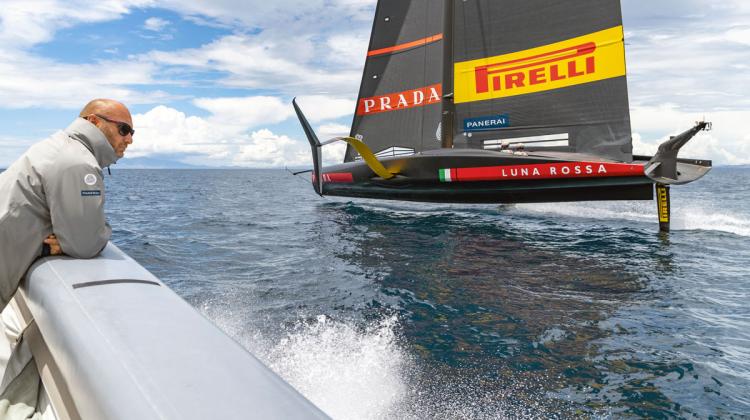 Prerace rumors and innuendoes swirl around the America's Cup Village, exacerbated by the extra four days of down time between the end of the Prada Cup Finals and the start of the Defense of the Cup itself. The racing was supposed to start on March 6, but because of a Level Three Covid lockdown, the festivities have been pushed back to a March 10 start.
Racing will recommence on March 12 and continue every day until one team records the requisite seven victories. You can catch the action on NBC Gold for $129. Or, you can tune into this station and follow the action on the Talk Radio ZB Sport. The action unfolds at 4 pm Eastern time.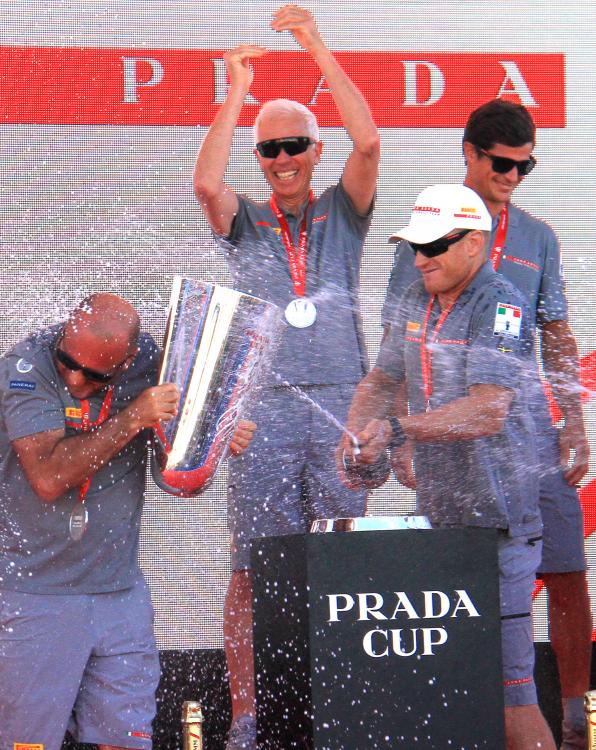 The sailing press needs to write about something… and the rumor mill churns out enough material to fill a soap opera script. From this reporter's hotel room vantage point I can see the AC75's as they head out to Hauraki Gulf for their practice sessions.
Team New Zealand has been out almost every day we have been in Auckland. The Italians have been on the water far less.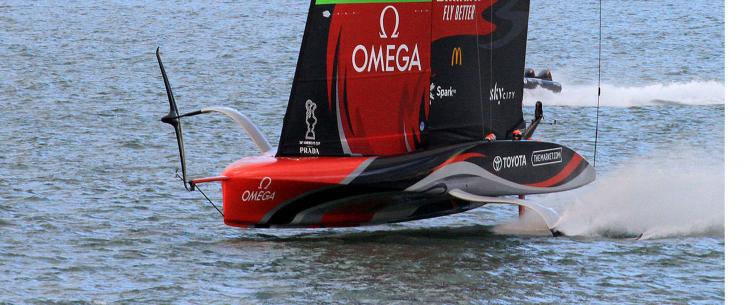 We see the Italians every morning as we walk to our favorite coffee spot in the Village. Each day I ask them "Going out today?" And each day they reply with a smile and a wave of their hand.
Today, in light winds, Team Luna Rossa did go out to practice. As I write this, I see the boat being towed back to base. Not enough wind to put on a show for shoreside spectators. I'll be sure to follow-up with my new-found Italian friends tomorrow.
Meanwhile, the rumor mill has the Kiwis practicing a technique the Italians claim as their own: having two helmsmen rather than the more traditional single helmsman.
On Luna Rossa, Spithill steers on the starboard tacks while Francesco Bruni handles the port duties. When not steering, the two alternate as flight controllers. "Foul" is the cry from the Italians. They reckon two helmsmen was their idea. How dare the Kiwi's copy our idea!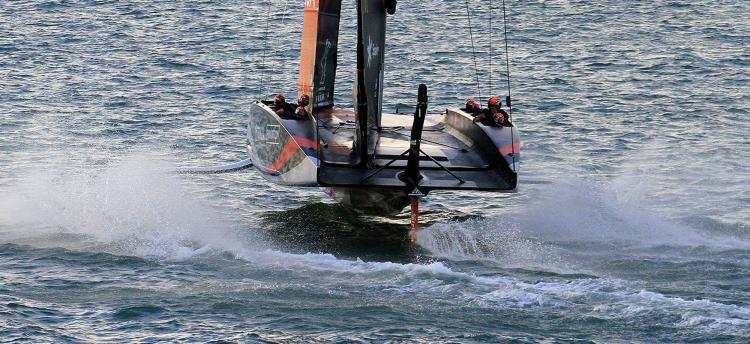 SpinSheet caught up with Team New Zealand helmsman Peter Burling when he was attending to a flurry of broadcast interviews.
"Nah… that's not anything we'd be interested in," he said with laugh. 'I'll leave that to Jimmy and Francesco. We're just out there every day trying to go faster."
"Any truth to the rumor that you've hit 60 knots?" I asked Burling.
"I don't keep track of stuff like that," he replied. "I do know we are going pretty fast."
Burling and Spithill have a hard-fought mutual respect. Spithill calls Burling one of the greatest sailors he's ever faced. Burling cites Spithill's aggressive starts as the hallmark of his rival's game.
"You'll just have to see how it all works out next week," Burling says. "We might have to knock a bit of rust off because we haven't raced since Christmas. But our boat is fast. Our crew is focused. And we have the New Zealand Team of 5 million behind us."
Team New Zealand is also purported to be testing a Code Zero sail which may be helpful getting the boat up on its foils in light, spotty winds. Team NZ's foils sport razor-thin wings while the Luna Rossa foils feature a pronounced bulb.
Racing is set to kick off March 10 under Auckland's Level 2 Covid guidelines. This means crowds will be reduced to 100 people at popular vantage points and the big screens will be turned off in the Village.
More importantly this Level 2 designation will limit the courses available for the race. Organizers do not want to utilize those courses which allow land-based spectators to watch the action. This, to prevent crowds from gathering on the shoreline. How the limited selection of course options will affect the racing is anybody's guess. The forecast calls for winds in the 15-20 MPH range for opening day.
Your reporter will be there. I must confess… I'll be cheering for the home team!
~By Craig Ligibel