Rolex Sydney Hobart Race 2022: Fighting Monster Waves, Blown Sails, Gale Conditions and more
Annapolis sailor Geoff Stagg is a three-time winner of the iconic Rolex Sydney Hobart 638-mile offshore sailboat race. He calls the race a "temptress that lulls you to sleep and then kicks your bum when you least expect it."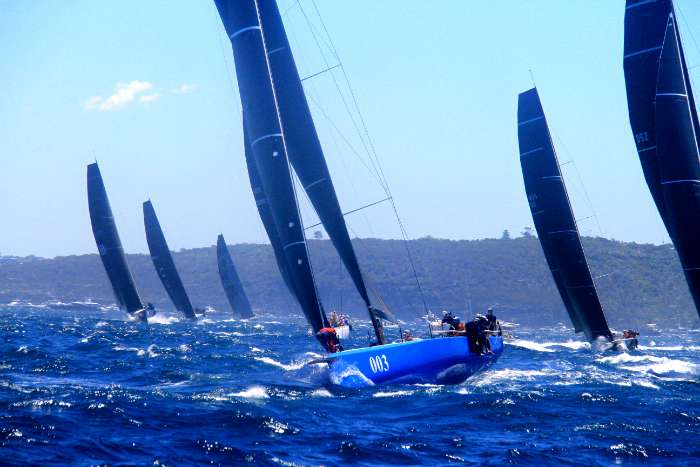 Such was the case the week of December 26 as 108 sailboats ranging from 30-foot cruisers to 100-foot maxis headed out Sydney's North Heads in the 77th edition of the race down the Australian coast, across the shallow and blustery Bass Straight, and up the fluky Derwent River with the finish line at Hobart's Constitution Dock.
Among the fleet was the American TP52 Warrior Won, owned and skippered by Newporter Chris Sheehan. His boat was one of 12 TP52s: waterborne rocket ships that were favored to win the cherished Tattersall Cup, awarded to the boat with the best corrected time.
After a mad dash down the coast and a hair-raising night of surfing down monster waves in gale conditions, Warrior Won crossed the finish line at 13th place overall while securing a hard fought fourth place in the Tattersall Cup standings. Warrior Won's corrected time was two days, 17 hours, and one minute. Her actual running time was 1 day, 22 hours and 14 minutes.
After the race, Sheehan, 57, had this to say about the Hobart:
"We were very pleased. A number of portions of the race we were leading the pack of TP52s with a good shot at winning the race. We had a couple of tactical and navigational decisions that didn't go our way. All of a sudden, four hours later, we found ourselves behind. Kudos to the navigators and tacticians on the other TP52s… local knowledge seemed to help. We left it all on the course. The last 30 miles up Storm Bay was incredibly, brutally hard upwind sailing. Vicious 30-45 knots of upwind sailing. We're all very tired and glad to be off the water."
Four-time Canadian Olympic sailor Richard Clarke, Warrior Won's watch captain, was equally descriptive:
"Obviously, hugely disappointed in the result. Got to hand it to the competition. In the last 70 miles, we had just as much a chance to win as anybody. Sailing in extreme conditions 30-50 knots with some huge waves can pretty much turn things sideways. That last night was something else. Pitch black, big waves, 30-40 knots running, blown sails, broken people.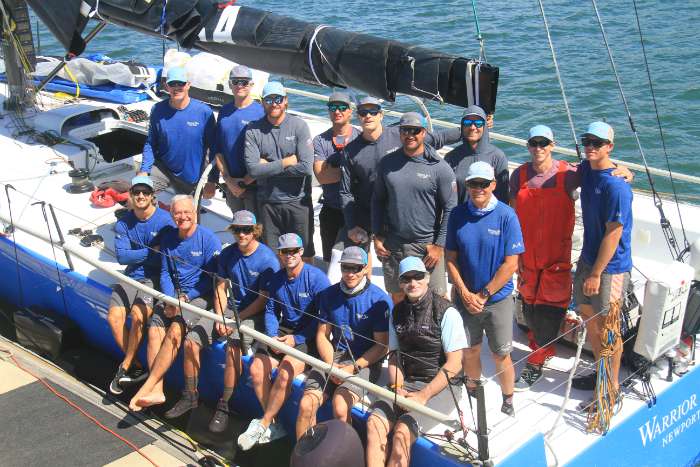 "We went down wave so hard and fast that we turned the boat into a submarine. Boat speed of 24 down to six in the blink of an eye. Exploded our storm kite and knocked a crewman unconscious. Yep. This Hobart race lives up to its reputation. Oh, and 50 knots upwind in the river against two knots of tide was the icing on the cake."
The fourth-place finish capped a successful racing year for Sheehan and Warrior Won. Earlier this year, the yacht won both the RORC Caribbean 600 and the Gibbs Hill Division of the Newport to Bermuda race. Max Klink, the German skipper of the New Zealand TP52 Caro praised his crew and the competition between the TP52s.
"All the crews fought all the way. We had epic racing against Warrior Won. We are happy to have crossed the finish line first among the TP 52s."
Warrior Won was the second TP52 to cross the finish line but had to give time to two other boats in the Tattersall handicapped ranking. As of this writing (three days into the race) more than half of the fleet of 108 boats were still battling tough conditions as they make their way to Hobart. Ten boats have retired due to mechanical issues.
Eventual Tattersall winning skipper Sam Haynes on the TP52 Celestial paid tribute to the American boat.
"Warrior Won and we were close together for so long… four nautical miles… we could see each other. We were match racing the whole way before we got to Tasman Island," the Aussie skipper said.
The TP 52 fleet of 12 competing boats was a Hobart record.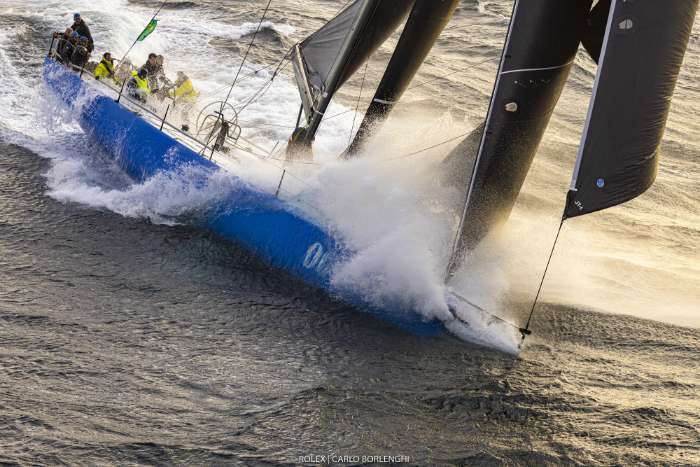 "Three boats were all over us at the top of the division," Haynes said. "It was 'their turn, our turn' in areas of current. The whole fleet pushed each other throughout the race."
There were seven international boats in the fleet. Warrior Won was the only American boat entered.
The 100-foot maxi Andoo Comanche was Line Honors winner with a time of one day, 11 hours, and 56 minutes. Skipper John Winning, who has a lease on the boat though next April, vows to return next year to defend his title. This was Winning's first victory in the Hobart. The boat has won three times before. The maxis' starts were marked by controversy and quite a bit of "blue" language as the monster boats jostled for position on the starting line. Protests were filed and penalty turns taken.
Warrior Won's international crew of American, Canadian, Spanish, and Aussie sailors was a well-oiled machine. "Most of us have been together on this or other boats for long time," Canadian Olympian Richard Clarke and one of Warrior Won's watch captains told SpinSheet prior to the race. "We had the boat shipped from the East Coast to Sydney," he said. "It took us four days to put her together then we spent five days fine tuning our procedures and testing some new sails."
The weatherman cooperated with Warrior Won's big rig. "We have a sweet spot at 12-35 knots of wind," says Sheehan. "The boat likes heavy weather reaching. When we are racing, we don't pay attention to the other boats. We sail our own race one boat length at a time."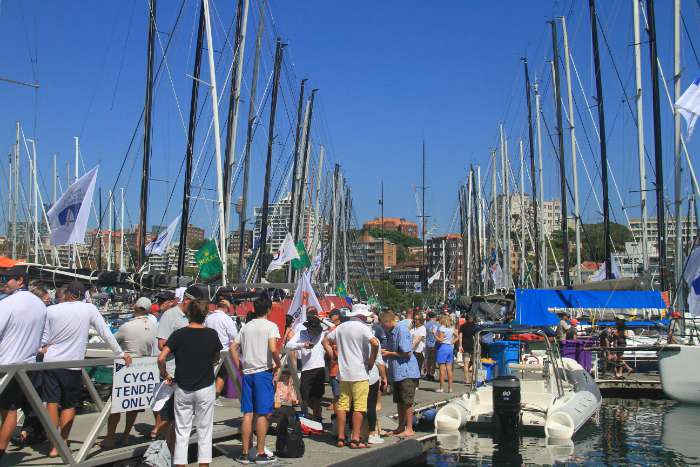 Sheehan's expectations going into the race were laser focused on winning. "This race is like Everest. It's a challenge you've got to take seriously. You are sailing in an unforgiving body of water against the best sailors in the world. Yesterday's honors are yesterday's news. We train hard and practice hard. We expect to win every time we go out."
Sheehan runs a no-frills operation. Freeze dried vegetarian haute cuisine. No alcohol on board even at the dock. Below decks is a jungle of carbon fiber cross bracing. The two-person nav station is sandwiched behind the generator. Light is at a premium. " We're all pretty much focused on the task at hand," says Clarke. "We're all professionals. Our objective is to win."
The TP 52 is Sheehan's second boat named Warrior Won. The previous Warrior Won, an XP44, finished a disappointing 47th in the 2017 Hobart. "The name Warrior Won pays homage to the warrior that resides in each of us," Sheehan says. " At times of stress, your inner warrior keeps you going. It's a force of energy that helps you focus on the positives. I rely on my inner warrior to dig deep."
Your faithful SpinSheet reporter was on the water for the start of the race, bobbing up and down on a 35-foot trawler as the fleet roared out of the two Heads that protect the Harbor. The seas were roiled by the incoming tide as well as a significant chop created by the horde of spectator boats that escorted the fleet on their treck south.
"Half of the Sydneysiders spend Boxing Day watching cricket on tv; the other half find a spot to watch the Sydney Hobart start. It was crazy out there. Four-five choppers hovering overhead plus a couple of drones made for crowded skies. Thousands of fans lined the shoreline, and more than 1000 spectator boats crowded the sea lanes providing for a gauntlet for the race boats to navigate. At one point, I thought our photo boat was going over… we broached in a 6–8-foot swell… two photogs almost went overboard. All in a day's work for yours truly."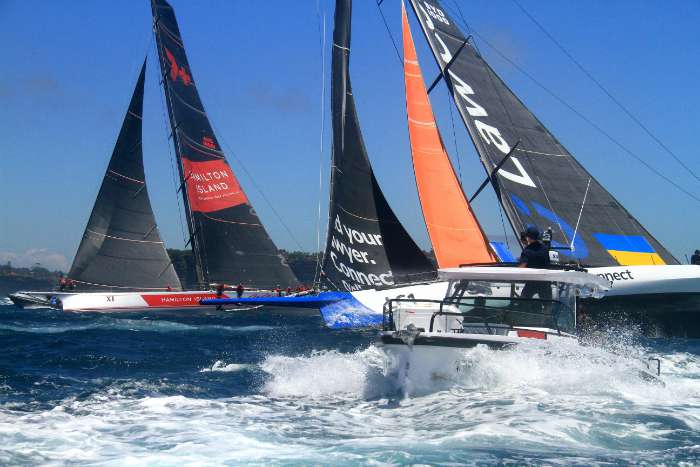 SpinSheet is grateful to Chris Sheehan and Richard Clarke for taking the time while resting up after the race to email us their comments. "Pretty busy time for us," wrote Clarke, "Between not sleeping much on the race, a pretty extreme final hours of the race, too much drink after the finish and a long work day prepping the boat to return to Sydney, not much time to reply. Thanks for following Warrior Won and rooting for us."
By Craig Ligibel
Note: Annapolis connections: Stagg Yachts CEO Geoff Stagg is a three-time Sydney to Hobart winner. Chris Sheehan is a Newport-based sailor with a number of Newport to Annapolis races to his credit. His watch captain, Canadian 4-time Olympic sailor Richard Clarke, sailed with and against SpinSheet publisher Mary Ewenson's husband Geoff before Geoff's untimely death two years ago. John "Woody" Winning, father of Line Honor winner John Winning, campaigned his classic 18-foot skiff in Annapolis four years ago, besting NSHOF sandbaggers in a series of exhibition races in and around the Chesapeake Bay. SpinSheet reporter Craig Ligibel has reported on a number of Australian-based stories over the years. His daughter and her family live on Sydney's Northern Beaches.
Find more racing articles here.
Find out when our new issue comes out by signing up here.