American Magic Team Faces Defeat in Auckland
In ideal conditions on Auckland's Waitemata Harbor, Italy's Luna Ross Prada Pirelli America's Cup team defeated the American entry in the final two races of the Prada Semi Finals series in Auckland, New Zealand. The Italians took two races on Friday when the winds gusted in excess of 20 knots. They repeated their winning streak with two victories on Saturday. Luna Rossa will advance to the Finals of the Prada Cup where they will compete with Ineos Team UK for the right to challenge the Defender, Emirates Team New Zealand, for the Auld Mug starting on March 6.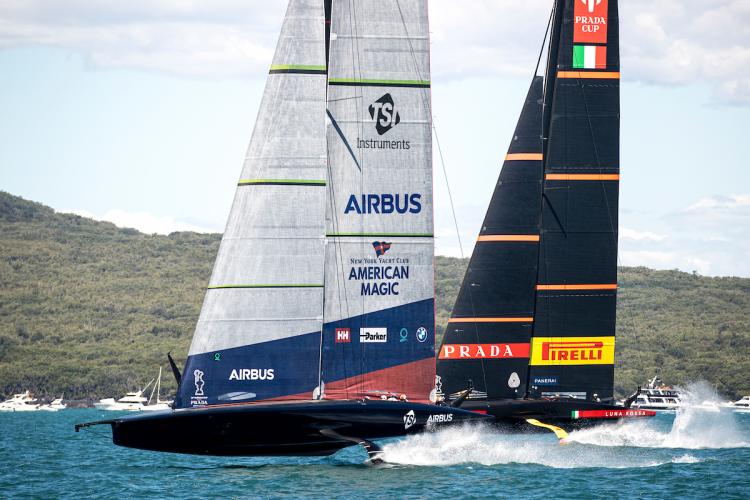 The US boat was never in it on Saturday as Luna Rosa helmsman Jimmy Spithill and American Magic's Dean Barker battled to an even start under ideal conditions…but the American boat quickly fell behind and ended up playing follow the leader around the course, finishing 35 seconds behind Luna Rossa. The second race saw the American boat gaining a slight edge at the start. That lead soon evaporated as Patriot experienced a malfunction of the Foil Cant System (FCS). The team was forced to sail well outside the course boundary before they could find a workaround, get the board down, and turn back toward the windward gate. In this race, the damaged American boat finished almost four minutes behind the Italians.
At one point, helmsman Barker was overheard saying, "I don't know what to do now," as the boat floundered midcourse. Cockpit chatter was surprisingly measured despite the tremendous pressure both Barker and Hutchinson were under to get Patriot sailing at speed despite the technical difficulties that the boat faced. On-course commentary referred to American Magic as "limping home" after the extent of their mechanical issues were noted from the broadcast booth.
At the post-race press conference American Magic skipper and Annapolis native Terry Hutchinson was stoic in his assessment of the team's performance: "It's obviously disappointing," said Hutchinson. "There's not a person inside of our team that likes losing. You have 135 'Type-A' personalities all pushing for the same thing, in the same boat, for the same result. I have nothing but pride for what we've done over the last three and a half years. All we can do is take it on the chin, understand our strengths and weaknesses, and move the whole game forward."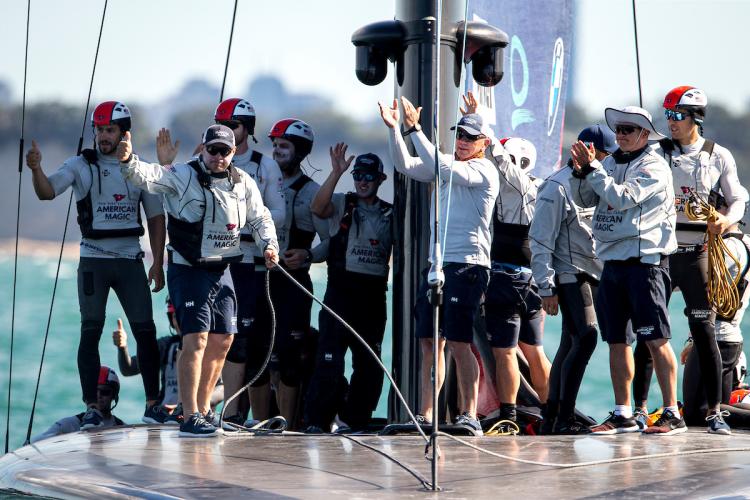 The normally upbeat Hutchinson was measured in his response to questions from the world's sailing press. "Would I like to come back," he said with a rueful laugh glancing at the back of the room where New York Yacht Club officials were seated, "Absolutely! But it's not up to me. The America's Cup is a harsh game, but it's a game worth fighting for." He went on to say "I'm a 'glass half full kind of guy."
In response to a Zoom question asked by your SpinSheet reporter, Hutchinson had nothing but praise for the outflowing of support he and his team received from well-wishers all over the world. Hutchinson smiled at the mention of Annapolis and went on to say "it's just awesome the kind of support…overwhelming at times…and when you get that kind of support from your hometown it's not easy to forget the kind of love and appreciation you get."
America's Cup Hall of Fame member and long time on-course commentator Gary Jobson told Newstalk radio host P.J. Montgomery, "It was a crushing day. I hope this won't deter (the New York Yacht Club) from future Cups. There will be a lot of discussion about how we can do better the next time. I believe we should do it again."
Jobson said, "Clearly the boat that went racing today wasn't the same boat that we saw before the capsizing. Dean Barker is a winner. I've known Terry Hutchinson since he was 10 years old. They are solid. Sometimes things smile on you; sometimes they don't."
The New York Yacht club has been an advocate of the America's Cup returning to non-foiling boats in the future. "When you only have three challengers, that tells you there needs to be a big assessment about the future of the race," said Jobson.
Next up will be a period of examination by the New York Yacht Club syndicate regarding what went wrong with their campaign, and what went right.
In closing Hutchinson was effusive in his praise not only for the members of his team but also for the show of support from the America's Cup sailing community who "outdid themselves in helping us get Patriot back on the water after the capsizing."
What's next for Terry and his crew? "It's not something we spent much time thinking about. concluded Barker. "We spend all of our time focusing on advancing. It's bloody hard to lose."
In a rare moment of levity at the conclusion of the press conference Terry was asked if his team would continue to wear their "kit" so that sailors would know who to buy dark and stormies for. "It's already getting dark and stormy," he said with a laugh. And with that, this chapter of American Magic and the 34th America's Cup is closed.
It's going to be a painstaking wait until the Americans can once again challenge for the oldest trophy in sport. Hats off to Terry and his team whose never-give-up attitude is an inspiration to sailors young and old.
By Craig Ligibel