American Magic Skipper Terry Hutchinson Confident Boat Will Be Ready to Race by Friday
Auckland, NZ, January 23,2021—After a disastrous capsizing in the third round of the America's Cup Prada Round Robin series last week that almost saw Patriot sink because of a huge hole in her hull, the Americans have spent a frantic five days putting Patriot together "with a little help from our friends."
"The crew has been working almost around the clock to get Patriot back to 100 percent," American Magic skipper Terry Hutchinson said at a post-race press conference. "Patriot is coming back to life. They're turning the boat back on and the heartbeat of the boat is going again."
Hutchinson had just left the US base for the press conference. The remanufactured section of the hull had just arrived and was moments away from being fitted into the boat. Hutchinson credited the tremendous outpouring of support from the Host Emirates Team New Zealand for their help in fabricating the carbon fiber section.
"I think the thing that we are reminded of is really what the Defender has done for us, and what they've helped us achieve. Certainly, without them [a repair process of this speed] wouldn't have happened. We have nothing but high thanks for Team New Zealand for what they did," Hutchinson said.
The US skipper hopes his team will be able to "go sailing" by the middle of next week.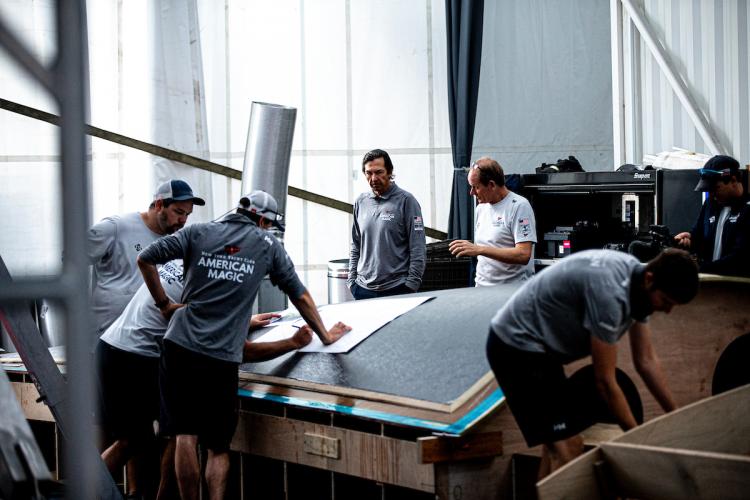 In racing action to conclude the Prada Round Robin Series, Ineos Team UK defeated Italy's Luna Rossa Prada Pirelli in an exciting match race that saw the lead change as many as nine times. By virtue of their five wins, Ineos advances to the Finals of the Prada Cup where she will race against the winner of the best-of-seven semifinal series between American Magic and Luna Rossa. In an amazing turn of events, the British boat has yet to lose a race in the Prada Series, a stark contrast to their disappointing performance in the Christmas Races late last year.
The first race of the Semi Final series will be held on Friday, January 29, with a tentative start time of 4 p.m. (For US viewers, that translates to Thursday at 10 p.m. EST). Be sure to check www.americascup.com for the complete racing schedule. The Prada Finals are scheduled to start on February 13. You can catch the live action on New Zealand radio
By Craig Ligibel