The Second Two Bridge Fiasco, a Sailboat Racing Success Story
When the Annapolis Yacht Club (AYC) debuted its Two Bridge Fiasco in August of 2020, it was a smashing hit—helped greatly by the unseasonably great breeze and the pent-up demand for sailboat racing during the pandemic. But we all know that interest in single and doublehanded racing had grown before Covid rocked our boats and made us want to sail more safely with family only; this creative event only made piqued racers' curiosity more.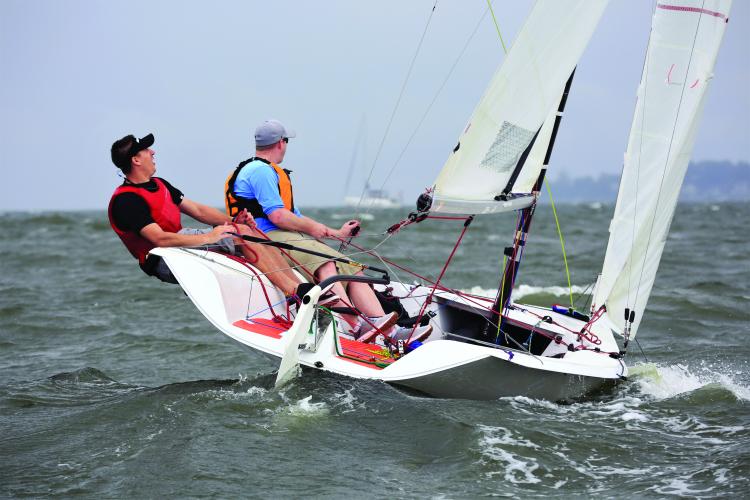 For the 2021 event Sunday, August 1, wind and rain greeted the 50 competing boats (although 74 had registered) in a wide variety of craft: foiling windsurfers, daysailers, J/Boats from 22s to 110s, and larger boats up to a 46-foot Beneteau. All competitors sailed single or doublehanded around marks at the Chesapeake Bay Bridge and the Naval Academy Bridge, in the order of their choice, before crossing the finish line.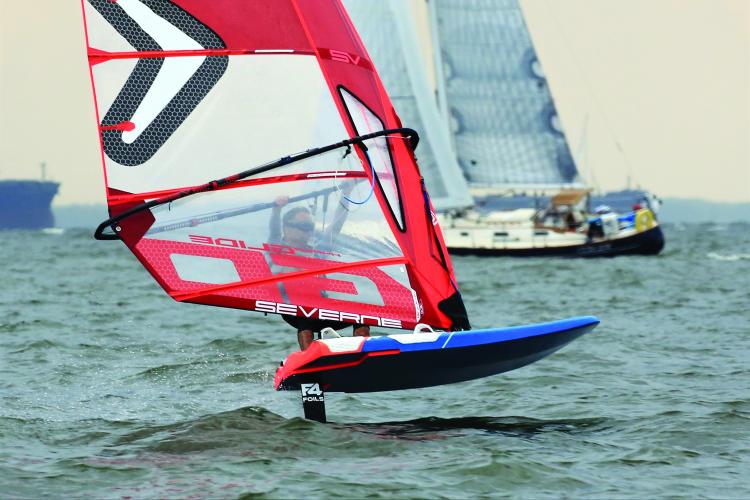 Race officers Ted Kaczmarski and Ray Wulff kicked the pursuit race off on time with the first start on the list at 11:05 a.m. and sent the last group off at 12:16:08. Winds ranged from 15-20 knots, until a front came through and they dropped to five knots or less.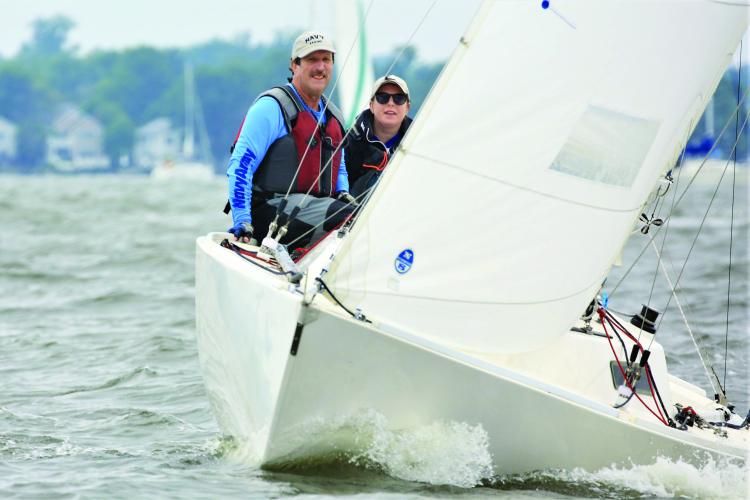 Congratulations to Jeff Todd on the J/22 Hot Toddy, sailing with daughter Cassie; they were first over the line at 13:38:12 with an elapsed time of 02:33:12. Find full results at yachtscoring.com and downloadable photos for sale at spinsheet.com/photos.
Top Three Results
PHRF Spin (17 Boats)
Swiss Miss, Gisela Shaughnessy
Meltemi, Mike Hobson
Problem Child, Ron Katz and Gwen Gibson
PHRF Non Spin (14 Boats)
Blow'viate, Samuel McGuire
Cannonball 0, Doug Wallop
Caroline, Kevin McNeil
J/22 (8 Boats)
Hot Toddy, Jeffrey Todd
Stormy Weather, Richard Born
Just Wing It, Drew Mutch
J/70 (5 Boats)
Uno Mas, David Schoene
Phoenix, Peter Firey
Nessuna, Alex McPhail
Day Sailer (5 Boats)
Bail Out, Erik McCaffrey
Kanaka, Robin Richards
Bluebird, Matt White
Portsmouth (20 Boats)
Grinch, Bert Collins
Mayhem, Doug Stryker
Bel 29, Christophe Waerzeggers