Racing Roundup August 19-25
Chesapeake Bay racing sailors rocked it on the race course from LA to Chicago to the West and Choptank Rivers last week and into the weekend. Here's your SpinSheet racing roundup for August 19-25.
Geoff Ewenson Places Second in Viper 640 Worlds
It's not every day you place second in a world championship regatta out of 41 competing teams—especially when you break a hiking strap and backflip into the drink in the last race—but Annapolis sailor Geoff Ewenson did just that last weekend at the Goslings 2019 Viper 640 World Championship and the 2019 Viper 640 North Americans hosted by Alamitos Bay Yacht Club (Long Beach, CA) on Evil Hiss, the Viper sporting the SpinSheet logo on the spinnaker.
Congratulations to Marcus Eagan, Andrew Eagan, and Jackson Benvenutti (Mandeville, LA) for winning the four-day Championship consisted of 13 races in atypical Long Beach conditions: light, 8-10 knots except for the final race on Day 2 and the last two on the final day when winds were mid to high teens. It was a regatta where sailors were faced with a wide range of conditions and those atop the podium had to be capable of dealing with them all.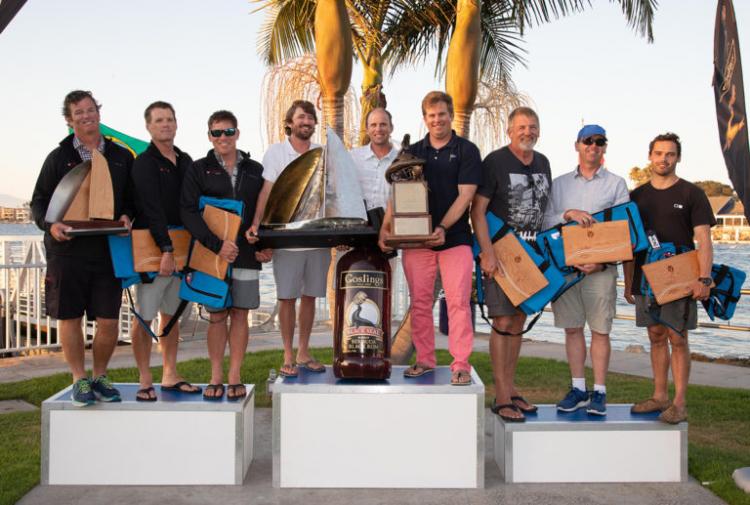 Eagan ended with 33 points after five of the races atop the 41-boat fleet. In second was Ewenson, Ryan Cox, and Jon Ziskind with 44 points having won an extremely consistent series with 11 top-ten finishes.
In third, from South of Perth Yacht Club in Western Australia, were former Viper 640 World Champions Nick Jerwood, Brian DeVries, and Matt Jerwood. Find more about the Viper 640 championships here.
Bay Racers at J/111 Worlds in Chicago
Marty Roesch and his Annapolis-based J/111 Velocity team had much success and finished second in the J/111 World Championships out of Chicago Yacht Club August 19-23.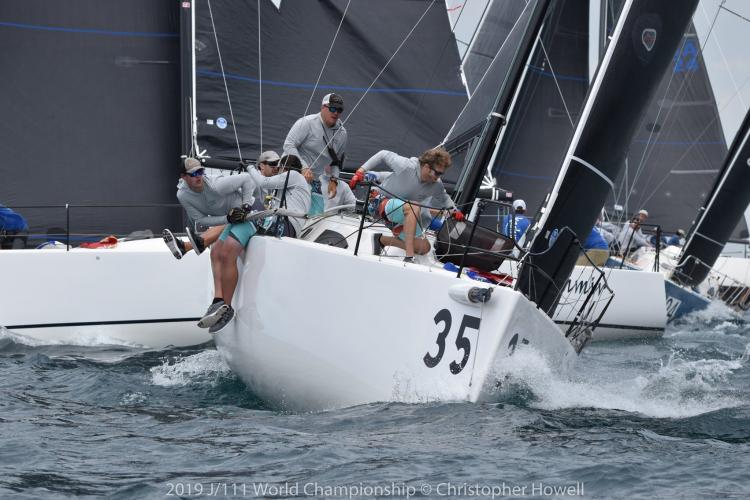 Rob Ruhlman's Spaceman Spiff took control of their own destiny on Friday, nailing both race wins to earn the title of 2019 J/111 World Champion. Coming into the final day, the Cleveland, OH-based team was in third overall, but Ruhlman and his crew ended with 25 net points in the eight-race series.
Five points behind in second place was day-three leader Roesch's Velocity. Former World Champion Peter Wagner's Skeleton Key came in third with 34 points. It was another wild day on Lake Michigan.
PRO Becky Ashburn summarized, "Winds were around 15 knots. Waves were three to four feet with a sideways swell, which made it really choppy."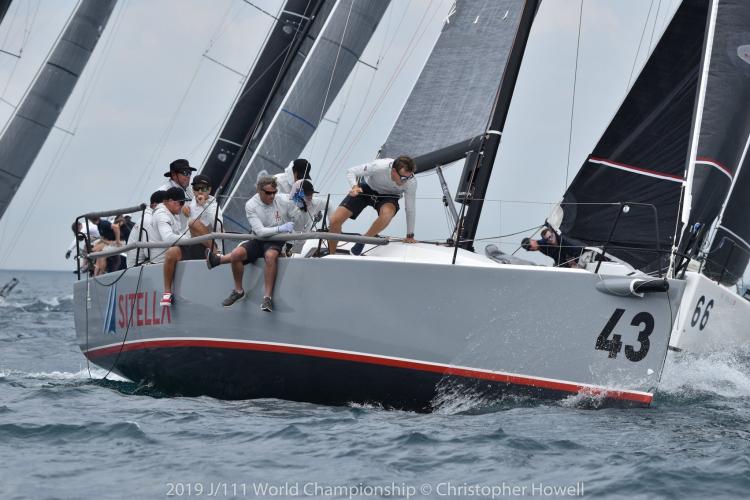 Chesapeake players on the race course in Chicago included Jim Connelly and his Annapolis-based Slush Fund team (9th) and Ian Hill's Hampton-based Sitella crew (11th).
HHSA's West River Race
Herrington Harbour Sailing Association's West River Race started out in 15 knots up the Bay to the West River. The wind lightened up in the West, but a super day to sail up the Bay.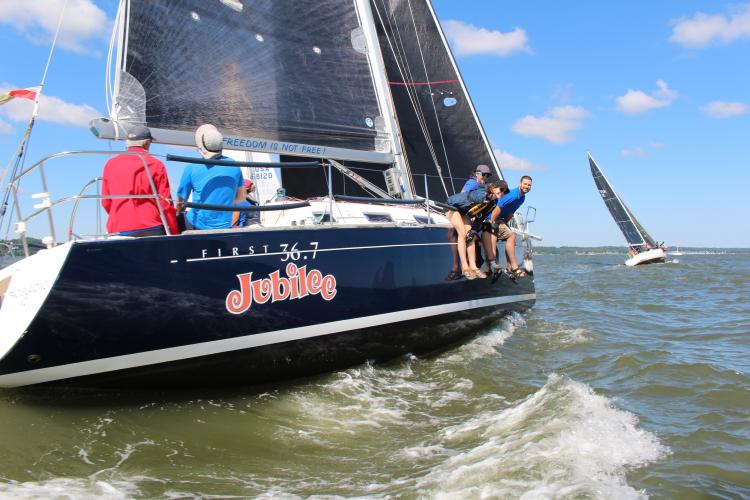 Top Three Results
Spinnaker
JUBILEE Keith Mayes SA 11:00:00 13:38:40 2:38:40 2:18:58 Beneteau 36.7 USA 52324 78 1
DELIRIUM David McCullough SA 11:00:00 13:42:07 2:42:07 2:20:38 J/33 22 84 2
WHATSHERNAME David Sossamon SA 11:00:00 14:01:30 3:01:30 2:42:51 Beneteau 40.7 51677 63 3
Spin B
ORION Jon Opert SB 11:00:00 13:52:05 2:52:05 2:18:47 Hanse 371 68120 132 1
VIVACE Cynthia Nordone SB 11:00:00 14:21:41 3:21:41 2:37:47 GM Express 30 63230 153 2
VELOCITY John Schafer SB 11:00:00 RET Catalina 445 54 135 3
Non spin racer
AVALON Jim Murtland NR 11:05:00 14:06:39 3:01:39 2:39:51 Soverel 39 31888 75 1
REVOLUTION Doug Ellmore NR 11:05:00 14:58:52 3:53:52 2:59:54 CS 30 4515 165 2
AMARA Michel Jichlinski NR 11:05:00 14:47:35 3:42:35 3:05:12 J/100 J/100 111 3
Non spin cruiser
DIVA II Stephan Leader NC 11:05:00 15:04:39 3:59:39 3:08:18 Catalina 380 327 150 1
GAIA Les Folio NC 11:05:00 15:09:16 4:04:16 3:11:06 Catalina 380 346 153 2
SECOND WIND Joe Howell NC 11:05:00 15:19:25 4:14:25 3:18:12 Jeanneau 39I 10 156 3
Tred Avon YC Heritage and One Design Racing
Comets, Penguins, Stars, Shields, Hampton One Designs, and Log Canoes were racing over the weekend out of the Tred Avon YC for the Heritage Regatta. Find all TAYC results here.
Southern Bay Scene
This just in from Lin McCarthy's Southern Bay Racing News You Can Use:
CCV Founders Race
Twenty-three competing boats raced in the 2019 CCV Founders Race on Saturday in good NNE breeze and only the most scattered of rain showers. The race committee laid a 16.5 nm course around government marks for the PHRF A fleet, and 15.1nm and 9.7nm for the B/C and Non-Spin fleets respectively.
Finishes in this race count in both the CCV High Point standings and the Southern Bay Distance Racing Series (administered by Broad Bay Sailing Association).
CCV Results
PHRF A (10 boats):1.Sledd Shelhorse, Meridian XI; 2.Neil Ford and Lis Biondi, Danger Paws; 3. Phil Briggs, Feather.
PHRF B/C (8 boats):1.Rusty Burshell, Cool Change; 2.Chris French, Elixir; 3.Ben Weeks, Rumble.
PHRF Non-Spin (5 boats):1.Ken Copeland, Black Widow; 2.Alan Johnson, Seeker; 3.Cliff Porter, Tilt.
Principal Race Officer: John McCarthy; Signal Boat: Brian Deibler; Official Scorer: John Ritter.
The CCV Founders Race is presented in honor of the three gentlemen who founded the organization in 1964: Rudy Lotz, Euclid Hanbury, and William Bruce.
Bomar Places Third in J/24 Nationals
Will Bomar, who hails from Ft Monroe, Virginia, took 3rd place overall in the 2019 J/24 National Championship Regatta, held this past week at Rochester Yacht Club. Bomar sailed Bangor Packet with his crew of Austin Powers, Casey Brown, James Niblock, and Andrew Hall in the 46 boat championship fleet. Over eigth races, the team had a string of finishes of 1-2-20-1-4-11-13-9.
Both Bomar and Powers have deep roots in southern Bay racing and each of their fathers, Alan Bomar and Eric Powers, are well known in the southern Bay racing community. The Bomars race out of Hampton YC and the Powers out of Fishing Bay YC. Detailed race by race results are available here
Don't see your club's racing news here?
Send us Chesapeake racing news and photos on any given Monday by 9 a.m., and we are happy to include it. [email protected]