Charleston Teaser and Kennedy Cup: Here's your Racing Roundup for the weekend of November 4-5on the Chesapeake.
It's not over until… well, unless you're frostbite racing—this whole Bay racing thing is pretty much over for 2017. So before we recap last weekend's Kennedy Cup in Annapolis, here's a little teaser for anyone contemplating Sperry Charleston Race Week, which is only six months away, April 12-15. Time to start planning!
Kennedy Cup at USNA
The US Naval Academy hosted its Kennedy Cup inter-conference regatta on Navy 44s last weekend off Annapolis. Here are snippets from USNA Varsity Offshore Sailing Team head coach and race chair Jahn Tihanksy's summaries: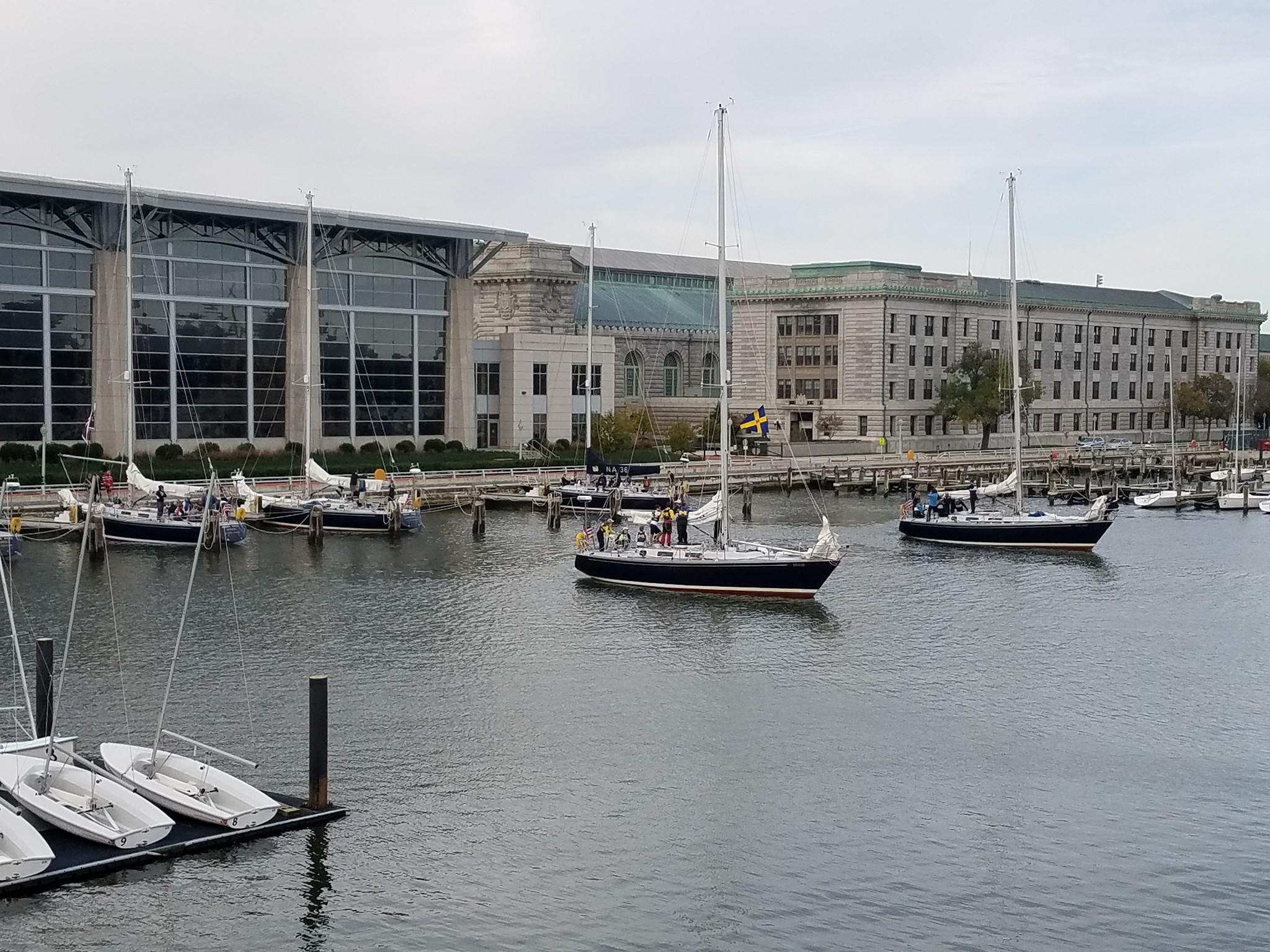 Saturday, November 4: Finally a little wind in Annapolis!
Ten teams showed up at Navy (Nov. 4) to contest the Kennedy Cup aboard Navy's fleet of 44' sloops. Although most wind forecasts called for the breeze to veer and die, it actually built and then held for the first two races then tapered off but stayed left for the final two races.
Navy started out strong winning the pin end in race one and stretched out to take the bullet. Coast Guard took the hint and nailed the pin for race 2 and also won the race. USF won the pin in race 3 and guess what… they came first!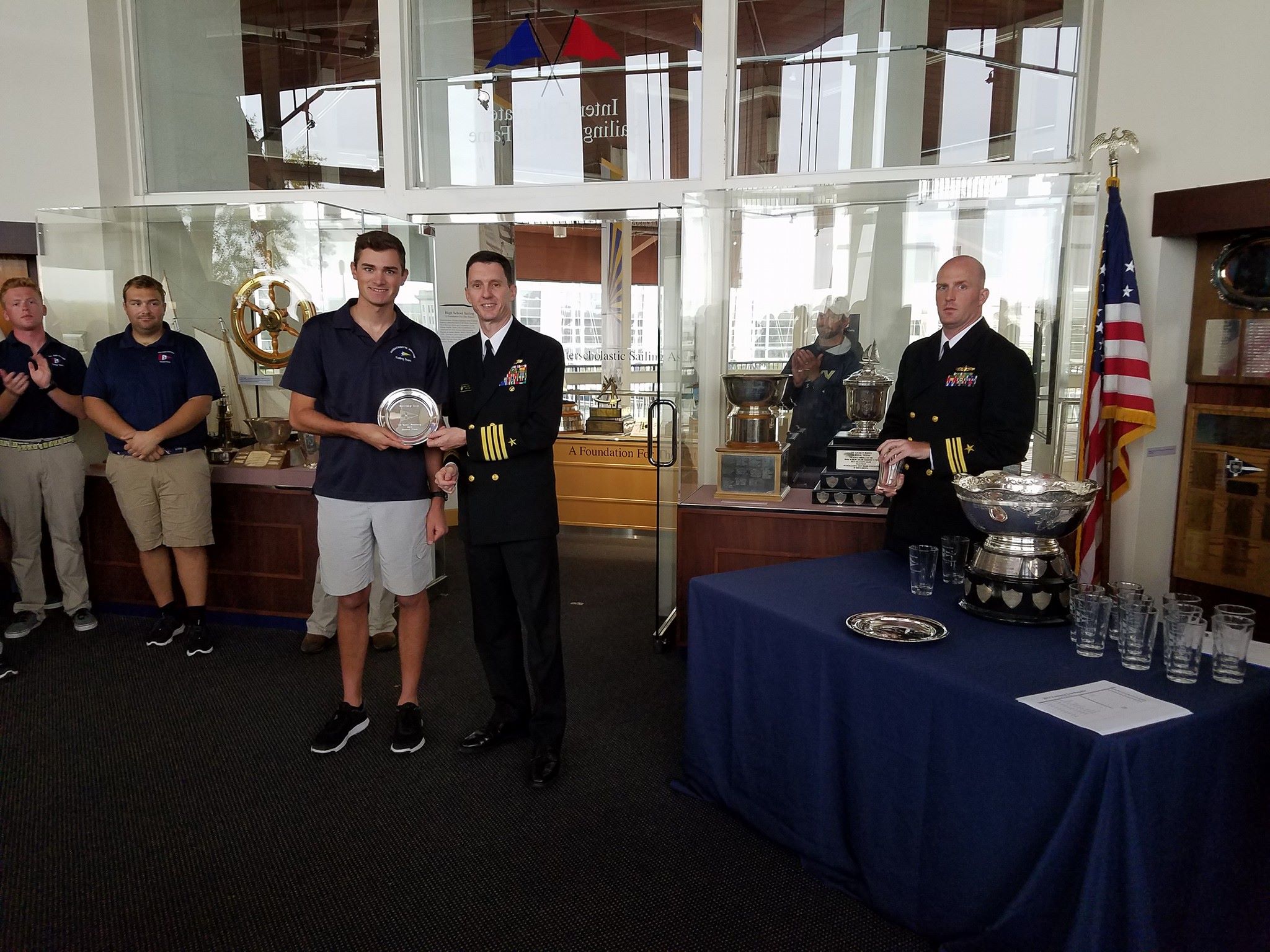 In the 4th race, Mass Maritime barely scraped by the pin and… you guessed it—won the race... Getting left was the order of the day, and those that managed to find and hold a lane left early were usually rewarded.
At the end of four races, the consistent sailing by USF (3,3,1,4) has them at the top of the leaderboard, 6 points ahead of second place Mass Maritime and 7 ahead of Charleston…
Sunday, November 5 started out more or less on forecast with a light but sailable southeasterly. But as time for first warning approached, it lightened up and shifted hard right prompting PRO Paul Clissold to hoist AP.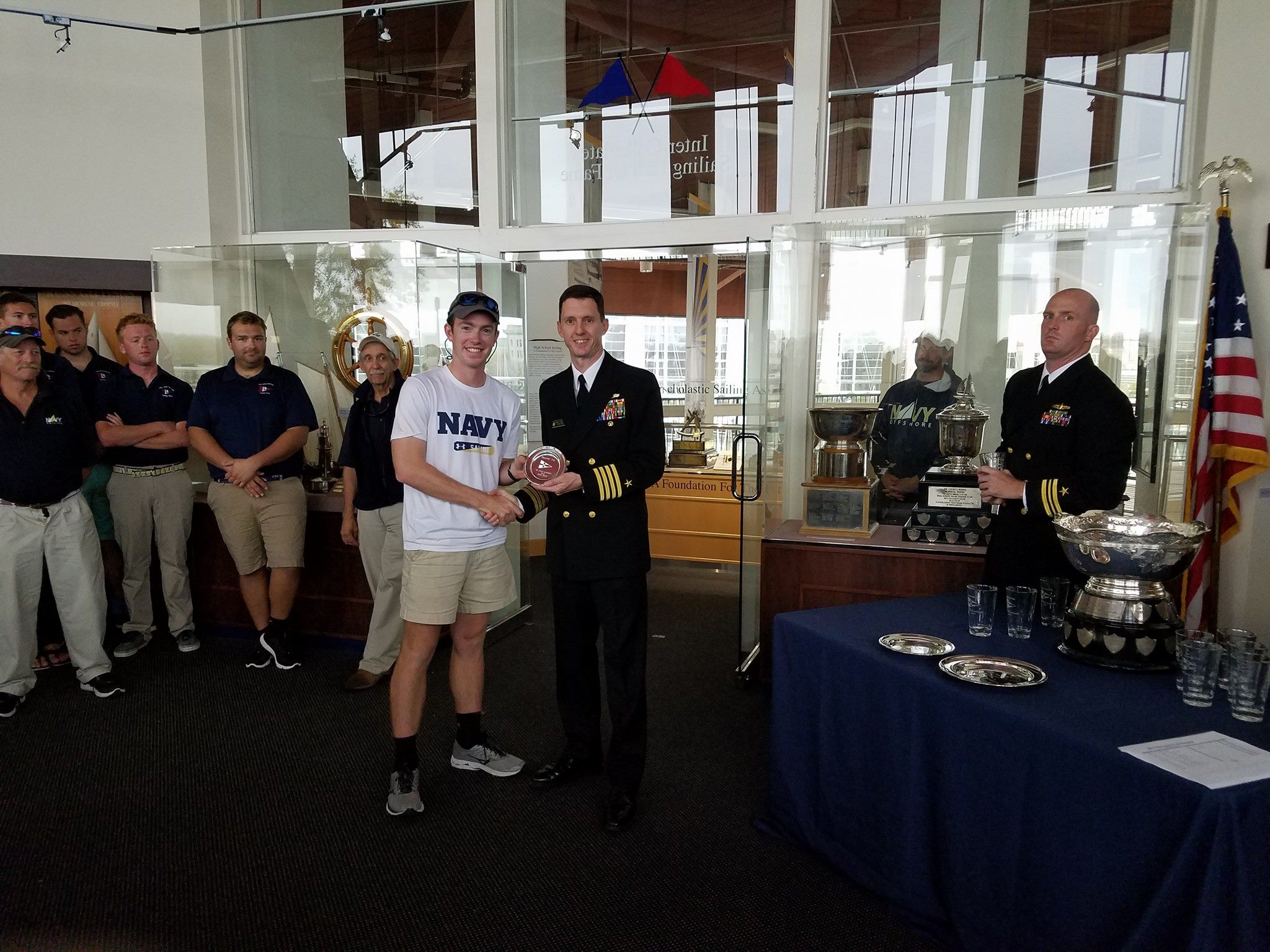 The breeze remained light for over an hour as the fleet waited nervously to see whether races could be had. The wind did fill back in around 6 knots from the SSE, and race 5 was started. SUNY pushed Navy and themselves over at the pin while Charleston was over mid line. Up the first beat Cal led out of the left then to the starboard layline. Mass Maritime was a few lengths back in second and leader USF was third.
Navy rounded 9th but was first to gybe and found a seam of breeze to come back across which allowed them to make big gains moving up to 4th at the gate. Navy crossed and tacked on USF but got tacked on by Mass so the top four rounded as they were at the bottom.
Mass nipped Cal at the finish to take the win and preserve their well-deserved 2nd place for the regatta. Cal held on for second while USF crossed 3rd for the race giving them the consistent scoreline that won them the regatta (3,3,1,4,3). Navy finished 4th which moved them up to 3rd overall one point ahead of Cal.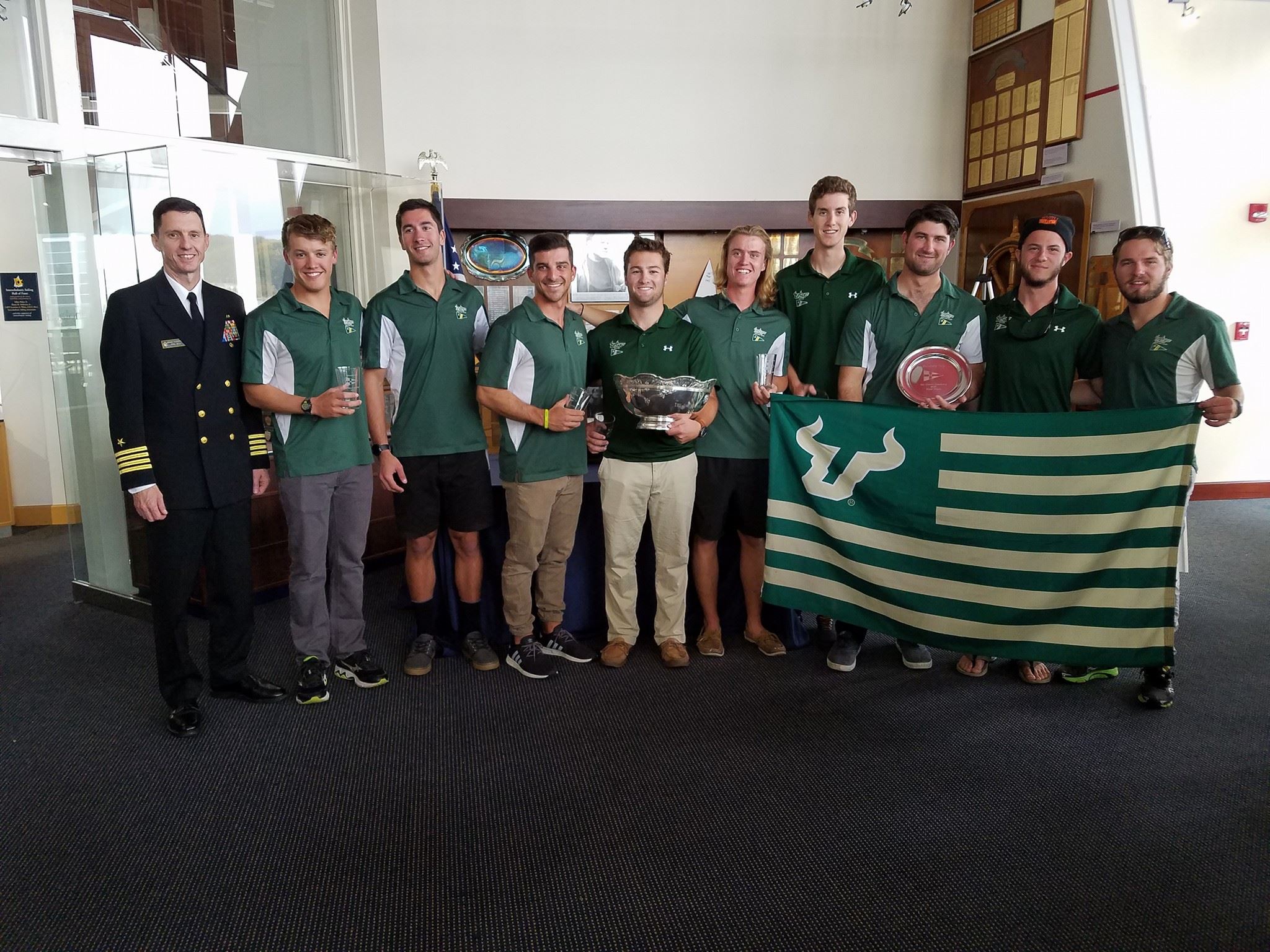 Congratulations to the USF Bulls for their second consecutive Kennedy Cup win! Find full Kennedy Cup scores and reports here. These photos were courtesy of the USNA Varsity Offshore Sailing Team Facebook page.
Thanks are due to a number of folks including PRO Clissold and the NASS Race Committee which included Jan Richardson, Maureen Mills, Ed Kee, Fran Wright, Ken Liddick, Bob Holmes, Bill Museler, Duane Moore, John Yanik, Paul Grimm, Kevin Reeds and a bunch of Mids from Offshore Sailing team.
Thanks also to the Offshore Sailing Team Volunteer coaches who sevred as safety officers including Mike Brownlee, Nelson Pemberton, Dick Lunsford, Dan Trammell, Mike Reifer, Carroll Sparwasser, David Shaeffer, Jesse Falsone, Pancho Gonzales & Steve Cohan.
And lastly to our jury who thanks to the good behavior of the competitors were not needed to hear any grievances: Chair Dan Trammell, and his jurors Maureen Mills, Nelson Pemberton, Taran Teague and Dick Lunsford.
~Jahn Tihansky Regatta Chair
Frostbite Report:
Annapolis Yacht Club hosted the first day of series one of frostbite racing in light breeze yesterday. Here are AYC's frostbite race results thus far.
Southern Bay Scene
Here's the latest from Lin McCarthy's Southern Bay Racing News You Can Use:
Hot Buttered Rum and Racing! The annual Hot Buttered Rum Race, sponsored by BBSA Willoughby Racers, had 16 boats race in two fleets on Saturday in Norfolk's Willoughby Bay (aka Little Bay).
The racers were limited to non-spinnaker (single headsail only) canvas, but it didn't seem to slow anyone down. The boats on the longer course (6.8 nm) all finished in just over one hour and those on the shorter course (4.4 nm) all finished in well under an hour.
The partaking of the post-race hot buttered rum at Rebel Marine was a success, too, along with the Chili Cook-off..
RESULTS:
Gold Label Fleet (7 boats): 1.Black Widow, Copeland/Gade/Girardin; 2.Melantho, Jack Clayton; 3.Blew J, Ben Ritger.
Silver Label Fleet 1 (9 boats): 1.Recovery, John Edwards; 2.Bang-a-Rang; 3.Tipsea, Schultz Family, Chris Schultz with his wife and two young daughters as crew.
Event Chair: Robert Duncan; Race Officer: Bill Cohee in Free Bird; Official Scorer: Scott Almond.
Frostbite Race 2 is in the books! Race 1 of the Series fell prey to foul weather a week ago Sunday, but Race 2 came off yesterday just fine. Sixteen (16) frostbiters sailed in Hampton Roads Harbor in mostly light-but-doable breezes.
RESULTS:
PHRF A (7 boats): 1.Peter Hunter, Wairere; 2.Neil Ford, Danger Paws; 3.Ian Hill, Sitella.
PHRF B (4 boats): 1.Rusty Burshell, Cool Change; 2.Bill Gibbings, Jonathan; 3.Butch Patterson, Schock Full o' Nuts.
PHRF C (3 boats): 1.Andrew Norris, Papahu; 2.Ben Cuker, Callinectes; 3.Louie Lewis, Incentive III.
PHRF Non-Spin (2 boats): 1.Bob Thomas, Surprise.
Principal Race officer-Brian Deibler; Signal Boat: Jack Pope, Bee Cee.
Hampton Yacht Club (HYC) Fall Fling.
Racers at this annual event got in a great day of racing on Saturday – 6 races on flat water in great breezes.
Much lighter breezes led to 2 races on Sunday before the fleet headed for the barn and the awards presentation.
RESULTS:
505 (9 boats): 1. Brendan Connell (SSA); Henry Amthor (HYC); 3.Clark Hayes (HYC).
VIPER 640 (5 boats): 1.Steve Taylor (HYC); 2.Justin Morris (HYC); 3.Mark Wheeler (HYC).
Results for the following fleets were not available from the event at press time due to technical difficulties: SONAR (6 boats), LIGHTNING (8 boats), and Other (4 boats):
Event Chair: Joe Buczkowski; Race Officers: Saturday – Brian Deibler; Sunday – John Blais.