Posted September 18, 2019
Three Races to Benefit DSC's Community & Accessible Program
Baltimore's Downtown Sailing Center (DSC) invites all sailors (DSC members and non-members), kids of sailors, fundraisers, and sponsors to participate in the Charm City's Ya Gotta Regatta September 21 and 28. This event brings the entire region together to raise money for DSC's Community and Accessible programs, which use sailing as a platform to provide independence, education, and experiential learning experiences for all participants.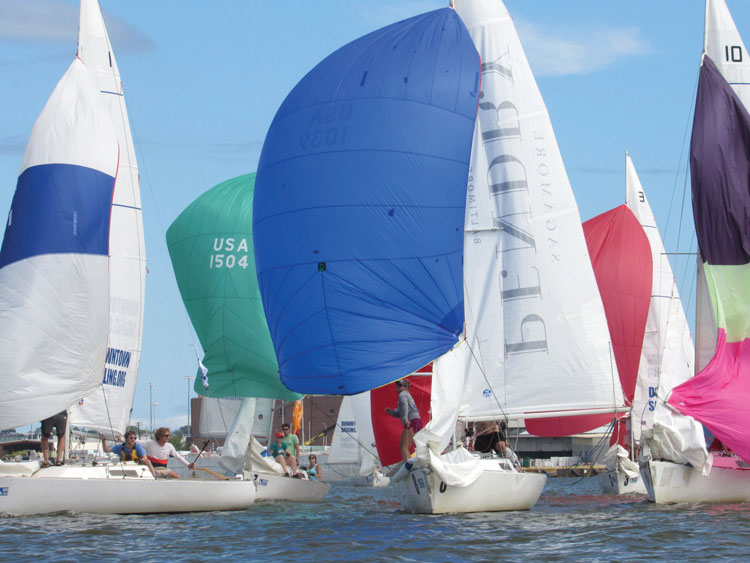 DSC, a US Sailing-sanctioned Community Sailing Center, works with more than 20 non-profit partners to fill the gap of educational and recreational programs for over 1000 at-risk youth or people with disabilities each year.
"The DSC is where sailing is for everyone," says executive director Stuart Proctor. "This phrase is exemplified by so much of our programming, especially our community and adaptive programs. The DSC shines as a beacon of what should be."
Saturday, September 21
Competitors will enjoy one-design racing on windward-leeward courses in J/22s and Sonars. Other classes fielding eight boats or more will be admitted as additional classes with prior approval. PHRF boats (spinnaker and non-spinnaker) will do a pursuit race on an approximately nine-nautical-mile course.
Saturday, September 28
Will be for All-Accessible sailing! Accessible participants will compete in access dinghies, located off the docks, in separate heats, two to four short races each (depending on wind conditions). Sonar, Freedom Independence, and J/22 accessible racers will be paired up with a skipper for a long distance race. Participants are invited to a post-race party from 1-3 p.m. with lunch, music, and awards.
Docking options are available for non-DSC PHRF or one-design boats competing. Please contact John O'Riordan prior to the regatta to make a post-race dock reservation: [email protected].
Volunteers are needed to assist with registration, race committee, party setup and cleanup, Sailing Buddies for the Access Dinghy course, transfer aides, greeters, and escorts.
Register or learn more about how you can support DSC programs at downtownsailing.org/charmcitysyagottaregatta.