Chesapeake Bay Log Canoes Begin Sailboat Racing Season with MRYC Centennial Series
Seven Chesapeake Bay log canoes were on the line this past weekend as the Miles River Yacht Club (MRYC) staged the first log canoe sailboat races of the season.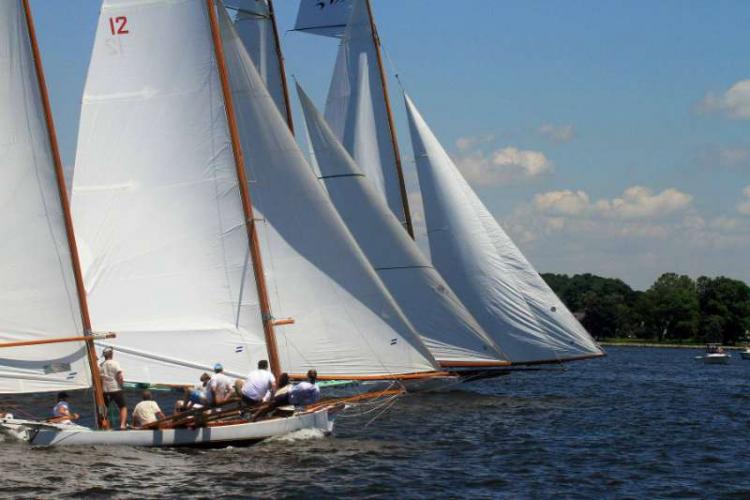 Winds were variable on Day One, with Corbin Penwell's Island Blossom finishing first.
Things picked up a bit on Day Two, with a couple of boats capsizing and/or withdrawing. Final results show Persistence, skippered by Michael Keene winning the regatta with Island Blossom finishing second and Silver Heel finishing third.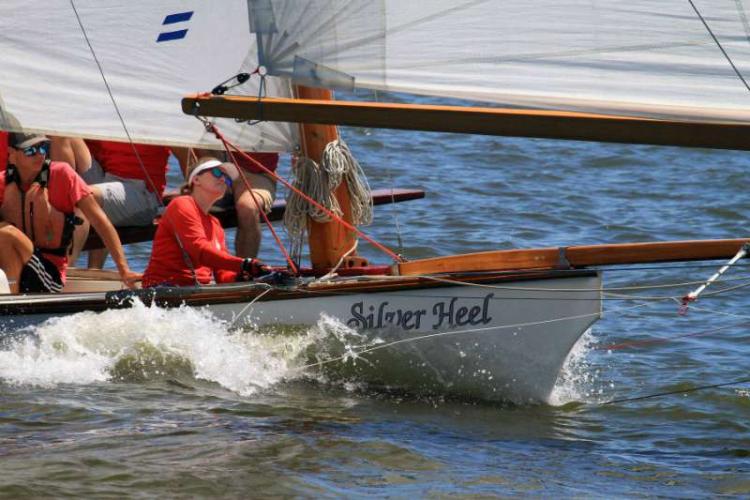 Your roving photographer caught all the auction aboard the Chesapeake Bay Maritime Museum's 102-year-old buy boat, the Winnie Estelle, which was packed to the legal limit with onboard sectators and amateur photographers alike. Terry Grieb, Museum volunteer, provided running commentary about the history of the boats and their place in the maritime history of the Bay.
Several passengers were former log canoe sailors. Most admitted that the boats on display on the water had withstood the ravages time better than their arthritic knees and not-so-slim waistlines.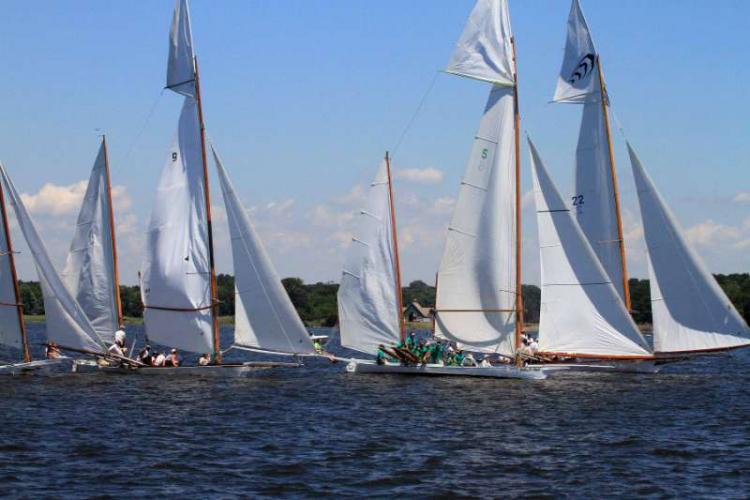 It was a glorious two hours on the water as the crowd watched the action from the comfort of a shaded deck while sipping white wine and noshing on prosciutto and melon.
To see a sampling of the action, click on https://craigligibel.smugmug.com/2022/Log-Canoe/
Story and photos by Craig Ligibel, Spinsheet.
2022 Log Canoe Racing Schedule
Jul 9-10: RHYC Series
Jul 16-17: CRYCC/CRYC Series
Jul 30-31: MRYC Gov. Cup Series
Jul 30: Boardman's Challenge - MRYC
Aug 13-14: TAYC/CBYC Oxford Regatta
Aug 20-21: CYC Hicks Trophy Series
Aug 27-28: TAYC Heritage Regatta
Sep 10-11: MRYC Labor Day Series
Sep 17: MRYC Higgins/Commodore Cups
Sep 18: CBMM Bartlett Cup
Find more sailboat racing news here.